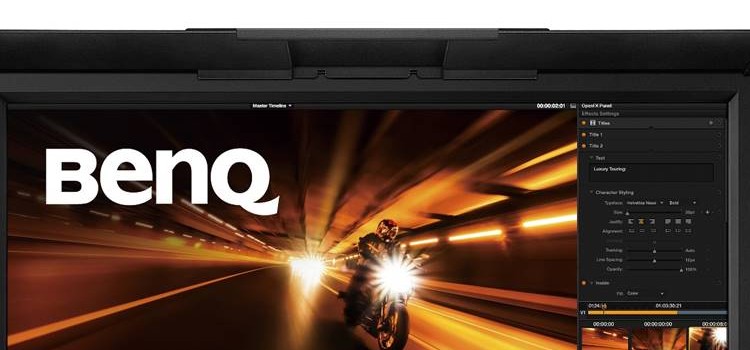 BenQ, has recently announced their new high-end PV series monitors for advanced cinematic and video post-production, the PV3200PT and PV270 commercial monitors.

Not all monitors are equal, especially as different users look for different features in their displays. Gamers prefer high-resolution monitors with high refresh rates, which is an edge in competitive gaming; office workers meanwhile would prefer something easier on the eyes as they stare at their screens for the better part of their days. For video editors, high-resolution and accurate colors are a must, and that's what BenQ's two new monitors are made for.
BenQ, has recently announced the new high-end PV series monitors for advanced cinematic and video post-production.  For editors and colorists that demand uncompromising color accuracy and high resolution, the PV3200PT and PV270 commercial monitors fit the bill for video editing, visual effects, and color correction and management.

The PV3200PT is BenQ's first monitor designed specifically with video post-production engineers in mind. Ideal for video production, this wide-angle 32" IPS monitor features high 4K UHD (3840×2160 pixel) resolution to scrutinize images to the finest details. The PV3200PT's color gamut covers 100% Rec.709 and 100% sRGB. This monitor includes hardware calibration support and includes the Palette Master Element calibration software to adjust the monitor's color gamut, white point, color temperature and luminance, among other settings. With hardware calibration and a 14-bit 3D LUT, an average Delta E≦2 is achieved to deliver high color accuracy and reproduction for a true representation of the original storytelling images.  An optional Software Development Kit (SDK) allows studios or calibration software provider to be more involved in customizing color calibration settings.

The feature-rich PV270 is a blockbuster 27" IPS professional monitor with QHD (2560 x 1440 pixel) resolution with expansive color spaces covering 100% Rec.709, 96% DCI-P3 and 99% Adobe RGB required in digital cinematic video post-production and photo retouching. With Technicolor Color Certified certification, the PV270's display luminance, color gamut, and gamma are Hollywood-ready. Moreover, the X-Rite powered Palette Master calibration software assists hardware calibration for conformance to artists' requirements, taking the suspense out of the final picture. As with the PV3200PT, the PV270's optional SDK allows further color calibration customization. Extreme color accuracy with average Delta E≦1.5 should inspire confidence for colorists to produce the best pictures possible with precise color consistency across the entire production workflow.