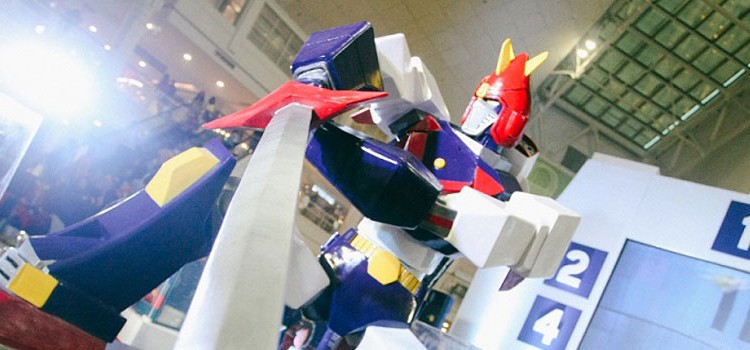 New designs from Giordano's Voltes V collection celebrate the show's 40th anniversary and lasting legacy.

Voltes V has been one of the cornerstone animated TV series every child of the 80's and 90's would have watched. At the time, it had everything a kid could want in a show: giant vehicles that merged into one robot, transformation sequences, great fights, and a soundtrack that would stay timeless. It has been 40 years since the show first aired in Japan, and the significance of its airing on Philippine TV was not lost to everyone at the time. It's themes of rebellion against an evil dictatorship resonated with Pinoys living under Martial Law.
"Giordano knows how much Filipinos love Voltes V, it has played a pivotal role in the early lives of those who are from Gen X and even millennials who got to watch it on network television. This collection is our tribute to this unique relationship between Pinoys and Voltes V," Lloyd Lim, VP for Business Development said.

The collection indulges our nostalgia for this series by prominently displaying some of the most important characters in the anime, like Mark, Jamie, Little John, Big Bert, Steve, and most importantly the star of the show itself, Voltes V. Aside from this, several designs will also give life to Voltes V's most iconic weapons like the ultra-electro magnetic top and laser sword.

A limited edition design which has Combattler V, Daimos, and Voltes V in one shirt was also released as part of this collection. Aside from these designs, Giordano also released shirts that utilized the artwork of five Filipino artists who won the the Voltes V Tee Design Contest. The winners of the contest are: Jarrel Soliman, RJ Camacho, Frederick Gan, Jhomel Antonio, and Jefferson Velayo. Soliman, one of the winners, said that his design was inspired by Voltes V's drive to defeat evil and save the world. "This design gives us a sense of nostalgia: how we, as children, would look forward to how Voltes V would rise against evil to save the day. I hope that this design reminds of how we can do the same, in our daily lives," he said. Camacho on the other hand, was inspired by his fascination for Voltes V back when he was still young. "I feel it's a self-portrait of sorts. This is how I saw Voltes V," Camacho added.

The collection comes in men's printed tee, women's printed tee, junior printed tee, men's polo, men's embroidered tee, and men's hooded cotton jacket. Giordano showcased this collection in a special event which was attended by die-hard fans of Voltes V and other pop culture enthusiasts. The event called Ultra-Electro Magnetic: 40 years of Voltes V was held last August 12 – 13 at the Activity Center of Glorietta 3, where fans got to know more about their favorite mecha anime.

Fans were treated to various games, Voltes V screenings, and other fun activities that allowed them to relive their childhood and share it with their loved ones. Attendees also trooped to various cosplayers who were in attendance to take a selfie, while others looked at various action figures, statues, and memorabilia in display. People who came to the two-day event also had first dibs on Giordano's Voltes V 40 the Anniversary collection.

To get your Giordano Voltes V 40th Anniversary apparel, visit the nearest Giordano store or shop online at their site. Like and follow Giordano on Facebook and follow Giordano on Instagram at @giordanoPH for more details.