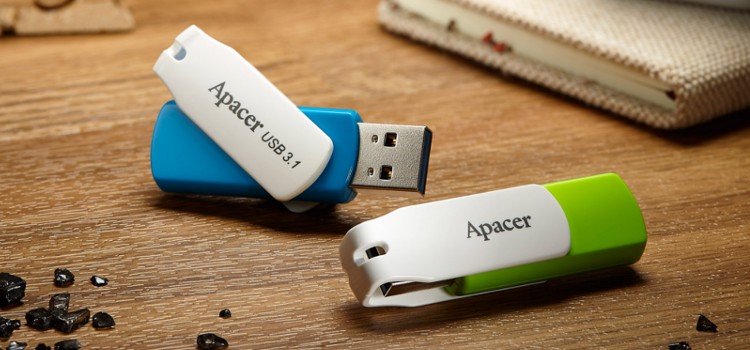 Here are some new tech product releases and news, featuring products and news from Apacer, PNY, and Transcend.

There's always new tech product being released, be it digital storage or different types of peripherals. Here are some newly-launched tech products for this week:
Apacer debuts USB 3.1 Gen 1 AH357 & USB 2.0 AH335 Swivel Flash Drives

Mobile storage brand Apacer has released the all-new swivel flash drives USB 3.1 Gen 1 AH357 and USB 2.0 AH335, available in different stunning colors. The 360-degree rotating cap can be uncovered within a second and will never fall off. Enjoy the convenient advantage of high speed transmission anywhere and anytime.

AH357 uses the newest generation USB 3.1 Gen1 high-speed interface, able to quickly transmit large numbers of files, increasing work efficiency and reducing waiting times. AH335 used the USB 2.0 interface and has the widest equipment compatibility. AH335 and AH357 come in four capacity selections: 8GB, 16GB, 32GB and 64GB, providing diverse selections for users.

PNY launches Phantom-1 2.5" SSD

PNY has announced the release of the latest model in PNY's family of next generation Solid State Drives, the cost effective Phantom-1 Series 2.5" SSD. The SSD provides 20X faster transfer rate than traditional HDD available in the market, so you can transfer and store your digital media files in mere seconds.

The Phantom-1 offers a huge memory capacity ranging from 120GB to a massive 960 GB, which allows faster data transfer and smooth operation of intensive computer applications. The Phantom-1 Series boasts a 2.5" SATA III, 6Gb/s interface and is built with trusted TLC Nand technology.

Transcend's new DDR4 Industrial-Grade Wide Temperature Memory Modules Offer Exceptional Performance and Reliability
Transcend presents its new DDR4 industrial-grade wide temperature SO-DIMM and ECC SO-DIMM memory modules. These DDR4 modules offer industrial-grade operating temperature flexibility (-40° to 85°C) and boast superior performance, a small form factor, 1.2V ultra-low power consumption, and excellent reliability. All these features make them perfect for space-constrained industrial PCs (IPC), POS terminals, medical diagnostic equipment, and mini-ITX systems.

Transcend's DDR4 industrial-grade modules are constructed of high-quality DRAM chips, delivering stable performance and durability. Additionally, the DDR4 modules offer high-speed transmission of 2400MHz and up to 19GB/s bandwidth, so that system performance will achieve maximum data transfer speeds.