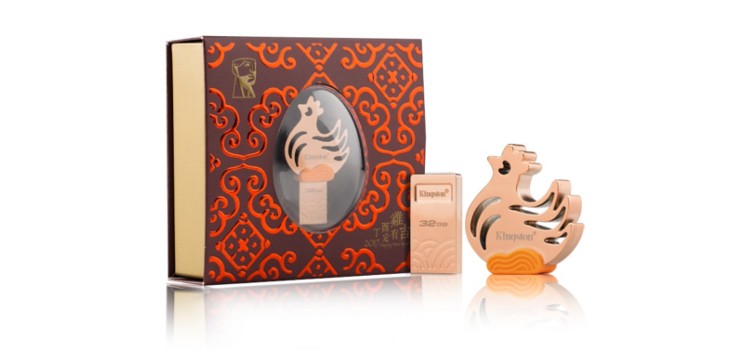 Here are some new tech product releases and news, featuring products and news from Apacer, Kingston, and E-Blue.

It's barely a few weeks into the first month of 2017, but new tech releases and news show no signs of slowing down. Here are some of this week's new tech news and products.
Kingston Year of the Rooster USB Drive Joins Data Traveler Chinese Zodiac Series

To celebrate the Lunar New Year, Kingston announced The Year of the Rooster USB drive, the latest addition to its Data Traveler Chinese Zodiac USB drive lineup. Build with metallic rose-gold hue and USB 3.1 speeds, the Year of the Rooster USB drive has superior quality in a high-end design, which makes it a special gift for the joyful season.

Kingston Data Traveler Chinese Zodiac USB drive lineup has been one of the most popular products among collectors over the years. This year, the laser cut-out Rooster USB drive comes in a unique-designed red-themed box. Shipping now, the simple plug-and-play drive with fast USB 3.1 performance offers convenient and easily transportable storage for pictures, music, video and other important data files.

With a capacity of 32GB, the Year of the Rooster USB drive is backed by a 5-year warranty and free technical support.

Apacer's Validated Memory Modules in Line with Intel 200-Series

At CES 2017, Intel's introduction of 200-series motherboard lineup has excited gamers, PC builders, enthusiasts and such. To provide the best of user experience and optimized performance, Apacer took a step ahead of the rest of the industry and gained product validations with major motherboard manufacturers adopting Intel 200-series chipsets, such as ASUS, GIGABYTE, MSI, and ASROCK, for its top gaming memory modules, including BLADE DDR4, COMMANDO DDR4, and PANTHER DDR4, along with its complete memory module product range designed for desktop computers.

As a devoted innovator for better consumer experience, Apacer remains highly alert to the industry trend and values the importance of optimized compatibility of memory modules. The validations with the major motherboard manufacturers ensure the latest features from Intel will be enjoyed flawlessly.

E-Blue, the Very First Gaming iCafe in Myanmar

E-Blue, in collaboration with its partner, has opened the one and only e-Sport Arena for the game lovers at Myanmar. It's an iCafe with a difference – it offers gamers premium gaming experience with all PCs equipped, taking the gamers to a new level.

This is the first such iCafe opened in Myanmar and located at No.211, Anawrahta Road, Lanmadaw Township, Yangon, Myanmar.