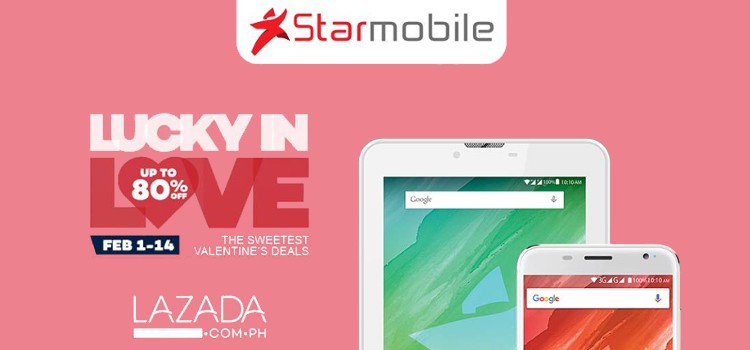 Starmobile is offering a sale on some of its most popular devices on Lazada. Devices on sale include the ENGAGE 7i tablet, UP Ultra,...

Flowers and chocolates are the standard gifts for Valentine's day. Why give gifts that are perishable when you can give your significant other a functional device. Starmobile is offering exactly that with their Valentine's sale at Lazada, featuring the ENGAGE 7i tablet, and the UP Ultra and UP Sense smartphones.
Just in time for Valentine's Day, Starmobile is offering an attractive sale on some of its most popular devices on Lazada. Until February 14, 2017 exciting bundles that pair the best-selling ENGAGE 7i tablet with either the UP Ultra or the UP Sense smartphone are up for grabs. Here's a quick guide to help you decide which of these is your OTP (one true pair), depending on what you're looking for in your tech relationship.

Want a fast connection? The Starmobile ENGAGE 7i + UP Ultra bundle is for you.

Before: Php 8,080

Now: Php 7,270

Save: Php 810

Combining the functionality of a dual-SIM mobile phone with the screen size and utility of a tablet, the Starmobile ENGAGE 7i is a 7-inch powerhouse running on Android 5.1 Lollipop. The tablet comes with a large 3,000mAh battery that's capable of up to 20 days standby time or up to 10 hours of talk time.  It is bundled with a Smart Bro SUPER PACK with free 200MB/month for surfing and other apps, equivalent to Php 2,400 worth of free data valid for 6 months.

Meanwhile, the Starmobile UP Ultra is a 5.5-inch 4G LTE Android smartphone considered to be one of the company's most value-packed mid-range offerings.  The UP Ultra is bundled with over Php 4,000 of free LTE data services from Smart valid for 12 months, plus 6 months of free access to popular streaming site iFlix (700mb/month with an accumulated top-up of P150/month.) With Smart having the widest 4G LTE coverage in the country, users can enjoy seamless multimedia streaming on UP Ultra's clean and crisp HD screen.

Both are also on sale individually, with the ENGAGE 7i tablet retailing for Php 3,210 (original price at Php 3,490) and the UP Ultra on sale for Php 4,220 (original price at Php 4,590)

Looking to feel safe and secure? Get yourself the Starmobile ENGAGE 7i + UP Sense.

Before: Php 7,780

Now: Php 7,000

With this bundle, the ENGAGE 7i call-and-text tablet comes with the gorgeous UP Sense. This smartphone lets you use the most secure tool that you have in your possession 24/7 to lock your device and control access to your apps and private files—your very own fingerprint.  It also has a sleek curved HD screen – a feature usually found in more expensive smartphones – designed with in-plane switching (IPS) that enables crisp and clear viewing of photos, videos, and websites.