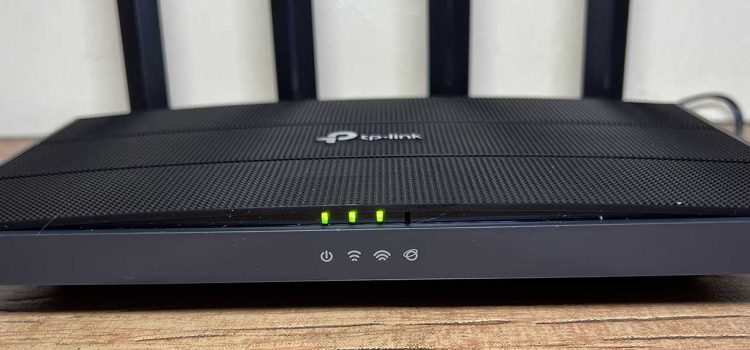 We run the TP-Link Archer AX12 WiFi router through its paces to see if it can stand up to constant use in a normal...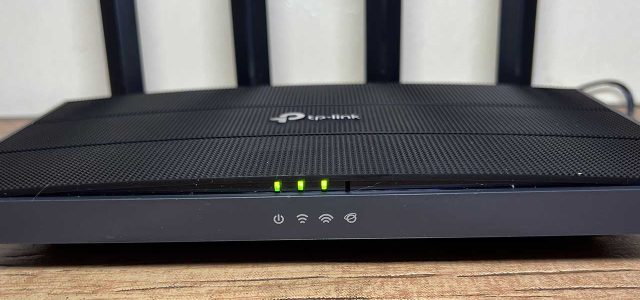 Wi-Fi 6 is the newest generation of connectivity for home use, and the new TP-Link Archer AX12 AX1500 router promises to deliver a stable Wi-Fi connection with easy setup and management. As the number of internet-connected devices on your home network continues to grow, you need a router that can manage more simultaneous connections without sacrificing signal quality.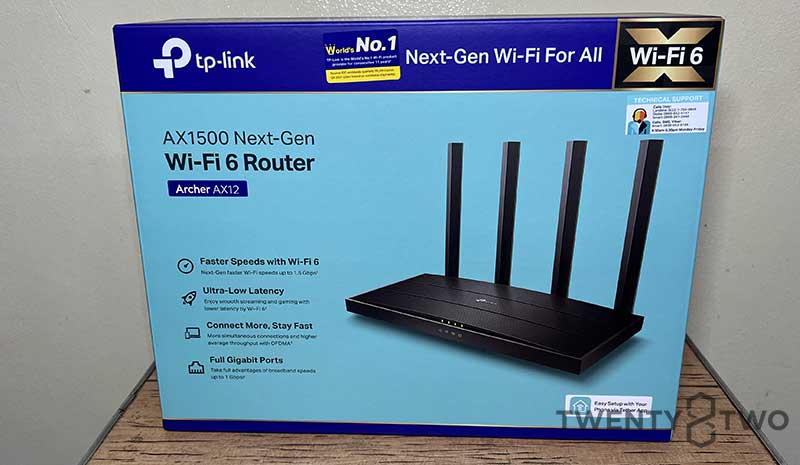 TP-Link Archer AX12 Router Specs
Wi-Fi Standards
Wi-Fi 6
IEEE 802.11ax/ac/n/a (5GHz)
IEEE 802.11n/b/g (2.4GHz)
Speed
AX1500
5GHz: 1201Mbps (802.11ax)
2.4GHz: 300Mbps (802.11n)
WiFi features
4 × Fixed high-performance antennas
Operating Modes
Router Mode
access point mode
Ethernet ports
1× Gigabit WAN port
3× Gigabit LAN port
Buttons
WPS/WiFi button
Reset button
Other Features
12V ⎓ 1A
WiFi Encryption
WPA2-PSK
WPA2-PSK/WPA-PSK
WPA3-Personal
WPA3-Personal/WPA2-PSK
Network Security
SPI Firewall
Access control
IP & MAC Binding
Application Layer Gateway
Guest Network
1× 5GHz Guest Network
1× 2.4GHz Guest Network
VPN server
openvpn
PPTP
Protocols
IPv4
IPv6
parental control
URL Filtering
Time Controls
WAN types
Dynamic IP
Static IP
PPPoE/PPTP(Dual Access)/L2TP(Dual Access)
Quality of Service (QoS)
QoS per device
cloud services
Auto Firmware Upgrade
OTA Firmware Upgrade
TP-Link ID
DDNS
NAT Forwarding
port forwarding
Harbor Triggering
DMZ
UPnP
IPTV
IGMP Proxy
IGMP snooping
Bridge
VLAN tag
DHCP
Address Reservation
DHCP Client List
employee
DDNS
TP-Link
NO-IP
DynDNS
Management
tether app
Webpage
Certificates
FCC, CE, RoHS
Environment
Operating Temperature: 0°C to 40°C (32°F to 104°F)
Storage Temperature: -40°C to 60°C (-40°F to 140°F)
Operating humidity: 10% to 90% non-condensing
Storage humidity: 5% to 90% non-condensing
WiFi Transmission Power
CE:
<20dBm (2.4GHz)
<23dBm (5.15GHz~5.25GHz)
FCC:
<30dBm (2.4GHz & 5.15GHz~5.825GHz)
WiFi Receive Sensitivity
5 GHz:
11a 6Mbps: -95dBm, 11a 54Mbps: -79dBm
11ac VHT20_MCS0: -96dBm, 11ac VHT20_MCS8: -66dBm
11ac VHT40_MCS0: -94dBm, 11ac VHT40_MCS9: -63dBm
11ac VHT80_MCS0: -91dBm, 11ac VHT80_MCS9: -60dBm
11ax HE20_MCS0: -95dBm, 11ax HE20_MCS11: -66dBm
11ax HE40_MCS0: -92dBm, 11ax HE40_MCS11: -65dBm
11ax HE80_MCS0: -89dBm, 11ax HE80_MCS11: -62dBm
2.4 GHz:
11g 6Mbps: -96 54Mbps: -80
HT20-MCS0: -97 MCS7: -78
HT40-MCS0: -94 MCS7: -75
Dimensions (W×D×H)
8.5 × 4.6 × 1.3 in
(215×117×32mm)
Package Contents
Archer AX6 WiFi 12 Router
Energy Adapter
RJ45 Ethernet cable
quick install guide
That's a mouthful, but we really wanted to dig deep into this device for this review. We shared our initial thoughts on the product already, but we really wanted to see what this router can do.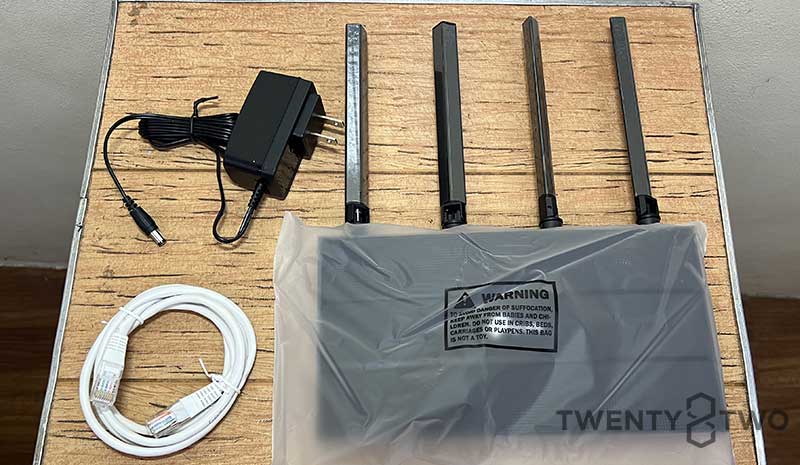 Although Wi-Fi 6 is not common in most consumer wireless connected devices, there are already many everyday devices with this capability, including high-end smartphones, gaming laptops, and even gaming handhelds. TP-Link aims to be the gateway to Wi-Fi 6 with its new gateway router, the Archer AX12.
On The Outside
The Archer AX12 is a standard-sized rectangular router made of plastic with four external antennas on the rear. The dimensions allow for installation in a variety of positions, although the 14 cm antenna requires additional space at the top and sides depending on location with a length of 21.5cm, width of 11.7cm, and height of 3.2 cm in measurement.
The whole router is surprisingly very light so it would not be a problem to stick this parallel to your wall and out of the way for convenience's sake.
On the front of the Archer AX12, we have 4 LEDs starting from the right:
Power Indicator: On | Off | Blinking during Boot Up and firmware update
2.4 GHz Network: On / Off
5.0 GHz Network: On / Off
WAN (Internet): Connection Established (Green light) / WAN connected established but
No internet (Orange Light) / WAN Disconnected (No Lights)
At the rear, the Archer AX12 comes with these ports:
4 Antennas (Not Removable)
3 x Gigabit Ethernet Port
1 x Gigabit Ethernet WAN Port
DC Port for Power
Low Profile Switch for Reset and WPS
Although connectivity options may seem limited, we're talking about an entry-level router here. One point of discussion is the WPS, as it creates a vulnerability for access to the network that you created.
At the bottom are holes for mounting the device on the wall and a label with the device's factory information (Wi-Fi network SSID, MAC address) used for configuration.
The TP-Link Archer AX12 offers the possibility to configure the router in the traditional way (via the browser) or through its own application, available via App Store and Play Store. During the initial setup, will be using the app entirely to configure the main parameters of your wireless network in a few simple steps similar to other brands.
I had a hard time configuring the AX12 at first because the network wasn't showing up due to other similar WiFi Signals. After a few minutes of turning on and off the whole process can be done quickly. The app reads the QR code on your router's label, establishes a connection, and completes the initial setup in just a few steps.
This application provides the main settings for regular users. The home page displays the network status, number of connected devices, and network information for both frequencies. If a guest network is configured, you can also view information about the guest network.
App Controls
The web configuration interface, accessible from a browser on your computer, provides comprehensive information about operating and configuring your Archer AX12. This feature also allows you to visualize the device's processor and memory usage to assess whether network requests are consuming excessive router resources.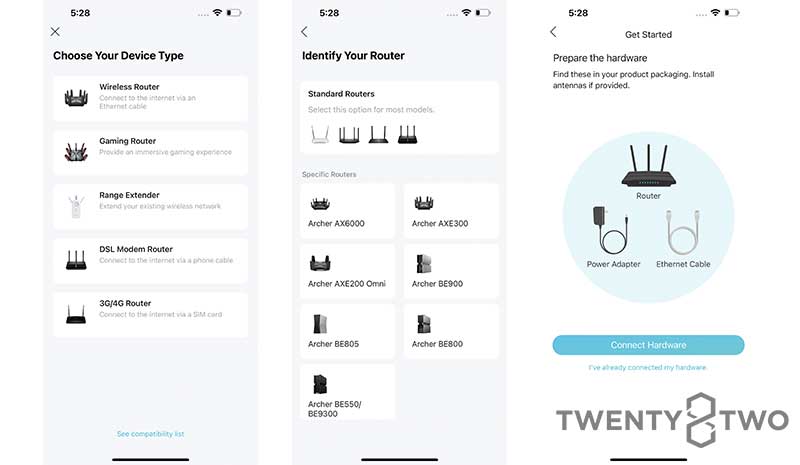 The App has the following features:
OneMesh: Adding compatible TP-Link routers and access points to form a mesh network
QoS: For networks with a large number of devices, you can specify and add control to which devices are always given priority when connecting to the router in such a way you get load-balancing
Parental Controls: Restriction of specific devices onto your network and block or allow access to specific websites according to a specified schedule
Guest network: Guests can connect to Wi-Fi without accessing directly to the network infrastructure
LED Control: You can enable or disable your router's LEDs indefinitely or on a scheduled basis
OFDMA: Acronym for Orthogonal Frequency-Division Multiple Access. A technology built into Wi-Fi 6 that optimizes data traffic on compatible and enabled devices and enables simultaneous access from multiple connected devices
TWT: Targeted Wake Time is another unique feature of Wi-Fi 6 that determines how and when devices connect or sleep, conserving power for devices that rely on batteries, and reducing power for devices that provide outgoing data. Increase bandwidth
Smart Connect: The 2.4 GHz and 5 GHz bands use the same SSID, and the router determines which one a device uses to balance network demands
DHCP Server
Port Forwarding
Security features (firewall, access control)
VPN server
Smart Life Assistant: You can control some router functions using the Alexa voice assistant
EasyMesh: Configure mesh networks with this proprietary TP-Link standard
TP-Link Archer AX12 Performance
When it comes to the router's performance, we can definitely say that it passed all our tests. From downloading documents to files raging from several MB up to 5GB, the Archer AX12 held its own.
We also tried uploading bulk folders from our physical drive to Google Drive and we didn't find any problems at all. Of course, upload and download speeds will vary depending on your Internet Service Provider but when it comes to the actual Wi-Fi device to facilitate tasks, we found no real problems with the Archer AX12.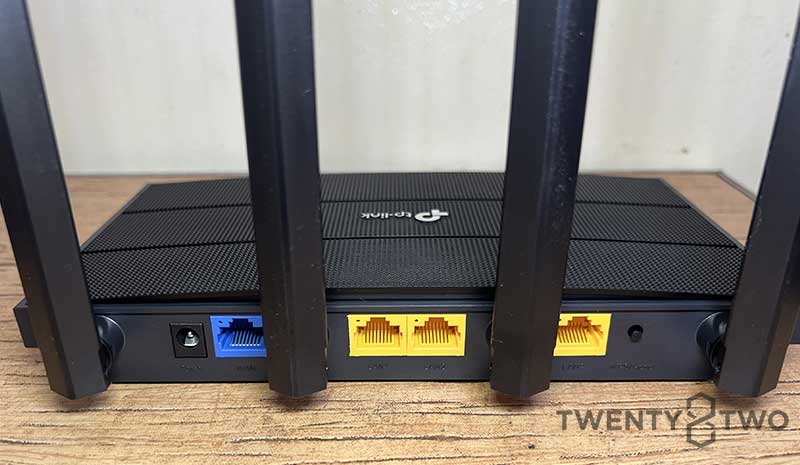 While the initial setup took a bit of fiddling, our devices eventually recognized the router, and setting this up was quick and painless. The companion app definitely makes setup easier, allowing even non-technical persons to get things up and running.
We recommend users regardless of expertise level use the app for all the setup and maintenance for this router, as everything you could ever want to tweak is found in the app.
Conclusion
We recommend the TP-Link Archer AX12 to users who need a hassle-free router that will handle relatively light loads. From streaming to gaming and everything in between, the Archer AX12 can provide a stable experience that provides a steady Wi-Fi 6 signal no matter where you are in the house, and no matter how many walls are in between you and the router.
Should your house be on the larger side with more than two floors, however, we recommend getting a mesh system to augment the signal strength.
For more information on the TP-Link Archer AX12 and other TP-Link products, you may check out their website and official Facebook page.