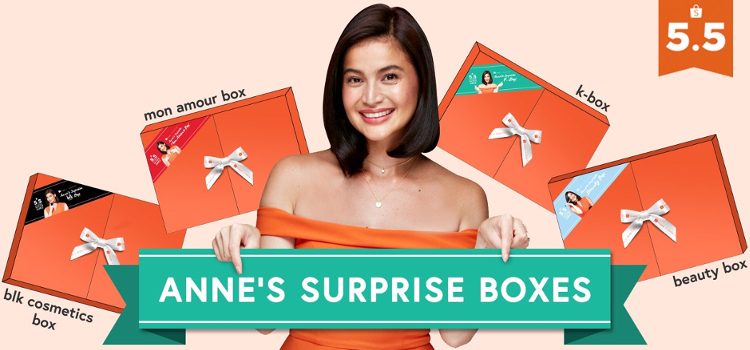 Limited edition surprise boxes worth up to ₱1,500 are available during the 5.5 Shopee Super Sale, specially curated by Shopee Philippine's first brand ambassador, Anne...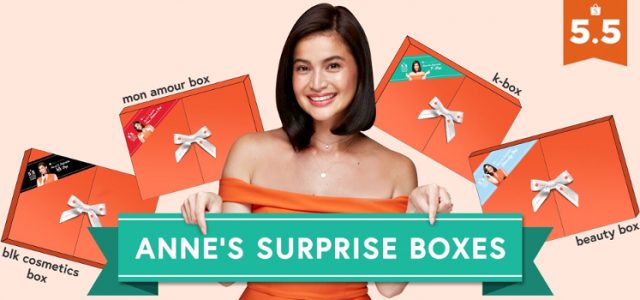 If there is one thing Shopee Philippines' first brand ambassador, Anne Curtis, is known for (aside from being a talented actress), it is her personal sense of style. She knows what she likes, and she's not afraid to show it. This has made her one of the country's most influential celebrities with a legion of fans, on top of launching her very own cosmetics brand blk cosmetics.

"I always make sure to follow a style that I am comfortable with. I like to buy things that I like and believe in. When you style yourself with things you love, you'll be more confident." says Anne Curtis.

For those who want to channel their inner-Anne Curtis, we have a surprise for you! This May 5, keep a lookout for limited edition surprise boxes worth up to ₱1,500 during the 5.5 Shopee Super Sale, specially curated by Shopee Philippine's first brand ambassador, Anne Curtis.

For the upcoming biggest mid-year online sale, 5.5 Shopee Super Sale, four different themed boxes, the Beauty Box, K-Box, Mon Amour Box, and the much anticipated blk cosmetics box from Anne's very own makeup brand, will be exclusively available on Shopee for ₱500.00 each for just 24 hours on 5 May. What's more, be one of first 5 buyers of any of the 4 boxes and snag it for just ₱55.00.

Anne's personal style can now be your own with these one-of-a-kind surprise boxes. To fully enjoy this awesome treat, here are some of Anne's personal tips:

On Beauty

Throughout the years, Anne has gained a reputation for being one of the country's most beautiful faces. Her secret? Keeping her beauty style her own. Here are some of her beauty rules in maintaining her youthful and vibrant look: 

Be daring – Anne likes to play with bold colors. From red to orange lipsticks, she's not afraid to decorate her lips with bright colors. It not only shows creativity, it also brightens up your face.

Blend your makeup – To achieve the best makeup look, don't forget to blend. Blending is one of those skills that every woman should learn as it's a fundamental part of the makeup application process. Blending makes your makeup more natural-looking and effortlessly flawless.

Always clean your makeup brushes – Always clean your brushes at least once a week to protect your face from dirt and bacteria. This keeps the brushes in top condition to seamlessly apply makeup.

On Korean products

It is not a secret that Anne is fascinated with everything Korean. She has professed her love for Korean dramas and pop culture many times, even asking her fans to recommend her new Korean dramas to watch in her free time. So when it comes to Korean products, Anne gleefully shares that she is also a big fan. Here are Anne's tips on buying Korean products:

Cute but handy- When getting a Korean item, don't be distracted by how cute and pretty it is. You should make sure that you would actually use it. There are a lot of Korean products in the market that are cute as well as handy like mini hair straighteners and cleansing brushes.

Korean Snacks are the best – Relive your Korean fantasy and imagine yourself watching a movie with your favorite Korean actor while devouring those tasty Korean snacks. Done imagining? Now go get yourself one!

On Love

Anne likes to surprise her husband with gifts. She says that the secret to a happy relationship is to make sure the other person knows he is loved. Here are some of Anne's gift-giving tips:

Watches are still the perfect gift – Ensure that your loved ones are never late for success. There's nothing like a simple, sleek, and stylish watch, a gift perfect for a man who's always on the go.

Get him ready for anything with a shaving set – A clean and precise shave is an achievement on its own. A shaving set is a thoughtful gift that will help your man achieve an impossibly clean-shaven look.

In addition to these boxes, users can also look forward to a mega 24-hour shopping fiesta on May 5. The 5.5 Shopee Super Sale campaign will feature massive promotions including 55 peso deals, in-app vouchers and surprises, as well as discounts up to 90% off across a wide range of categories.

Check out the 5.5 Shopee Super Sale at https://shopee.ph/m/55shopeesupersale

For more information, visit www.shopee.ph.