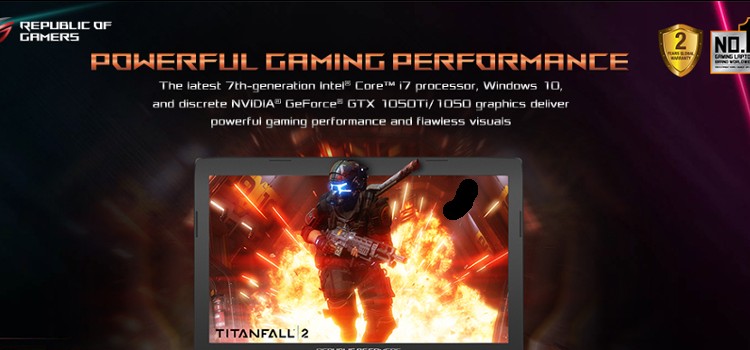 ASUS Republic of Gamers has announced new gaming products for this year's CES, namely gaming laptops powered by NVIDIA's GTX 1050/1050Ti, a new series...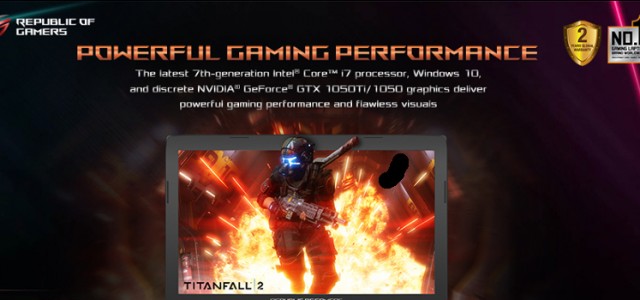 CES 2017 is now underway, and electronics manufacturers are pulling out all the stops at Vegas to wow the tech crowd. ASUS ROG is part of the show, and has brought out their new line of gaming products. The first of which are the GTX 1050/1050Ti powered gaming laptops, the GL553 & GL753.
ASUS ROG GL553 & GL753

ASUS Republic of Gamers recently announced the arrival of two addition to its powerful gaming laptop line-up – the GL753 and GL553 which offers professional gamers and enthusiasts incredible gaming power and extreme performance.

The powerful ROG Strix GL553 & GL753 are both powered by a 7th-gen Intel® Core™ i7 processor with discrete NVIDIA® GeForce™ GTX1050Ti/1050 graphics. PCIE SSD that gives GL553 & GL753 superior load times and faster data transfers.

GL553 & GL753 comes with anti-ghosting keyboard with up to 30-key rollover, 2.3mm key travel, and isolated arrow keys. The 4-area RGB lighting Chiclet keyboard delivers an incredible gaming experience even in darkness.
The ROG GL553 & GL753 are available at select ASUS and ROG concept stores nationwide. The GL553 retails for PHP 69,995.
Another product announcement from ASUS is their new Z270 Series Motherboards.
ASUS 7270 Series Motherboards

ASUS today announced its complete 2017 lineup of Z270 motherboards designed to maximize the potential of 7th Generation Intel® Core™ processors. The new range includes the highly-anticipated next-generation Republic of Gamers (ROG) Maximus IX gaming motherboards — with Maximus IX Apex having already secured its place in history by claiming eight world records and 13 global first places in some of the world's toughest benchmarks.

Also included in the lineup are the latest ROG Strix gaming motherboards for style-conscious enthusiast, the all-new ASUS Prime series for everyday customization and tuning, and the latest ASUS TUF boards with 24/7 stability and newly-added overclocking abilities. The ASUS workstation motherboard series has also been updated for the Z270 revolution — and all boards are loaded with exclusive technologies to enable users to extract every ounce of performance from Intel's latest CPUs.

The 7270 series motherboards will be available in the Philippines this January 2017, with pricing yet to be announced.

ASUS has also unveiled the first-ever 4K resolution and 144hz display, the ROG Swift PG27UQ

ASUS ROG Swift PG27UQ

ASUS Republic of Gamers (ROG) today announced Swift PG27UQ, a 27-inch G-SYNC™ HDR gaming monitor that is the very first to offer stunning 4K UHD (3840 x 2160) gaming visuals at an ultra-fast 144Hz refresh rate for the ultimate gaming experience with incredible contrast, deep saturated colors, and stunning brightness.  Quantum-dot display technology gives PG27UQ a wide DCI-P3 color gamut for more realistic colors and smooth color gradations. In addition, PG27UQ has a peak brightness of 1,000cd/m² and a high contrast ratio for exceptional distinction between light and dark hues. G-SYNC variable refresh rate technology provides tear-free, smooth, and low-lag gameplay. PG27UQ is built for gaming enthusiasts and pro-gamers, and is designed to take gaming visuals to a whole new level.