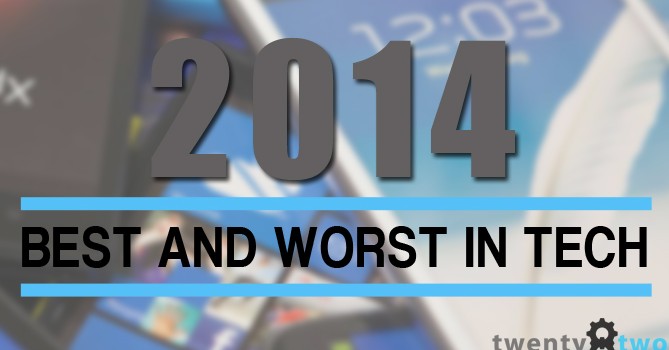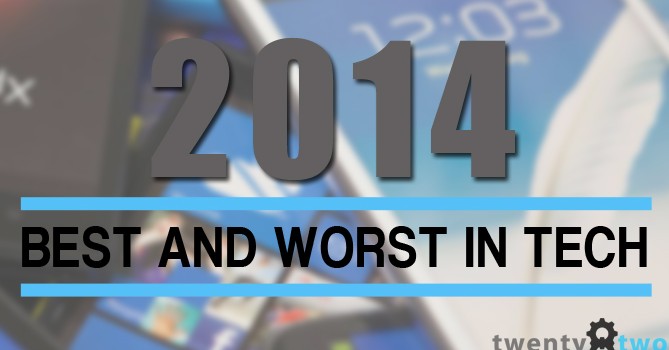 2014 is almost done and we take a look back at some of the tech news that made for great and not-so-great headlines! Things...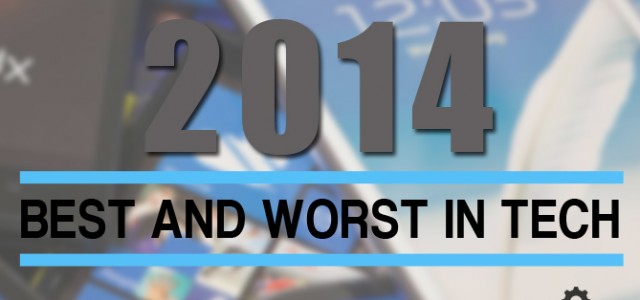 2014 is almost done and we take a look back at some of the tech news that made for great and not-so-great headlines!
Things never slow down when it comes to tech. Every year, it seems like more and more devices are released, and it seems like we're reaching a point where people are finding it harder and harder to keep up with tech trends. 2014 has been a great year for tech, with more flagship devices than you could count!
A lot of bad things in the tech world also happened this year, from gadget releases, to worldwide news. In spite of all the new nifty things we discover, a lot of things also take everything a couple of steps back.
Here's a quick list of what we thought are the best and worst in tech for 2014, in no particular order.
Best
Cloud computing

2014 was a big year for the cloud, that great big virtual harddrive in the sky! More people are using services like Google's Drive to store and work on their documents, while companies like Western Digital have released their MyCloud line, a way for people to have their personal cloud storage and share it with others.
Xiaomi

The "Apple of China" has made huge waves in 2014, thanks to their powerful devices at very budget-friendly costs. The Philippines has had a taste of Xiaomi, thanks to the Mi 3 and the Redmi 1S, but hopefully more Xiaomi products will reach our shores in 2015.
Wearables

Tons of brands have released their wearable tech, usually in a form of a watch. LG, Motorola, Pebble, and Cherry Mobile all had new smartwatches this year, and next year's forcast for wearable tech is bound to be bright.
3D printing

Did you know that even CDR-King has their own 3D printer for sale? More and more people are embracing this new innovation, and it's a good thing to notice that 3D printing services are at decent prices-for small items, at least. In the coming years, expect cosplayers to have highly-detailed, 3D-printed costumes (especially the Iron Man cosplayers)!
Cameras

Go Pro. Need we say more? Sure, there will always be a market for the DSLRs, but companies have jumped on the GoPro bandwagon by producing their own wearable cameras. And don't forget about drones, too! These remote-controlled, camera-toting robots made it big these year as well, with a ton of practical applications (like in wedding videography)!
Worst
Ebola outbreak

Like something out of a movie, a new ebola outbreak has emerged, and with it, general global paranoia. Tech and medicine have joined forces to combat this threat, thanks to the internet being a very effective way to get people informed. Still, the virus has spread and, despite best efforts, is still difficulty to contain.
Hacking

A lot of hacking incidents happened in 2014, the biggest of which was from iCloud and Sony. The iCloud fiasco leaked hundreds of NSFW images of many celebrities, while Sony's multiple run-ins with hackers had sensitive passwords and company email opened for the world to see.
Disappearing airplanes

Despite advancements in aviation technology and safety, 2014 may very well be remembered as the year when a lot of airplanes were lost. Despite multiple countries banding together for the search of these planes, they remain mysteries up until now.
Alternative social media sites

This year, Facebook made a few changes to its user privacy settings that upset a lot of fans of the service. Thanks to that, a lot of alternative sites popped up, like Ello. While things like this are quick to catch on-thanks to it going viral on Facebook no less-they also are quick to bomb and fade into obscurity.
Blackberry P'9982

In 2013, Blackberry announced that it was up for sale. While that made for sad news, the same company released-in partnership with Porsche Design-an over the top smartphone. The P'9982 might not be the best idea BlackBerry had, with almost flagship specs (at the time), a lackluster battery capacity, and an eye-popping price: P100,000. Yeah, this is one phone that won't be mentioned around the tech dining table in the future but deserves a spot in our list.