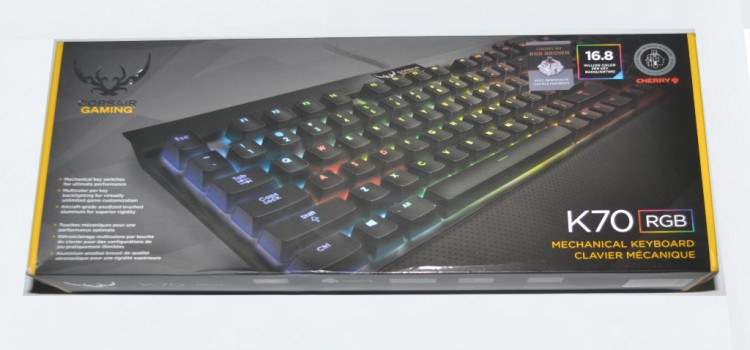 Our first-time mechanical keyboard user takes the Corsair K70 RGB for a spin and discovers himself through the comforting sound of clacking keys. It...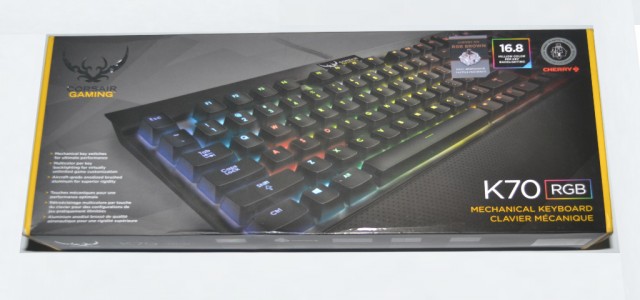 Our first-time mechanical keyboard user takes the Corsair K70 RGB for a spin and discovers himself through the comforting sound of clacking keys. It sounds like a bad tech movie and thankfully it's not. We, however, unbox and review the K70 in this installment of DAILY DRIVEN.
Full disclosure: this is the first time I will be using a mechanical keyboard and I've always thought gaming keyboards is just a fancy name for mechanical keyboards. What's so special about mechanical keyboards? Is it all just hype?. Thanks to the fine folks at Corsair Philippines, I get my first mech keyboard experience while I try and find out what makes this heavy piece of tech so special aside from being the weapon of choice for gamers.
Initially, I was dumbfounded with the different kinds of Cherry MX switches. I thought it was just a marketing concept related to about mech keyboards. Thanks to the Corsair K70 RGB, I now understand why there is a big difference with comfort and ergonomics depending on the switches on your keyboard. As a bonus, this article is written using K70 keyboard. Typing on it has been a dream!
With that out of the way, it's time to unbox and set up this big baby!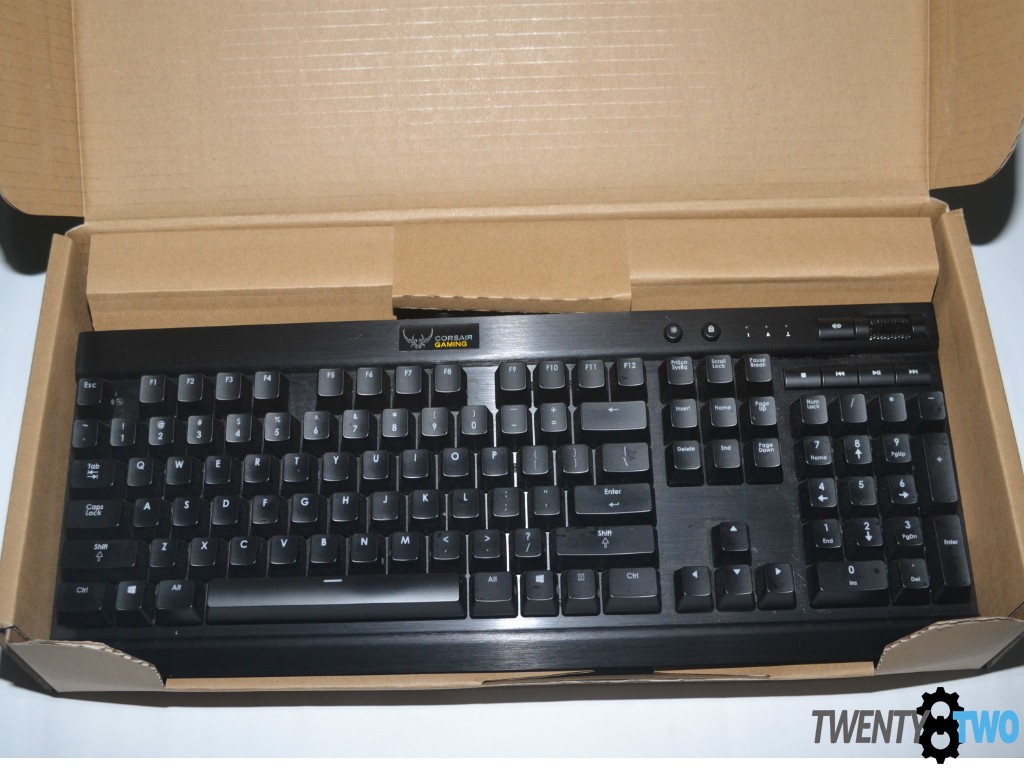 Design and Features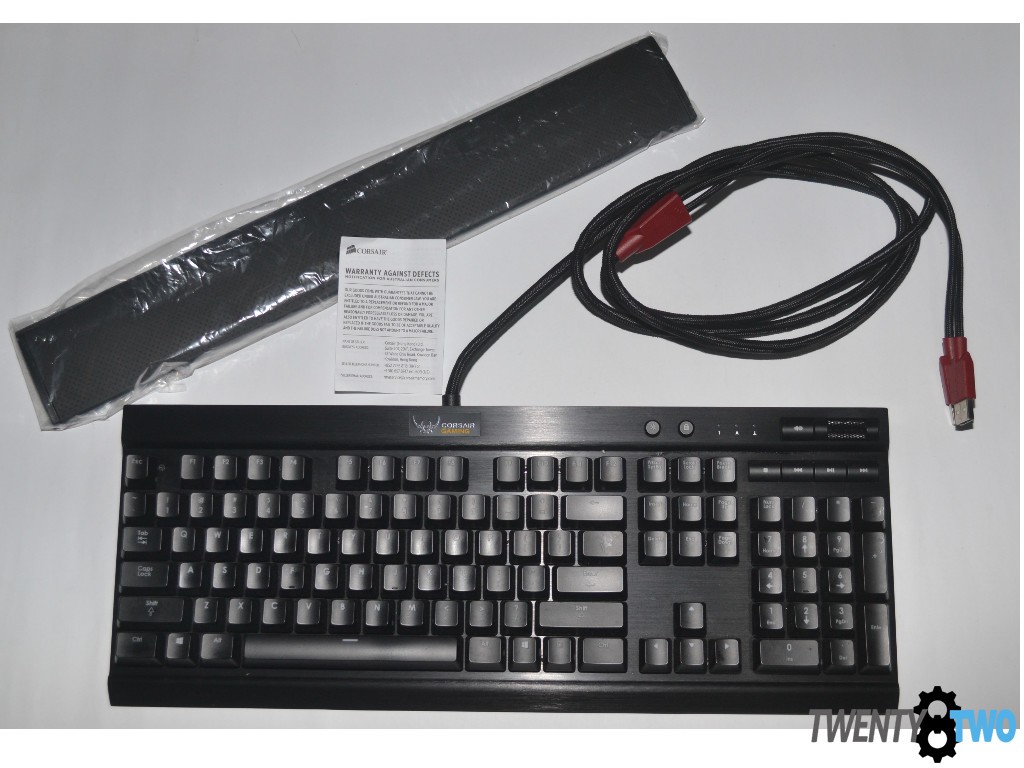 The Corsair K70 RGB had Cherry MX Brown switches which is something alien to me. I found it to be very soft to the touch, and the key input on screen is lightning quick. The keys are very sensitive; a half press already sends the input command on-screen. The K70 RGB comes in an alluring aluminum black finish that I can compare to my Lian-Li CPU case that I have as of the moment. There are media controls on top of the numeric keypad – very nice to look at – with a volume control knob that is machined and made with aluminum. The switches for the keyboard are very quiet, soft and offer a springy response and the feedback for the tactile proportions is a prize for gamers. You can change the keys as well, customizing it to the highest level.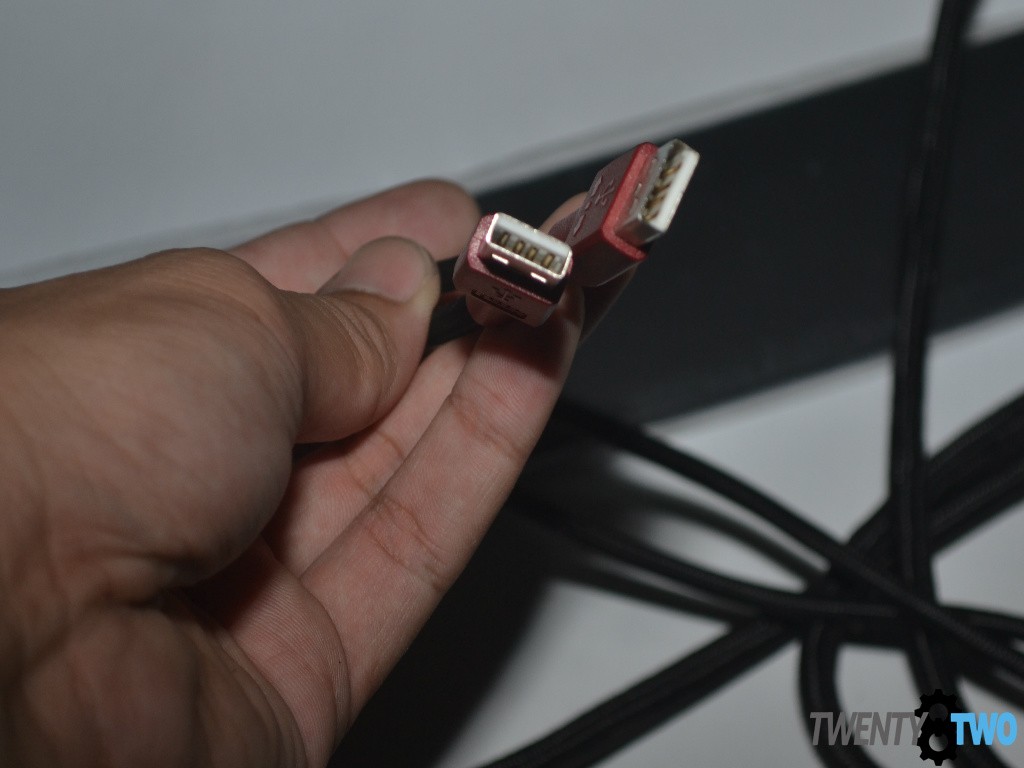 You can update the keyboard's firmware via Corsair's official website and I must say, there are vast improvements in terms of response time which is really awesome! The keyboard also is equipped with a hand rest made of a rubbery matte material. It helps in ergonomics and comfort, which is a nice premium.
The Corsair K70 RGB features eight built-in buttons (Blacklight on/off, Media Controls, and Windows Lock.) and finally the 108 keys that are present. The keyboard itself has a rollover 108 key function and is able to register all the key inputs – which makes very satisfying clacky sounds, by the way. The keyboards connects via slender stout USB Y-Cable and i noticed it is made of nylon cloth. I would have preferred it if Corsair made polyester-covered wires as well instead of cloth-type material.
The feature I really liked is that the K70 RGB offers 16.8 Million color per button possibilities, meaning you can assign buttons in every color definition you want. It seems like Corsair has jumped on to the multi-colored mech keyboard wagon but I'm not complaining. The colors are controlled via the Corsair Utility Engine Software, this lets you set your own color assignment under each keyboard cap, but also assigns different lighting patterns and effects, personal profiles, and set specific color schemes with programs and games that you installed on your PC.

Corsair Software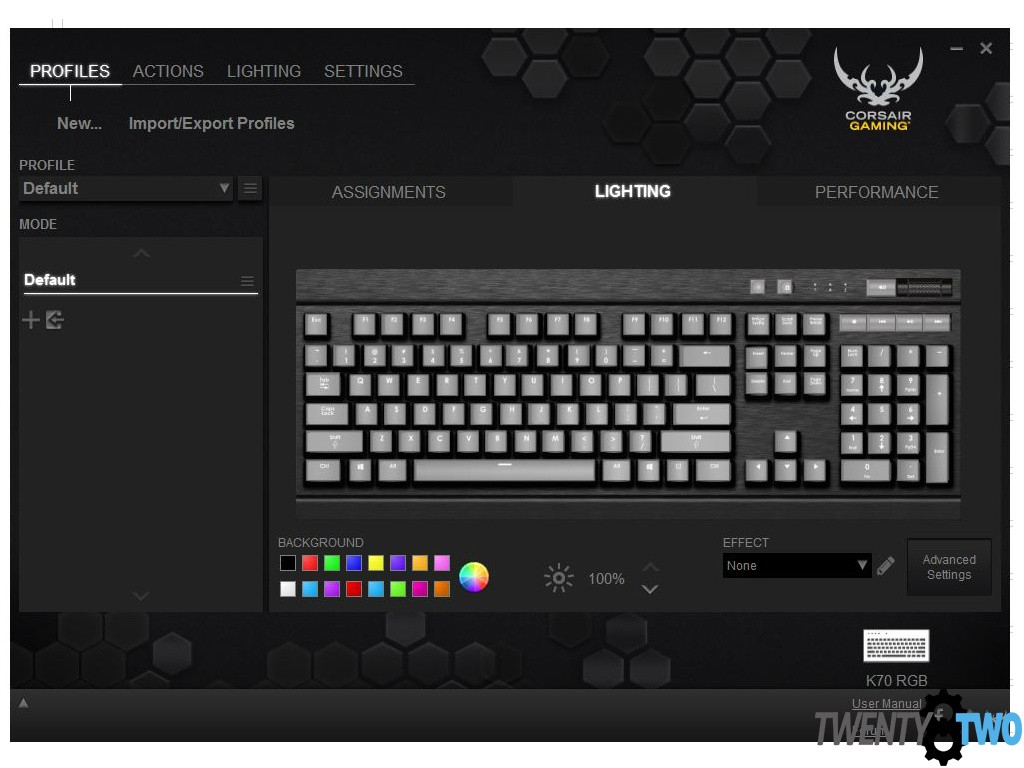 The software manages the programmable options powered by an ARM Processor, and a cool feature is that the onboard memory of the keyboard can store information of your own personal profile even when you plug it into a different PC. In addition to keyboard lighting, the customization on the keyboard itself lets you assign pre-programmed commands aka macros, to any key, letting you start a complex string of actions with a keystroke. Likewise there is a small sliding switch on the back of the keyboard, beside the cable that lets you adjust the polling rates. Most users leave it to 1 millisecond for fast response time. Corsair offers a two-year warranty specifically for K70 RGB.
Performance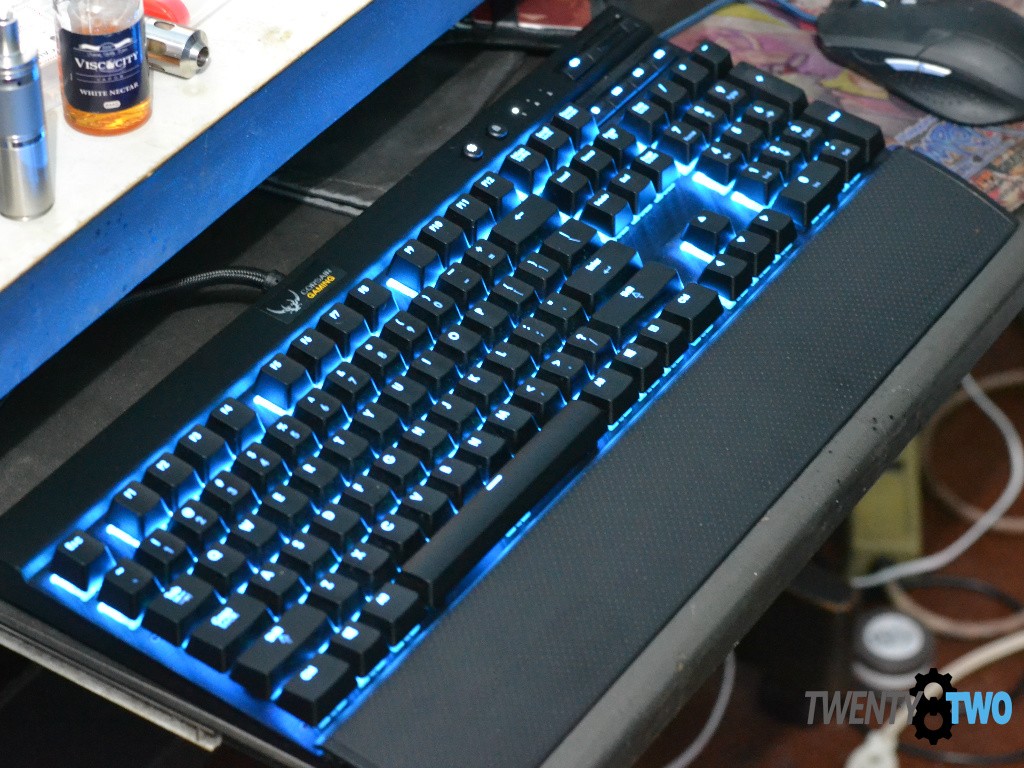 I took my time to review the K70 RGB since I'm new to the mech keyboard scene. I'm very impressed with the whole transition from a membrane keyboard to a mechanical keyboard and the process made me understand a mech keyboard easily fits in your typing rhythm especially if you work on articles and coding programs. The aluminum construction is superb and the finish just ups the premium look. The Cherry MX Brown key switches in nature are soft and quiet – good for people who type on their keyboards for the better part of the day. I was able to smoothly transition from membrane to mechanical and enjoy the tactile feel of the keys regardless if I'm working or playing.
My favorite feature on this keyboard is lighting. Why? It's because every time I build my own PC, I don't have to make color scheme changes since it takes too long to pick themes.
I also tested the K70 RGB on my Macintosh system. It works fine but the whole thing that was lacking is the official Corsair Software Support so I could change the lighting and assign macros. Looking around the 'Net, I managed to come across this entry on the Corsair Forums which allows you to get the full functionality of the K70 RGB with the even if you are using a Unix or Unix-like systems such as Macintosh 10.9.x (Mavericks) and Macintosh 10.10.x (Yosemite), as well as Linux systems (Ubuntu, Mint and Debian).
Conclusion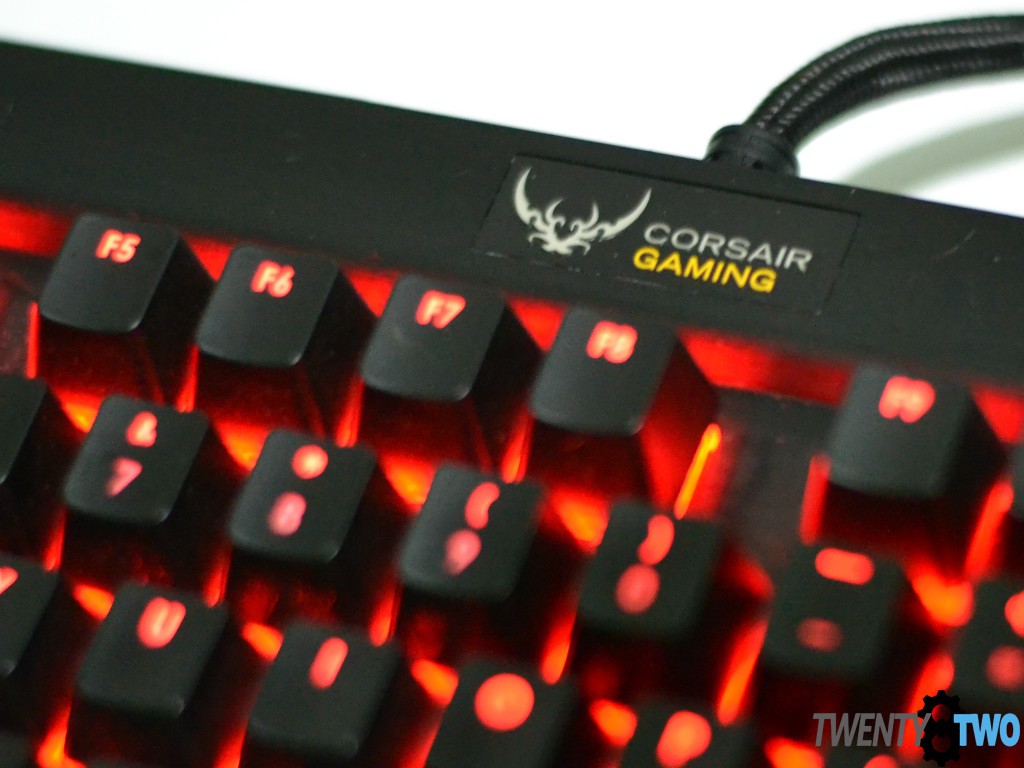 The Corsair K70 RBG made me a believer in mechanical keyboards. The keys are soft and sensitive to inputs and is an awesome keyboard with tons of selections and customization features. From this aluminum design that is sleek to a brightly colored backlight, the K70 RGB is built very well with solid construction and is perfect for gaming. I was able to enjoy writing this article using the keyboard, and if you're in the market for a solidly-constructed keyboard that will last, I definitely recommend the K70 RGB.
MattGuyver