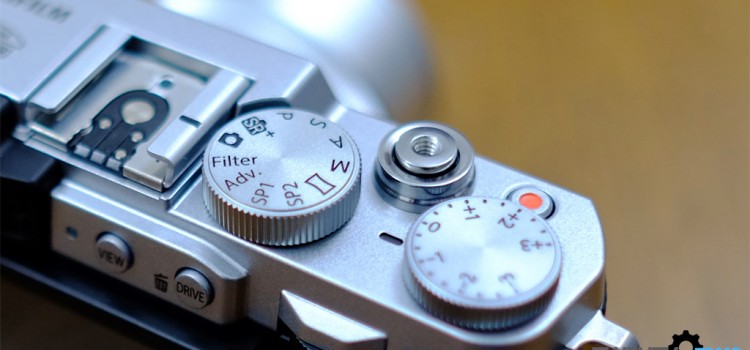 Leather and metal make a great aesthetic combination for the Fujifilm X30 but we're not really here for just the looks. The author took...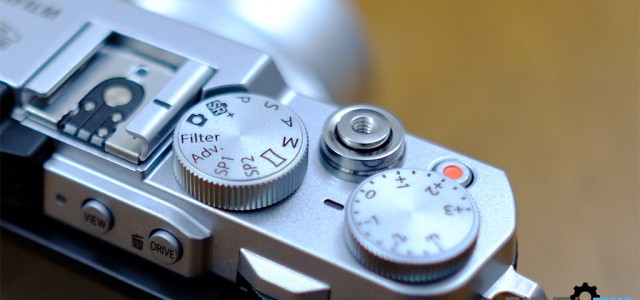 Leather and metal make a great aesthetic combination for the Fujifilm X30 but we're not really here for just the looks. The author took his shiny new point and shoot for a spin to see if it holds up to a hobbyist's expectations.
DISCLAIMER: I would like to preface this review by stating that this will not be much of a comprehensive review, rather, this is a summary of my experience using Fujifilm X30 (and why I chose this over other similar camera model and brands). You will find a lot of detailed and technical reviews of this product online, but as a device aimed for general consumer, I would like to discuss more about the camera's features that makes more practical sense.
Before we go any further, click here for the actual product.
The Body
Mostly wrapped in leather, X30's body is made from die-cast magnesium alloy. Dry weight is around 380 grams; with battery and memory card, add 40 grams more. Whether you have the camera dangling from your neck or inside your purse, you don't need to worry about strain. I didn't.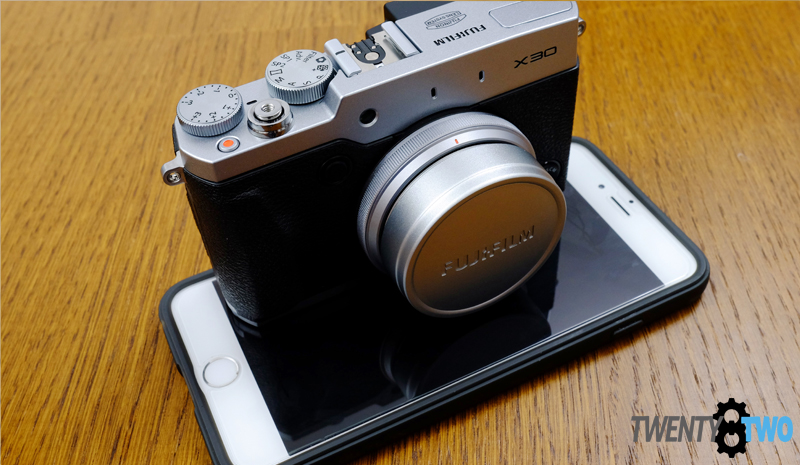 The X30 is slightly bigger than your usual point and shoot. As shown in the picture, it covers about 2/3 of an iPhone 6 Plus's screen. Depending on what kind of trousers you are wearing, the camera isn't exactly pocketable. But with the dials and controls this camera offer, the trade off is well worth it.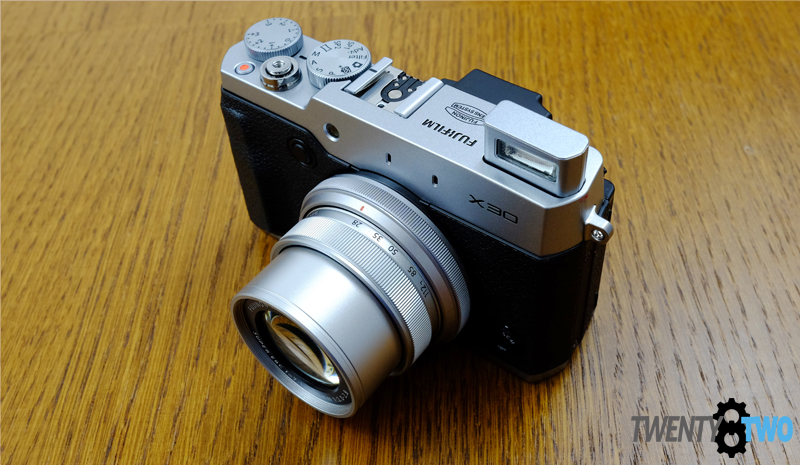 Pop-up flash is discrete and flush to the body
 X30 comes in two colors – silver and black. The silver has a retro look, while the black has a more understated elegance.
Camera Controls
On the outside, X30 offers two dials – one for the Mode Selection, and one for the Exposure Compensation. If you are in the market for a point and shoot camera, you will come to know that the X30 offers more modes than almost all of similar cameras currently on sale – offering you greater shooting flexibility. I would like to think of it as an entry level DSLR in a P&S body.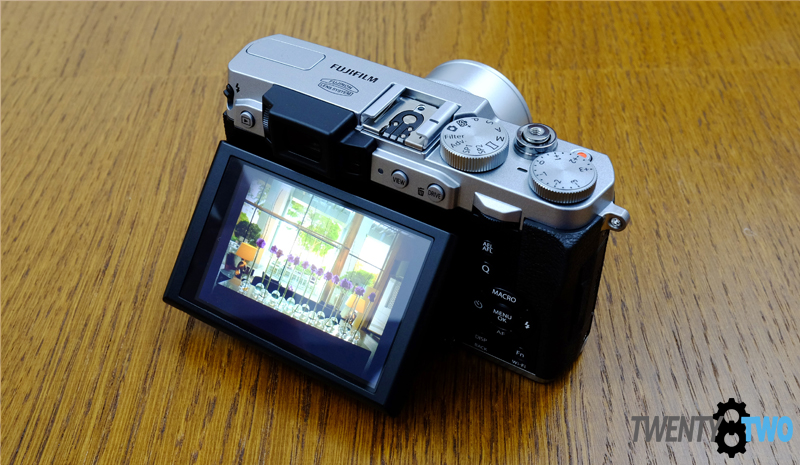 X30's tilting LCD gives creative flexibility in shooting overhead and low angle shots
Selfie fans would find the accompanying Fujifilm Camera Remote appealing. Available for download in both iOS and Android platform, you can control the camera from your phone or tablet. The list of camera settings you can change is comprehensive: you can not only adjust the camera's focus, but it will also let you change settings like self timer, shutter speed, ISO sensitivity, and aperture. The camera remote application also features photo browsing and transfer from the camera to your mobile device. I personally find this as the most important feature of the application as backups to me – even though the X30 only backups JPEGs – are of the utmost priority.
Image Quality and Performance
Much has already been said about this camera when it comes to performance. But one thing I've never read mentioned is, side-by-side with an entry level DSLR and shooting the same subject, you wouldn't even see the difference in image quality (and you might be even fooled to think that X30's output is that of the DSLR's). It is that good.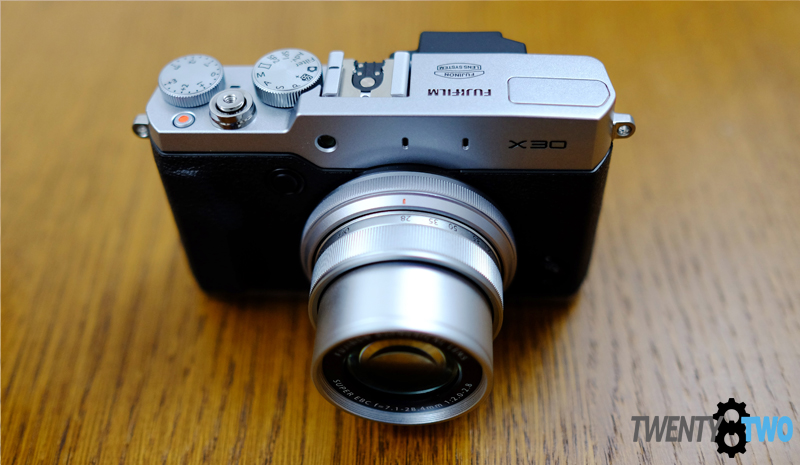 Fujinon 28-112mm f2.0-2.8 zoom lens (optical)
Color reproduction is also fantastic, as what Fuji film is widely known for. If you are the type of person who likes using filters in your photos, you will find yourself doing less of that and more picture-taking. The color is vivid straight out of camera and anything beyond that will make the image less realistic.
Other Hardware Features
X30 is powered by a proprietary lithium ion battery pack which is rated up to 470 pictures. My real world experience is around 400, which is not too far off from the manufacturer's claim. I am not too worried though, since the battery can be charged from the camera using your cellphone charger OR a power bank (using a micro USB cable). This is in contrast to the usual separate battery charger that comes with other cameras.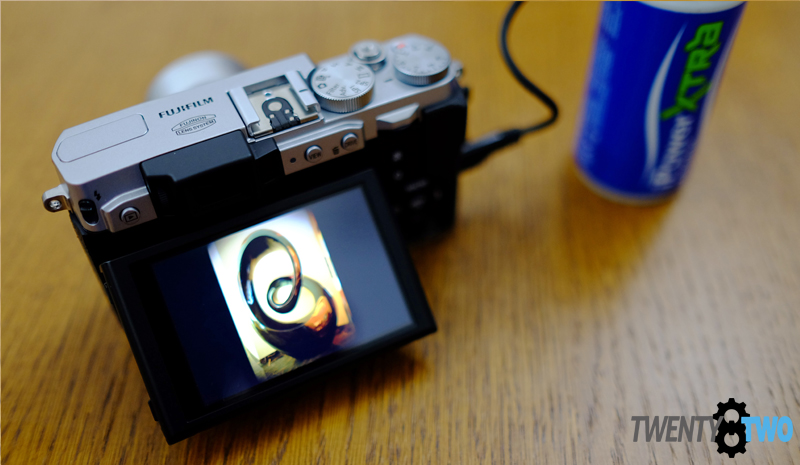 A powerbank with a capacity would of 6000 mAh would fully charge the battery at least 2 to 3 times over
Being able to charge your camera using a powerbank does not only spell substantial savings in buying a spare battery (esp. for frequent travellers), but the functional convenience also comes when you want to shoot timelapse (the camera is functional while connected to any power source).
Sample Photos
The proof is in the pudding, as they say, and I believe the X30 performs really well, no matter who wields it. DSLRs can be quite daunting to the newbie or casual photographer, the person who just wants to take photos for the fun of it, and enjoys finding great shots in the moment. The photos below were taken by my wife Lea, who went in with little photography know-how and just snapped away.
Final Thoughts
Overall, Fujifilm's X30 is a well-rounded camera that is solidly built, produces images of excellent quality, and has topnotch ergonomics. It really is a proper camera capable of taking fantastic pictures that is at par with entry-level DSLR image output (such as a Canon 1200D). While writing this review and doing a comparison with other cameras of similar form-factor and price-point, I was hard-pressed to find a suitable match. I really liked this camera so much that I bought another unit for my wife (the one you see in this review is their office camera).
Who should buy this camera: street photographers, travelers wanting a small camera that can still take good pictures.
Who should not buy this camera: advance amateurs looking to upgrade from their small DSLR camera (or bridge camera).