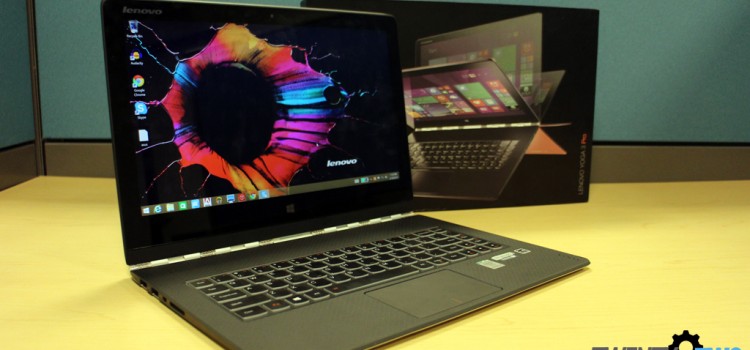 It's slim, sexy, and bends in all the right ways. We got a chance to take the Lenovo Yoga 3 Pro for a spin...
It's slim, sexy, and bends in all the right ways. We got a chance to take the Lenovo Yoga 3 Pro for a spin to see if it holds up as a daily driver laptop.
Looks
When it comes to great-looking laptops, the Yoga Pro 3 is up there. It's a definite head-turner, thanks to its slim profile and the hinges. Lenovo used a 'Watchband' design for its six hinges. They look like links from a metal wristwatch, and that does add to the shiny factor of the device. Use-wise, the hinges are stronger, thanks to having the tension of manipulating the laptop spread across six points instead of the usual two. Speaking of manipulating, the Yoga 3 Pro can be used as a normal laptop would, laid flat for when you're showing something on your screen to the person across a table (during a meeting, for example), bent back some more in its 'tent' configuration when watching movies, or completely bent back onto itself, like a tablet.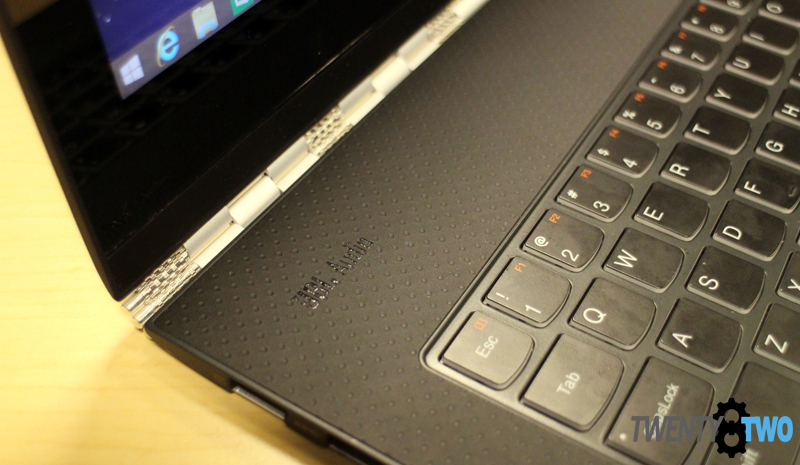 One of the things we liked about the Yoga 3 Pro is its versatility. There are appropriate situations to use all the possible configurations without diminishing utility. When the laptop is in tent or tablet mode, the keyboard and touchpad are deactivated, allowing you to better handle the device without fear of pressing keys or buttons.
One thing we noticed while testing the Yoga 3 Pro is that the Windows start button is not very responsive, although we've been informed that an update to the software to fix this is available. Still, you have the touchscreen to use and it is very much on point.
Interaction
The Yoga 3 Pro's touchscreen is precise and we didn't really have a problem fiddling around with it. The touchpad is also precise and we never had a problem scrolling, moving the mouse, or double-tapping. In fact, we rarely used the hard left and right keys of the device as the touchpad was responsive enough for our needs.
The display is a eye-popping 13.3″ QHD 3,200 x 1,800 IPS display with a low glare coating which gave it great viewing angles whether it was bent forward or back. It feels as if the screen has too much pixels. The saturation out of the box can sometimes be a bit too high for the eyes, especially if you're used to office-issued laptops a couple of years old. Still, the display is as luxurious as it gets.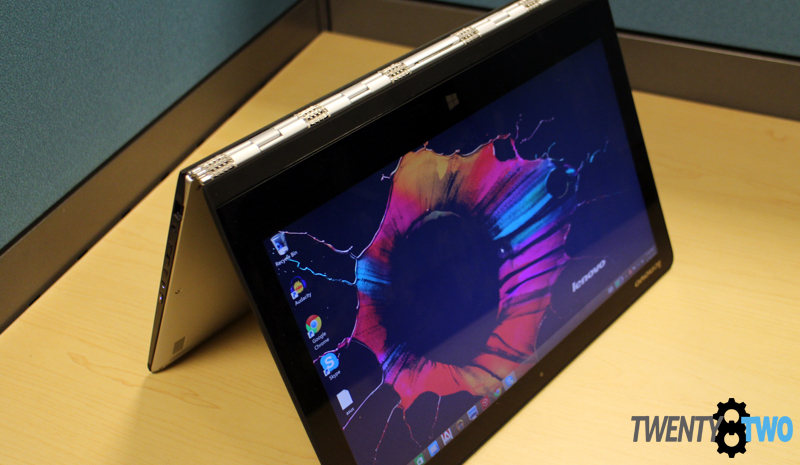 Watching movies is a treat with the laptop, even if your copy isn't in HD. We found that plopping it in laptop mode is best, but if you're a Lenovo Yoga user, you may find the tent mode a better option. The main trade off with a super high resolution may be smaller font sizes, but that's not really the Yoga 3 Pro's fault. Did we mention that we did feel a bit of visual overload just by looking at the display? Everything's so smooth!
The keyboard is shallow to preserve the slim look, but we found typing on it to be fast and responsive. The key actuation is enough to give you the satisfaction of actually pressing keys, and they're spaced enough so you won't be pressing the wrong key all the time.
Hardware
It's not labelled an Ultrabook for nothing. The Yoga 3 Pro sports Intel's latest Core M base and it has allowed the device to be less than an inch thick, it's also very light as well without compromising performance. Apps loaded blazingly fast, and our installed programs fired off without any hitch nor hiccup.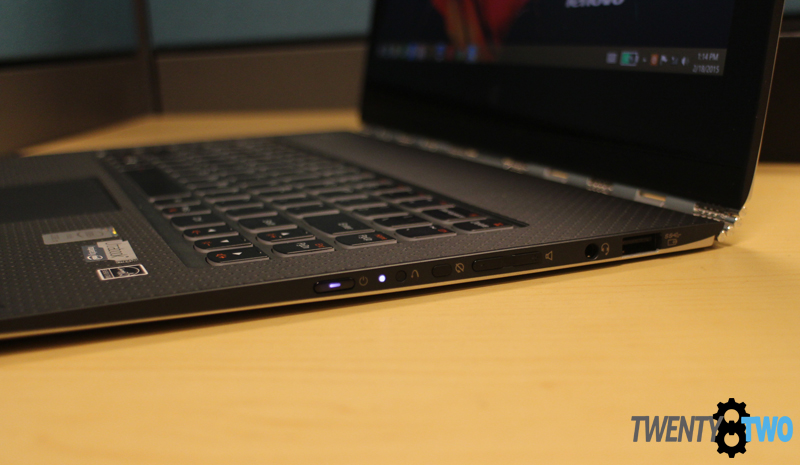 Saving and accessing your files is also a breeze. The Yoga 3 Pro comes in 256GB and 512GB SSD variants with 8GB RAM, which is more than enough for large image files to be processed in Photoshop and maybe even a game or two. It's an Ultrabook, so expect top of the line specs.
Software
What we also liked about the device is Lenovo's Yoga Harmony system. It learns which apps or programs you use the most often when it's in different configuration modes and offers you these apps the moment it senses what you're doing with the machine. It also offers you a few apps that you may find useful, like YouTube for when you're in tent or tablet mode. It's a nifty feature to have, but if you're a long-time PC user, you may find it annoying or prefer to do things your own way.
The Harmony Setting is another feature similar to the Yoga Harmony. Photos automatically display to full screen when the Yoga 3 Pro senses you're transitioning from laptop to tablet mode, and turns on the motion control system, allowing you to scroll through photos by just waving your hand in front of the webcam. These are little, almost overlooked features that make interacting with the device a lot easier, and you can tweak them to your heart's content in the settings, along with power usage behavior, brightness settings, etc.
Battery Life and Cooling
With all the high-end hardware and software enhancements deserving of Ultrabook status, the Yoga Pro 3 comes with trade-offs. First is the battery life. That QHD screen and hardware (despite the Core M series being designed as a low-power chip) doesn't get power from thin air, plus all the things you're doing with the machine. We tested the Yoga Pro 3 by having it as our main work laptop and with all the simple Photoshopping, writing, surfing, and a bit of YouTube watching, the battery lasted around five hours. The thin profile of the device doesn't leave much room for a bigger power cell, sadly.
The second issue we noticed was the heating. The Yoga 3 Pro is predominantly metal, and when you have that much going on under the hood, things can get hot really fast. It does have a small fan, but the vent underneath the machine is a little too small for our liking. Heating issues can lead to decreased overall performance, and this is definitely not a laptop you'd want to stay on a desk without some sort of cooling pad system if you plan on working on it for a long time.
Summary, Pricing, Availability
Overall, you're definitely getting a lot of value with the Yoga 3 Pro. It's multiple configurations make it the perfect work-and-play laptop. It has heft, but once it's in your laptop bag you'll hardly notice the weight. You won't need to be delicate in handling this gadget either, and the hardware plus software combined gives you a smooth and fast computing experience. While it is a head-turner with its slim profile, we wouldn't mind a bit more thickness if it meant having a larger power pack and a bigger fan/vent combo.
The final barrier is the price. The Lenovo Yoga 3 Pro weighs in at P77,000 with a 2-year warranty and is available in Lenovo stores nationwide. The tag on it may be a bit high, but this is an Ultrabook, one of the thinnest in the world and the current flagship.