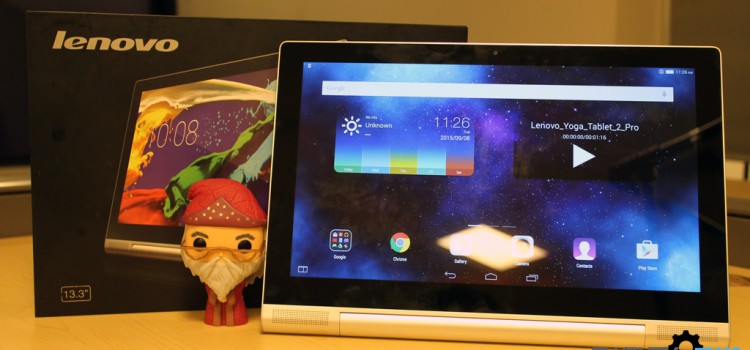 Most tablets can be used for both work and play, but not all tablets have the added feature of a small projector for your...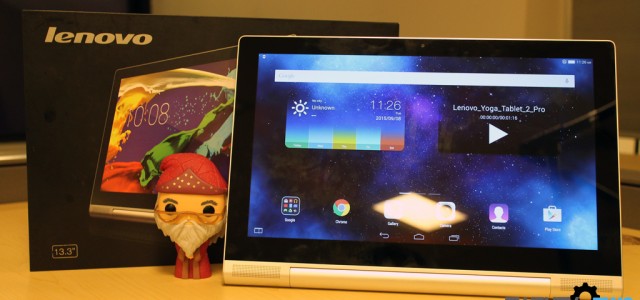 Most tablets can be used for both work and play, but not all tablets have the added feature of a small projector for your reports or movies – something you get from the Lenovo Yoga Tablet 2 Pro. But is it a one-trick pony? We took the device for a spin and found out that it's a great workhorse, too!

Tablets are all the rage these days, thanks to a lot of things you can do with it outside of watching movies or playing Clash of Clans. Thanks to streamlined apps, you can also work on your reports and present them at the same time. I was able to take the Lenovo Yoga Tablet 2 Pro for a spin and right out of the box, this tablet isn't joking around.
Specifications
Processor: Quad core 1.33GHz Intel Atom Z3745
RAM: 2GB
Display: 13.3 inch QHD IPS LCD, 2560×1440 pixels at 221ppi
GPU: Intel Gen 7 (Ivy Bridge)
Storage: 32GB, expanable up to 64GB
Camera: 8MP 3264×2448 pixels rear, 2MP front
Connectivity: Bluetooth, Wi-Fi, microUSB 2.0
Sound: 1.5W stereo speakers with Dolby Digital Plus and JBL subwoofer
OS: Android 4.4 (KitKat)
Battery: 9600 mAh li-Ion battery
Looks
The Yoga Tablet 2 Pro is up there in terms of aesthetics. The aluminum shell greatly enhances the durability and premium feel of the device. The rounded bottom of the tablet houses the pico projector with a dedicated button and focus adjustment, as well as the power button. At the back of the device is the 8MP rear camera and the JBL subwoofer, plus a quick release button for the stand.
On its own, the Yoga Tablet 2 Pro gets plus points on looks thanks to its sleek form factor. It's by no means a portable tablet however, as the 13.3-inch QHD display really makes it stand out on any table, and can take up a bit of space in your bag.
Display
The device boasts a 2560×1440 pixel display, with a pixel density of around 221. That's a lot of real estate! Thanks to QHD, the tablet does output gorgeous visuals and great viewing angles, but it does need to work on brightness. I felt that while the colors were great, they lack a bit more vividness to them. That aside, the pixel density of the device makes everything sharp, while the large screen can take a bit of time getting used to, especially if you've been used to looking at 7-8-inch tablets. Try to prop this tablet a bit farther that how you usually set up your smaller tablet for maximum results.
Interaction
The Yoga Tablet 2 Pro has a quad core 1.33GHz Intel Atom processor and an Ivy Bridge graphics card to handle the heavy lifting. In my experience, I've encountered little to no lag, despite having multiple apps open (most of them game apps) and switching apps rapidly. Fiddling around with the device has been smooth and hassle-free, which I initially had doubts due to its screen size. This particular Yoga is a big boy, and I'm happy to say that its processor and graphics card handle the load quite well.
Like its siblings, the Yoga Tablet 2 Pro has different modes as to how you want to use it: Hold mode makes use of the barrel-like base as a grip, Stand mode makes use of the kickstand, Hang mode lets you place the device on a hook (the kickstand has a hole) for hands-free viewing, and the Tilt mode where you used the stand to prop the tablet at an angle which is used for the projector.
Projector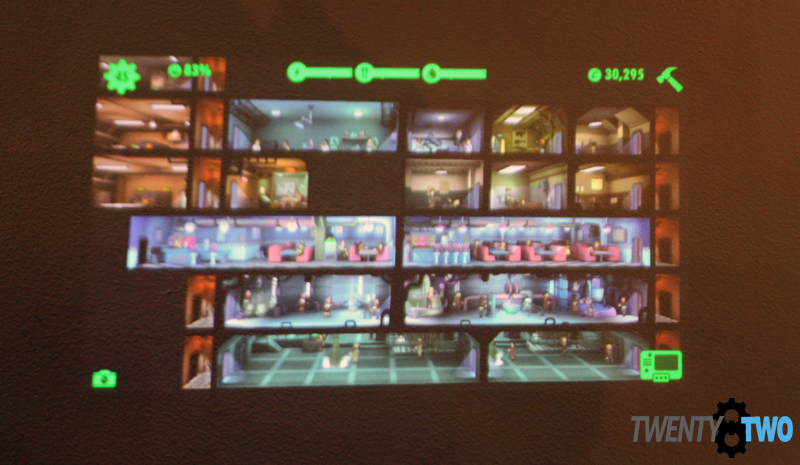 I did not have sky high expectations for the device's built-in projector. It's by no means what the product was made to do, and the projector itself was really small. Thanks to expectation management, I was happy enough with it. The colors are washed out, of course, especially when the room isn't dark enough, but if you need to display your slides on the canvas and your office projector isn't working, then the Yoga Tablet 2 Pro can save you in a pinch.
I'd have to commend Lenovo with this feature. It could use a bit more work, but it does help the case of having tablets for office use that much more convincing!
Multimedia
With a 13.3-inch display, the Yoga Tablet 2 Pro is a clear winner. Watching movies on the device doesn't feel like you're watching on a laptop at all, thanks to its pixel-packed display. The memory may be a little sparse – 32GB – for people who want to cram their tablets with HD-quality movies and series, but the tablet can be expanded to 64GB.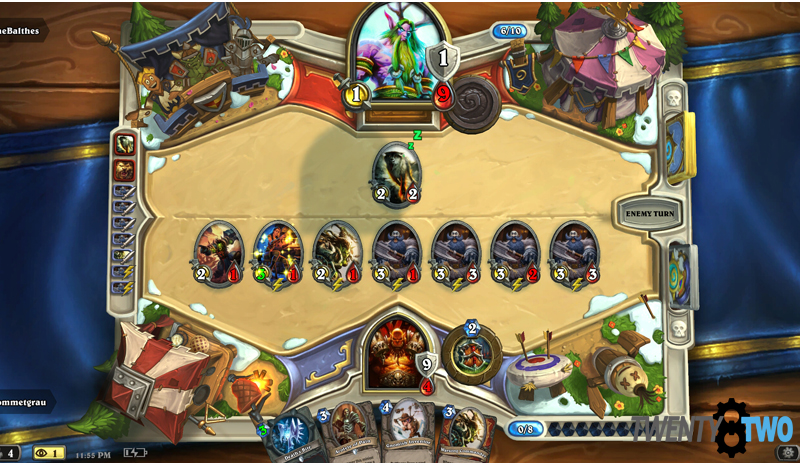 When it comes to gaming however, the big display and form factor work against the device. Sure, playing something like Fallout Shelter or Hearthstone could be awesome, since you primarily use your finger to interact with the games, but for something like Modern Combat, you may need a Bluetooth controller, since using the on-screen interface can be tiresome and awkward.
Camera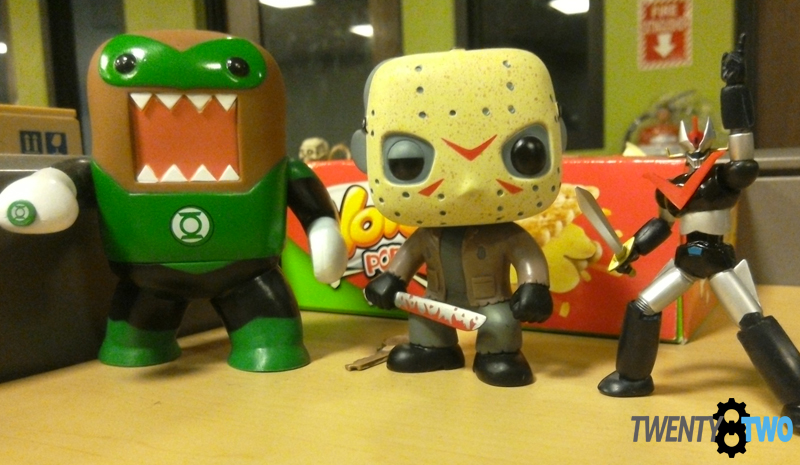 For a tablet camera, I give the Yoga Tablet 2 Pro's set a decent score. Both front and back shooters have great resolution in well-lit areas, but nothing too fancy or groundbreaking. The front camera has an aperture of 2.2, which is good because you can fit more people when making Skype calls.
Battery
While the device does boast a 9,600mAh battery, the large display area plus QHD combine to make battery life a good 8 hours at best. It's not going to win the longest-lasting tablet, but when you take into account the big screen, smooth display, Wi-Fi, movie watching, and gameplay, those hours on a single charge are not really something to be despondent about.
Summary, Pricing, and Availability
Overall, the Yoga Tablet 2 Pro is a great workhorse. It can take the tasks you throw at it, plus the large screen and MultiWindow feature allows you to multitask with no problem. This tablet isn't built for travel, however, since the large screen can be cumbersome.
The Lenovo Yoga Tablet 2 Pro retails for P33,999 and is available at all Lenovo stores and partner resellers nationwide.