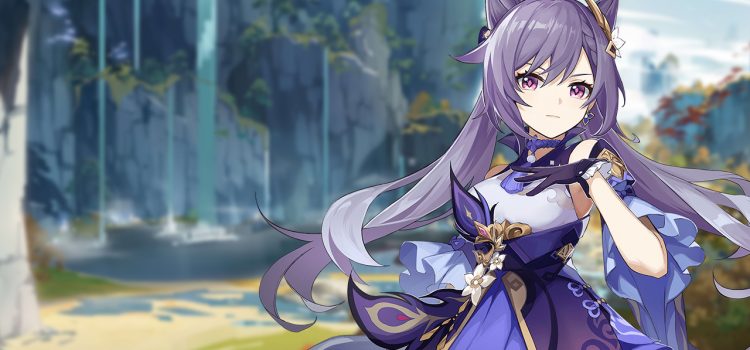 Keqing is one of the most popular characters in Genshin Impact and if you were very lucky and pulled her, here's a complete guide...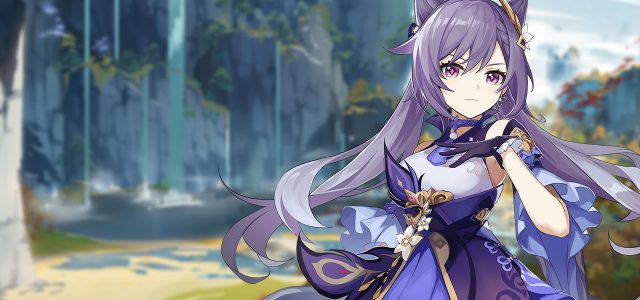 One of the most popular characters in Genshin Impact, Keqing enjoys her status as a 5 star electro character. She deals a significant amount of damage and is a carry for your team in every sense of the word.
Keqing: Overview
Keqing is to date, the only electro sword user in the game. As we have learned through story quests, there is a shortage of electro Vision users since the archon associated with the electro element has ordered the confiscation of Visions with the electro element. That said, it may be a while before we can see other electro sword users pop up in Genshin Impact.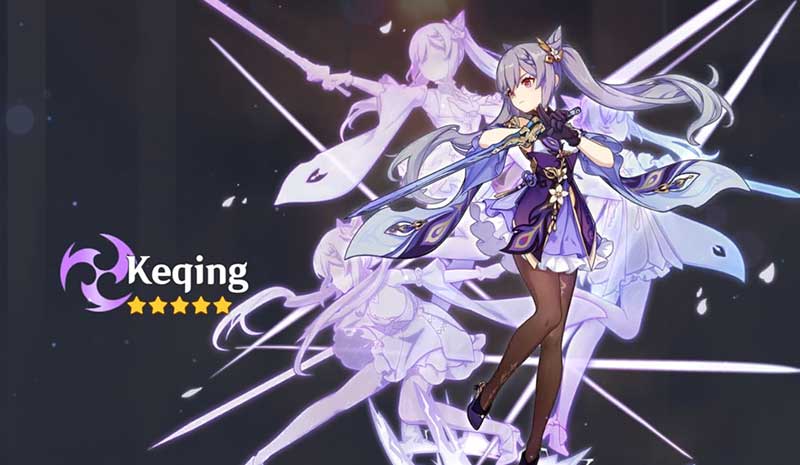 She has great damage output befitting a 5 star character but her electro element somewhat holds her back from matching the power output of someone like Diluc just because electro has less powerful elemental reactions versus pyro. Don't let this discourage you because she is still a powerful character.
Keq's normal attacks strike hard and fast, and on the fifth attack, makes her teleport. This however, does not make her invulnerable to enemy attacks nor AoE effects. Take note that she will still take damage even when she has disappeared from the field. To counter this, experienced players will press jump to cancel the disappearance animation, allowing you to restart your chain of attacks.
Her charged attack consists of two rapid strikes that consume Stamina and small targets will be knocked down. You can blend her charged attacks with her normal attack chain for big damage.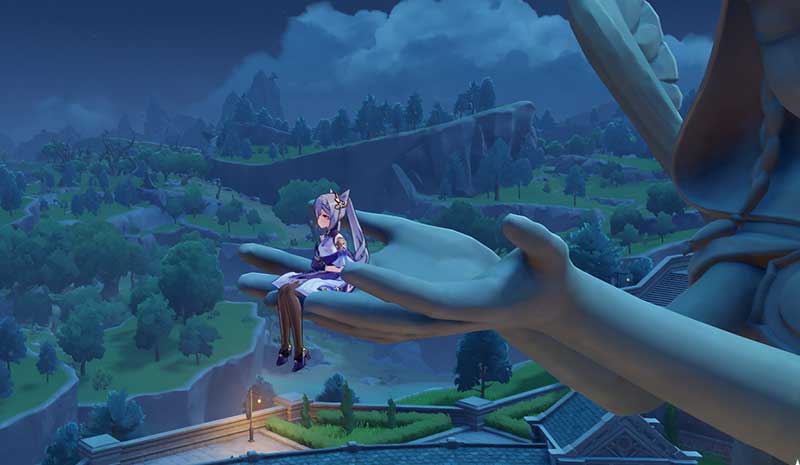 However, for the most optimal DPS, tap and hold her normal attack. This will make Keq dash a short distance forward to her target for a stab, then go directly into her charged attack. This provides damage compression: cramming as much damage as you can in the shortest amount of time possible. This move consumes Stamina, so use this only if you know you can kill the target with a bit of Stamina left or if the target is incapacitated from being frozen, petrified, knocked down, or staggered.
Her Elemental Skill Stellar Restoration, is a two-pronged skill. A tap will make her throw a Lightning Stiletto at a target, dealing electro damage. Holding the Skill will allow you to choose a specific spot to throw the Stiletto. If there is a Stiletto present on the battlefield and you tap the Skill again, Keqing will teleport to the Lightning Stiletto's location and unleash an electro AoE attack.
You can also do a Charged Attack after throwing a Stiletto to pop it, dealing AoE electro damage in the area where the Stiletto was thrown. Acquiring her first passive talent will allow you to charge your Normal and Charged Attacks with electro damage for five seconds after you throw your Stiletto.
Her Elemental Burst Starward Sword, enables Keqing to dart around the battlefield, unleashing electro attacks ending in a massive burst of electro damage to all enemies within her AoE field. Note that she is invulnerable during the first two seconds of her Burst but will reappear on the field after that, making her able to attack independently even before the damage from her Burst ends.
Keqing's Builds
There are two ways to build Keqing depending on your playstyle: electro damage or physical damage. The electro damage build makes full use of her kit while the physical damage build favors auto-attacking.
Weapon: Aquilia Favonia/The Black Sword/Lion's Roar/The Flute
Artifacts:
4pc Thundersoother
ATK hourglass
ELECTRO DMG goblet
CRIT DMG/CRIT RATE headpiece (depending on lacking stat)
Her electro build focuses on increasing her electro damage against enemies and to proc elemental reactions together with your team. Prioritize CRIT RATE, CRIT DMG, ATK %, and ENERGY RECHARGE for her substats. The 4 piece Thundersoother artifact set gives her electro resistance bonus and increases her damage against enemies affected by electro by 35%. Paired with any of the offensive swords in the game right now, you can be sure Keqing will be outputting a lot of damage on the field and will easily trigger Electro-charged, Overloaded, or Superconduct with your supports.
Weapon: Aquilia Favonia/The Black Sword/Lion's Roar/The Flute
Artifacts:
2pc Bloodstained + 2pc Gladiator
ATK hourglass
PHYSICAL DMG goblet
CRIT DMG/CRIT RATE headpiece (depending on lacking stat)
Her physical damage build focuses on her normal and charged attacks. Having a Physical Damage goblet paired with Aquilia Favonia will allow her white damage numbers to skyrocket. While her Skill and Burst will be neglected, they are still critical, as they give invulnerability frames allowing Keqing to dodge devastating attacks. These added "dodges" are important because you will be spamming the charged attack combo often, and usually your Stamina will be depleted.
Another use for her Skill and Burst with the build is to proc Superconduct, which gives a big damage increase to her attacks. Superconduct lowers the physical resistance of affected enemies, allowing you to maximize the damage of your charged attack spam.
Weapon: Aquilia Favonia/The Black Sword/Lion's Roar/The Flute
Artifacts:
2pc Thundering Fury + 2pc Noblesse Oblige
ATK hourglass
ELECTRO DMG goblet
CRIT DMG/CRIT RATE headpiece (depending on lacking stat)
For players with more built teams overall, the 2pc Thundering Fury + 2pc Noblesse sets provide Keqing with increased burst damage capability thanks to Starward Sword. This build makes great use of all your team members in fights, so make sure to swap often. It's good practice to run her with a full support team in the overworld to check out the rotations and adjust accordingly for most of the enemy types you face.
Team Compositions
As the main DPS in your team, Keqing will benefit greatly from elemental reactions to help her. Xingqui's Skill and Burst give Keqing damage mitigation, a bit of healing, a big burst of damage every second, as well as triggering Electro-charged to help with crowd control.
Bennett is another shoe-in for the team. The pyro field from his Burst buffs Keqing's damage, heals, and debuffs enemies with pyro, allowing her to proc Overloaded to deal a big burst of damage to a single target.
Chongyun can be a little tricky to use together with Keqing, as his Skill turns all normal and charged attacks into cryo combined with debuffing the enemies within the area with his element. This can be remedied with her Skill, which turns her attacks into electro, ready to proc Superconduct on targets. If timed well, the cryo effect from Chongyun's Skill will expire before Keqing's Skill effect, allowing you to safely switch back to physical attack and maximize the Superconduct debuff on enemies.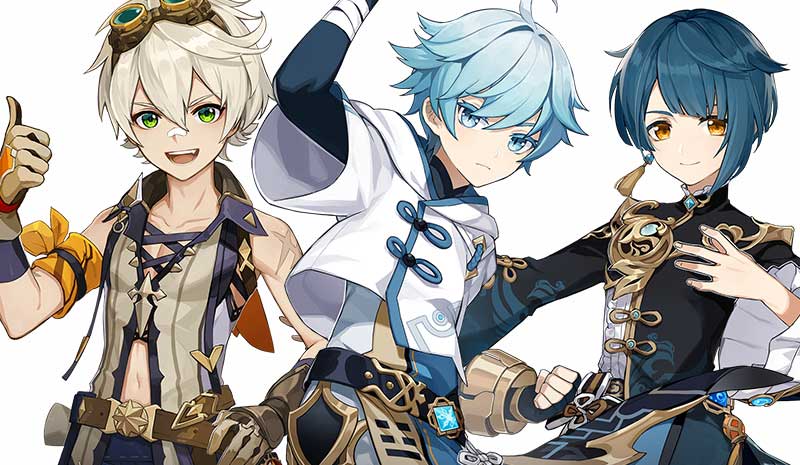 Fischl is also a good teammate for Keqing. Having Oz on the field allows Keqing a more consistent source of electro when your Skill is on cooldown to help proc elemental reactions. She also enables elemental resonance, so both her and Keqing's Skills and Bursts regenerate faster.
Sucrose and Venti are very helpful for a melee character like Keqing. They can both group enemies together and Swirl Keqing's electro attacks for added damage over time.
Mona can provide a huge damage boost for Keqing thanks to her Elemental Burst. Her skill also taunts enemies, giving Keqing some breathing room and time to regenerate her energy before having Mona user her Burst then swapping back to Keqing for a big payoff Burst.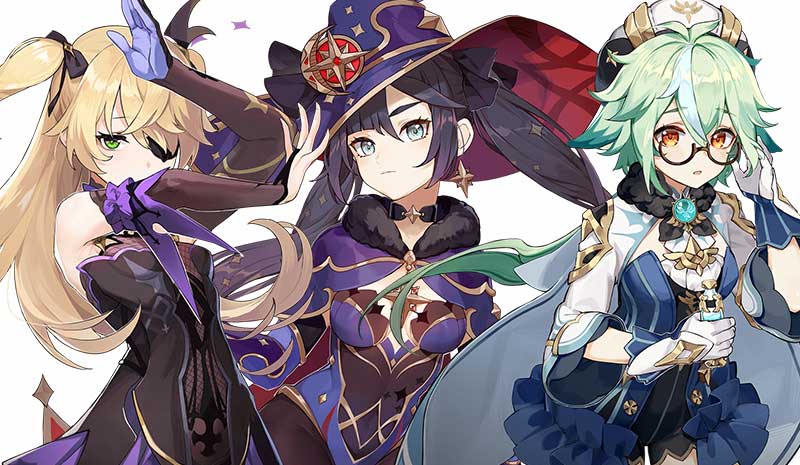 Xiangling can also benefit Keqing thanks to both her Skill and Burst. Gouba can debuff enemies with pyro along with the damage, while Keqing can proc Overloaded with her Skill and Burst abilities.
Finally, Diona is also a good teammate. Her Skill provides Keqing a shield to mitigate damage, while Diona's Burst provides healing and a cryo field so Keqing can proc Superconduct to enemies within the area. Both Keqing builds will benefit from Diona's support.
Summary
Keqing is a great 5 star character to have in your team and she works well even with zero constellations unlocked. Her kit lends to a more technical playstyle, as her Lightning Stiletto offers creative ways of damaging enemies behind shields or just overcoming obstacles in the overworld. Her damage output is one of the highest in the game for sword users, and while her element may have less than stellar reactions compared to pyro reactions, she is still worthy of her elite status as one of the hyper carries in the game.
Keqing is one of our favorite characters in the game together with Ningguang. Check out our Ning guide here.