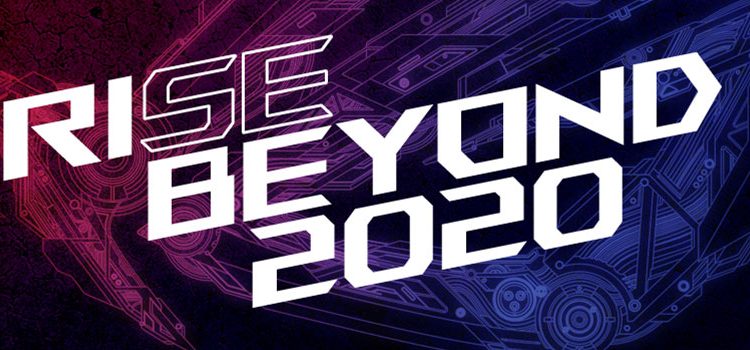 Featuring slim profiles and the latest hardware, the new ASUS laptop lineup for 2020 are desktop replacements that can do the heavy lifting for...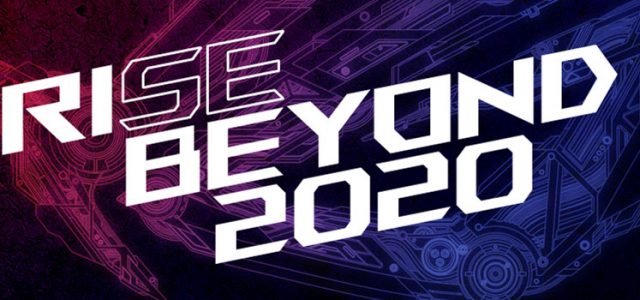 The new ASUS 10th generation laptops have just been announced via livestream. Featuring slim profiles and the latest hardware, the new ASUS laptop lineup for 2020 are desktop replacements that can do the heavy lifting for both work and play.
The latest ROG Intel 10th Generation series is announced to be available in July, with pre-orders happening in ASUS and ROG accredited stores only.
Zephyrus Duo 15
The ROG Zephyrus Duo 15 integrates two displays in an ultraslim form factor to bring a new dimension of versatility to premium gaming laptops, without sacrificing any of the high-powered performance that defines ROG. The Zephyrus Duo features a 300hz 100% sRGB Full HD Display, 2 SSD NVME slots compatible with Raid 0, and premium ROG accessories and bundles right out of the box.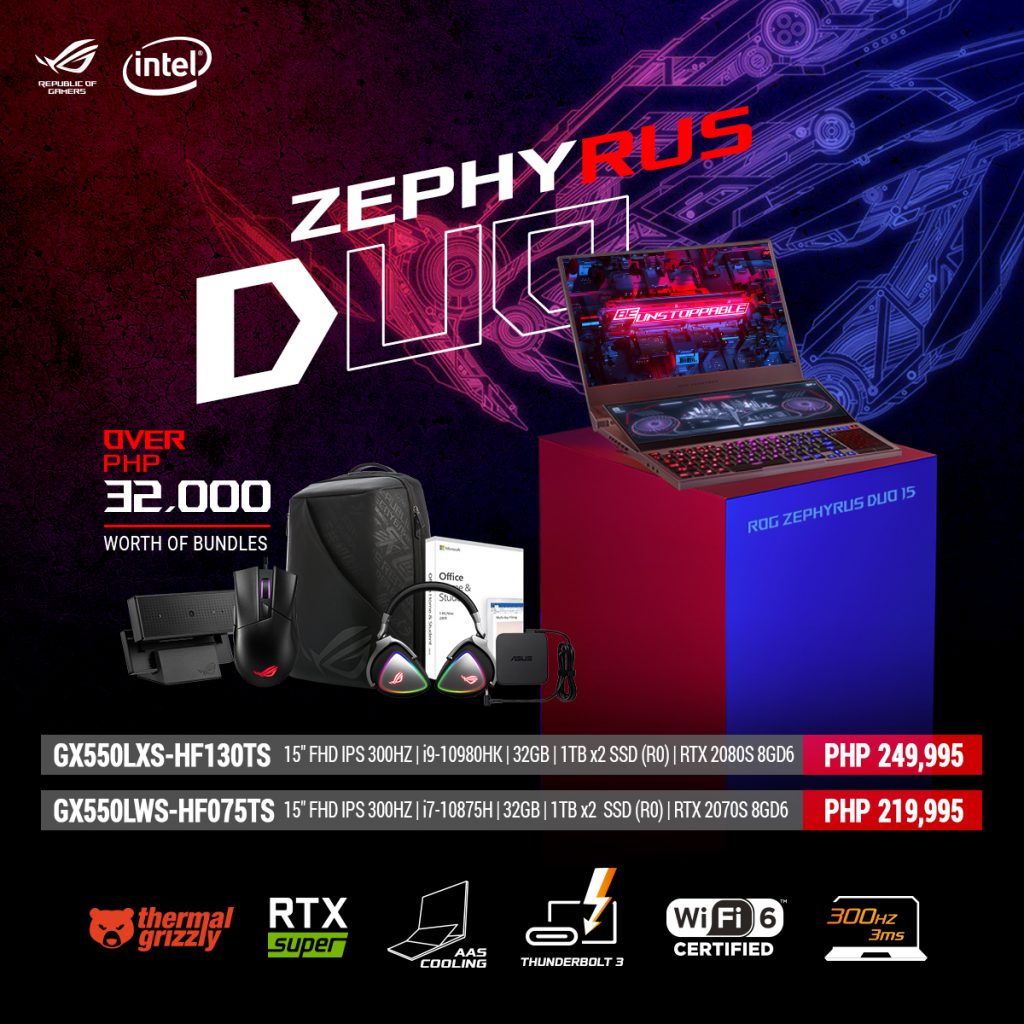 The ROG Zephyrus Duo 15 doubles down on displays with an elegant Active Aerodynamic System (AAS) Plus design that makes the full-width ROG ScreenPad™ Plus touchscreen an integral part of the cooling system. As the AAS Plus system tilts the laptop up, the second display also rises for comfortable viewing, while revealing a large air intake for deep airflow. The sophisticated cooling design gives Zephyrus Duo 15 ample thermal headroom to fit powerful flagship processors in a groundbreaking multi-screen gaming laptop.
ScreenPad Plus can be used to turn the primary display into a more immersive medium for gaming, streaming, and content creation. Users can get a more expansive view of their game, movie, or other media while using the secondary screen to keep an eye on emails, social media, and more.
Zephyrus S15, M15, and S17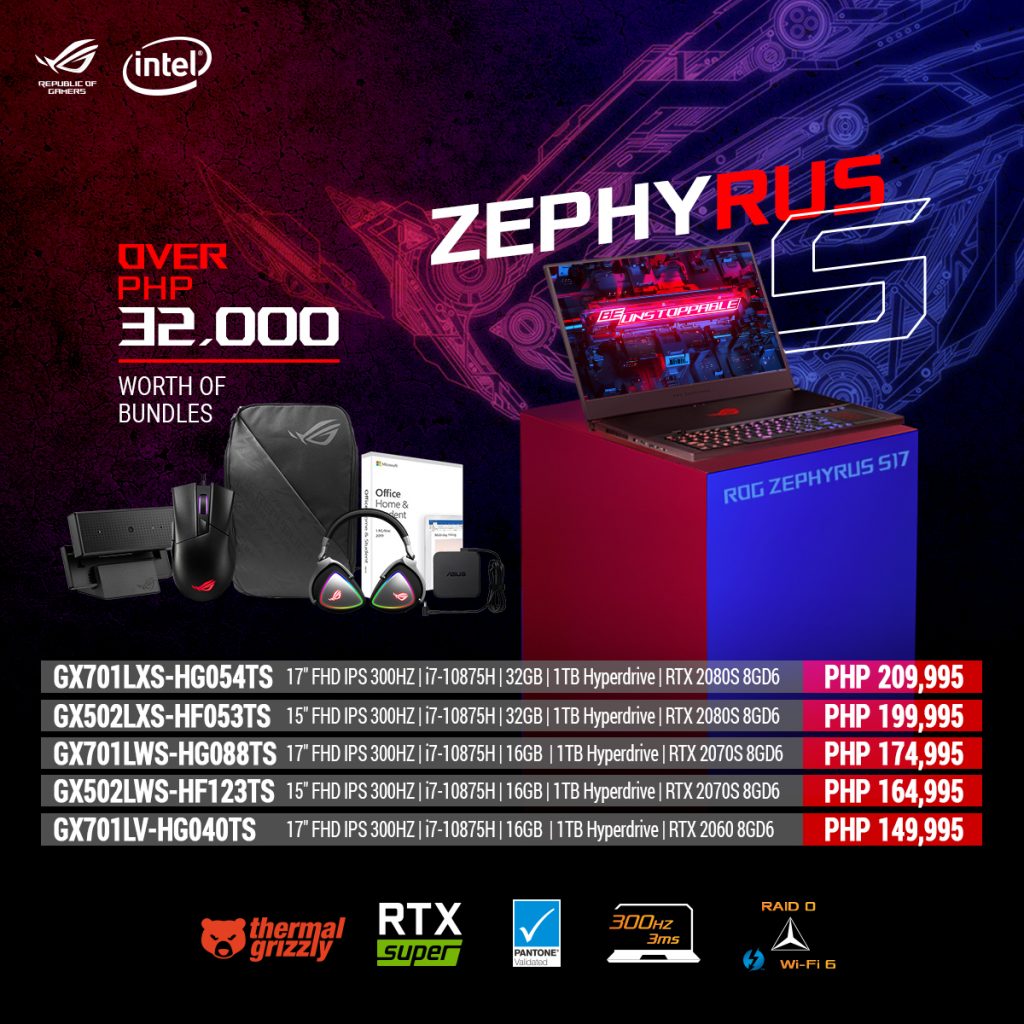 The ROG Zephyrus laptops have been a cornerstone for ROG's line-up ever since its inception in 2017. This year, the award-winning series gets upgraded to the latest 10th Generation Intel CPUs and better graphics with the new RTX Super GPUs. It is now up to 10 degrees cooler in performance with Thermal Grizzly Liquid Metal technology. The series also sports displays of up to 300hz with Pantone Validation, Thunderbolt 3, Wifi 6, and Raid 0 Compatibility.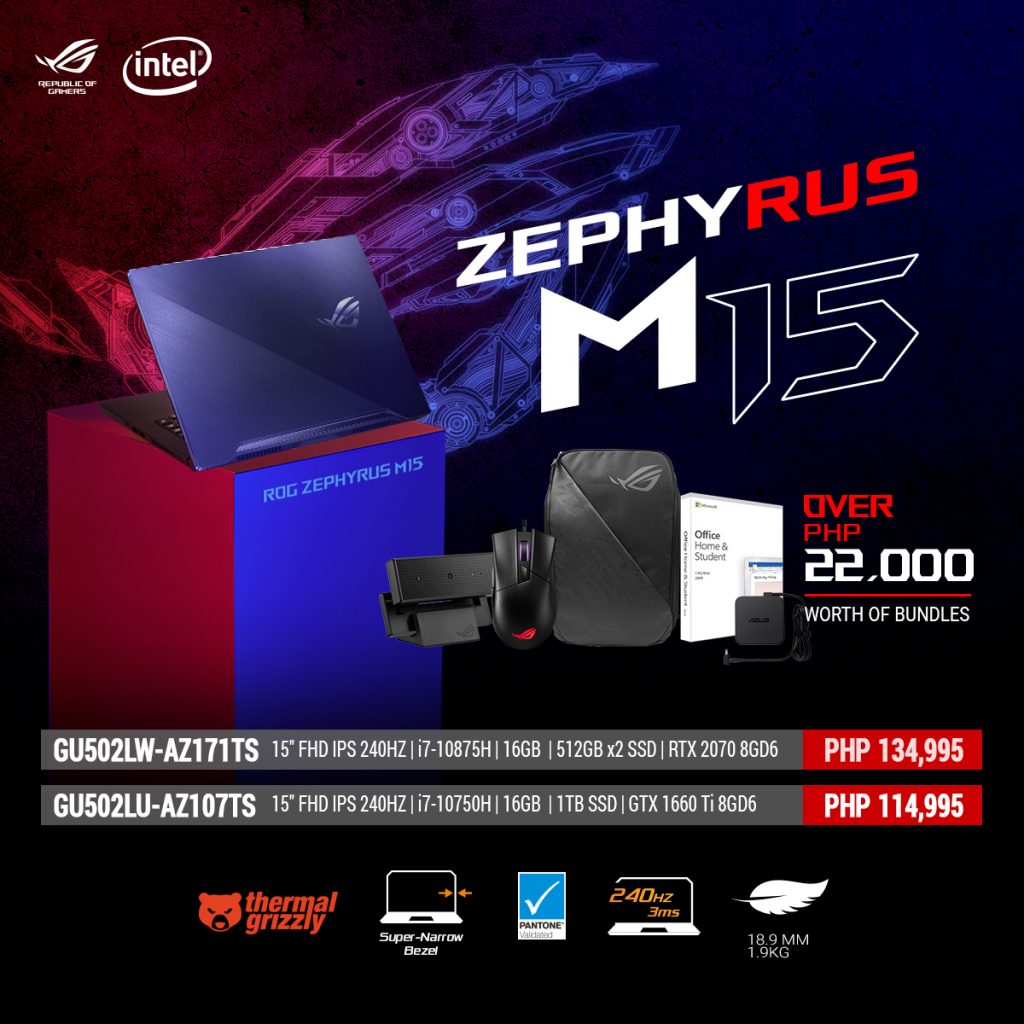 The ROG Zephyrus S15 GX502L improves on the 9th generation models with an upgraded 300hz Pantone Validated Display, up to RTX 2080 Super Graphics, 2 SSD NVME slots with Raid 0 support, a Hi-res ESS Sabre DAC, and up to 75% longer battery life than the previous generation.
The ROG Zephyrus M15 GU502L now comes with a 240hz Pantone Validated display, up to an RTX 2070 GPU, Raid 0 support, Wifi 6, and Hi-res audio support. It also now comes with three stylish colors: the classic Brushed Black, an all-new Prism Grey, and Prism Black. Both Prism-colored variants come with lustrous dotted designs, which reflect light on the cover in gorgeous displays of detail and color.
The ROG Zephyrus S17 GX701L upgrades the smallest 17-inch gaming laptop in the world to the 10th Generation of Intel CPUs. It now comes with a 300hz Pantone Validated display, GPU options of up to the RTX 2080 Super, and 32gb of ram. Of course, the celebrated features from its predecessor still come in tow.
Strix Scar 15/17 and Strix G15/G17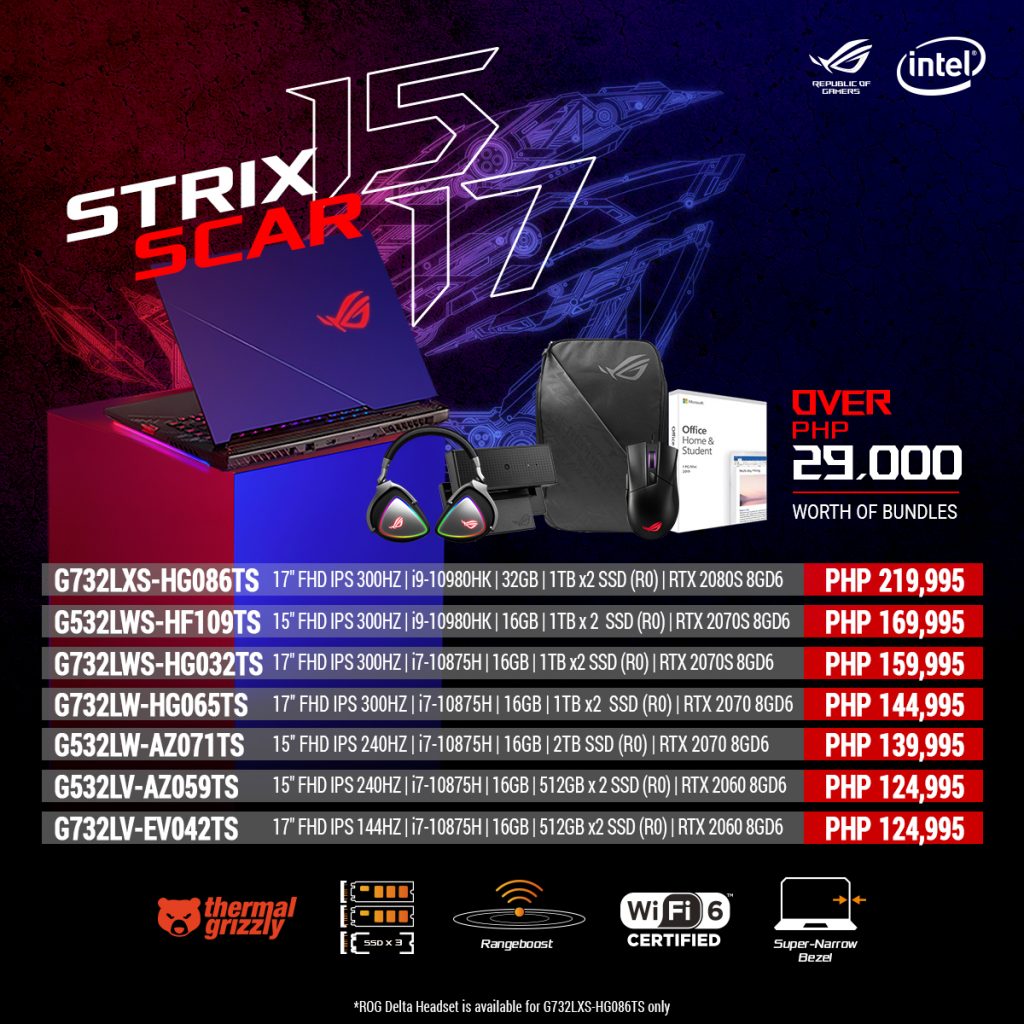 The ROG Strix notebooks have been the go-to esports laptops for many professional gamers. This year, the Strix line expands with more design choices, more capabilities, and even better performance.
The SCAR series boldly proclaims its gaming chops with an Intel processor up to the latest eight-core Core i9-10980-HK, up to 32 GB of 3200 MHz DDR4 RAM, and up to the RTX 2080 SUPER GPUs. The fastest 300hz/3ms display with 100% sRGB shows the battlefield in full fidelity.
Last year's innovative Keystone also gets an upgrade on the new SCAR laptops. Keystone II allows users to link quick commands and other functions to a physical NFC-enabled key, which docks into the side of the chassis. Inserting a Keystone can launch a specific operating mode, the Armoury Crate game library, or a program or game of choice. Removing it can instantly activate a stealth mode that minimizes apps, mutes audio, or logs out of Windows.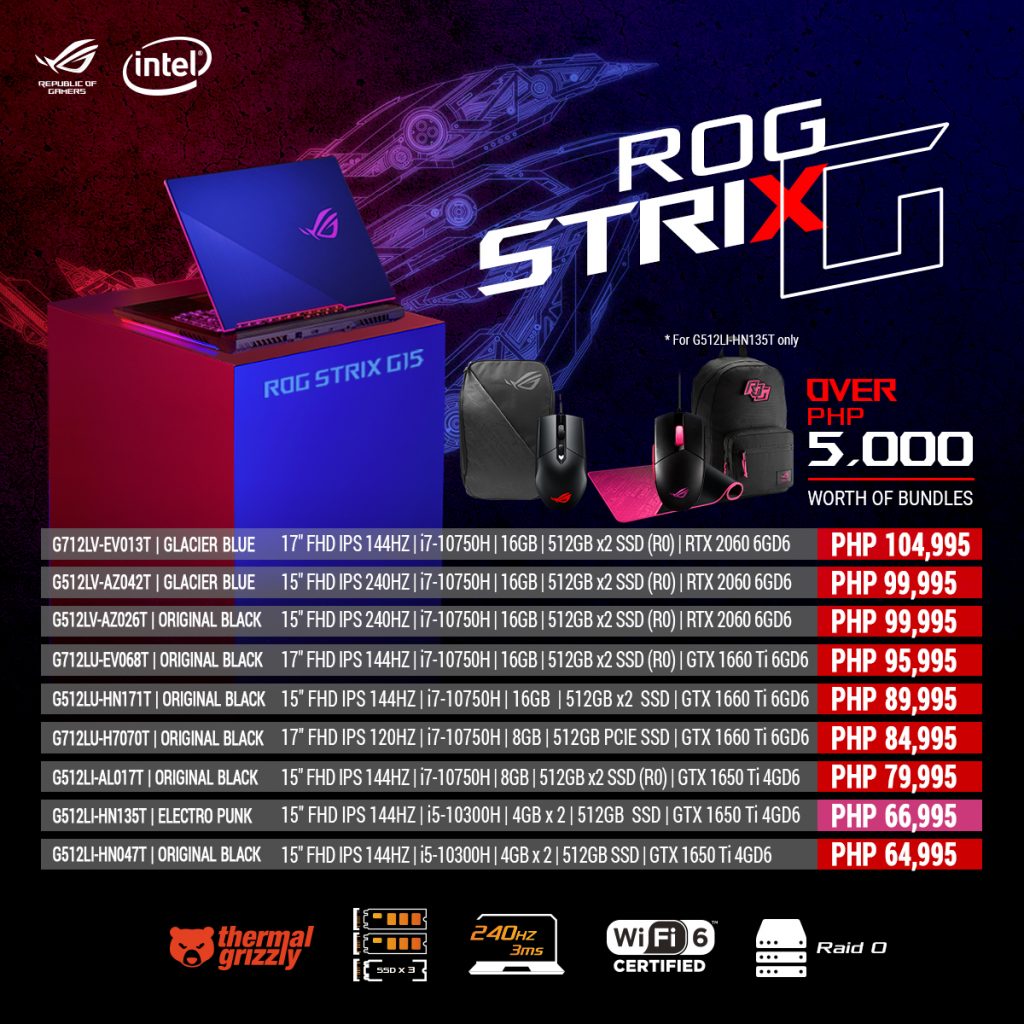 The ROG Strix G now comes in three different designs: Original Black, the recently launched Glacier Blue, and all-new Electro Punk color — a bold black and pink design that is sure to turn heads.
The Electro Punk edition puts a twist on the streamlined gaming machine. A sleek stripe around the chassis mirrors the outlined edge of the touchpad, while cybertext patterning adorns the deck. Brighter touches include highlighted WASD keys and an unmissable pink ROG logo across the lid. It also comes with an exclusive Electro Punk ROG Sheath 35" Desk Mat and ROG Impact II Electro Punk Gaming Mouse.
Availability
Accredited ASUS and ROG retail channels will be carrying the new ROG Intel 10th Generation line very soon. For further information on where to order, check out the list below or click this link.