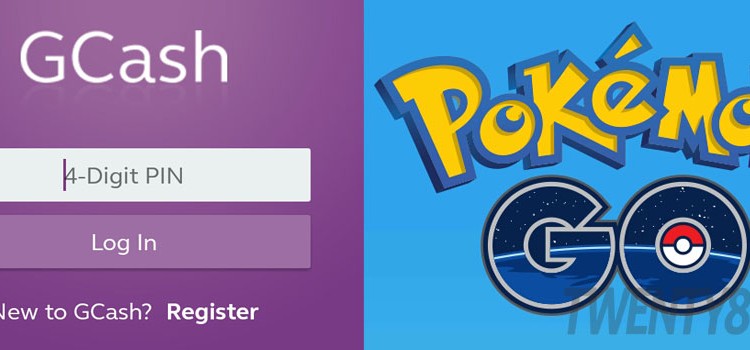 As a Pokemon Trainer, you always need to have a stock of supplies on your journey! Never run out of Pokeballs or Incense again...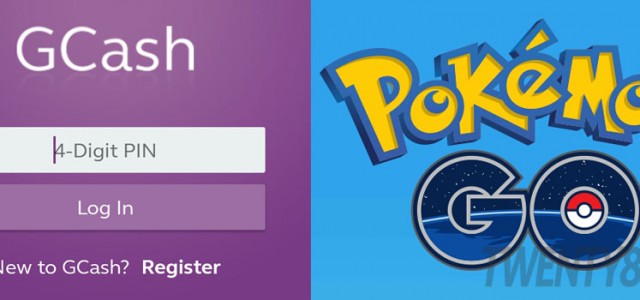 Pokemon GO is such a hit here in the Philippines! Employees want to spend lunch breaks outdoors walking around or getting to the nearest PokeStop to add more pocket monsters to their collection. Visiting PokeStops and catching Pokemon can be a great weekend activity – until you find yourself in need of more Pokeballs and there's no Stop in sight! Fortunately, the game allows you to purchase PokeBalls and other useful in-game items like Lucky Eggs and Egg Incubators by exchanging PokeCoins for them.
PokeCoins can be bought through the app but if you don't have a credit card, never fear, because Globe's GCash American Express Virtual Pay system allows you to make in-app purchases without ever needing to own those plastic cards!
Before you dive into enhancing your Pokemon GO experience, here are some things to remember:
GCash app installed on your Android
Registered GCash mobile number
Google Play Account
Cellular Data / Wi-Fi
Step 1: Setting up GCash American Express Virtual Pay
Go to the Menu Pane on the left hand side. Fill out the necessary details. (Name, Address, Phone Number, Birthdate)


You will be receiving a confirmation that the setup of the GCash American Express Virtual Pay Card is successful.
Take note of your 16-digit card number, your CVV Number, and the date of expiration. These pieces of information can be found on your GCash American Express Virtual Pay App on your phone. We strongly suggest to writing it down in case you forget.
In order to complete the process of getting the information of your GCash American Express Virtual Pay CVV number, you may need to request the security code by tapping the "Request security code".  After tapping the "Request security code" you will be receiving a text message something like this.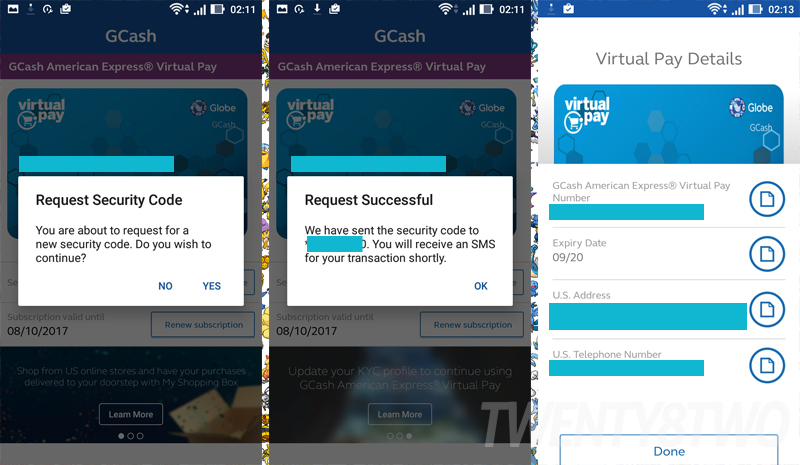 Take note that the CVV constantly changes from time to time for security purposes.
Step 2: PokeCoin Purchase
Open your Pokemon Go! App on your Phone and tap on the PokeBall on your screen. Go to Shop.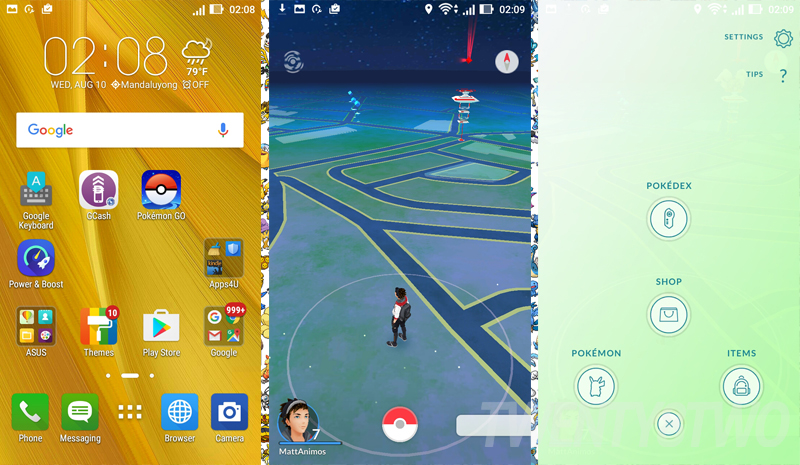 Scroll Down and you will see the pricing and availability of PokeCoins. Tap on your desired purchase.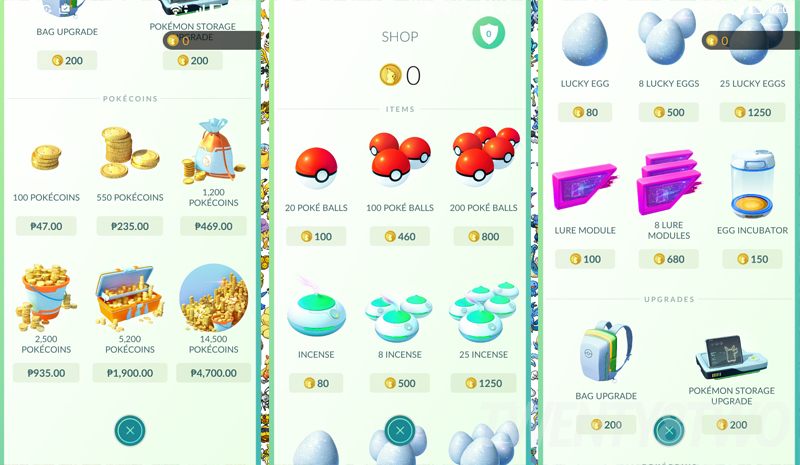 You will be taken to this screen to add a payment method or redeem a code for the purchase.
Choose Payment Methods and select Add Credit or Debit Card.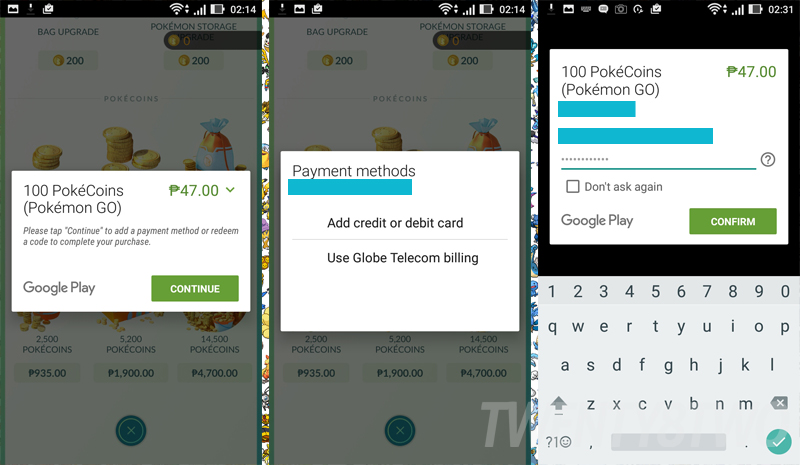 You will be prompted to check the necessary information details such as name address phone number for the record. The prompt will confirm your intended purchase and to put in your password.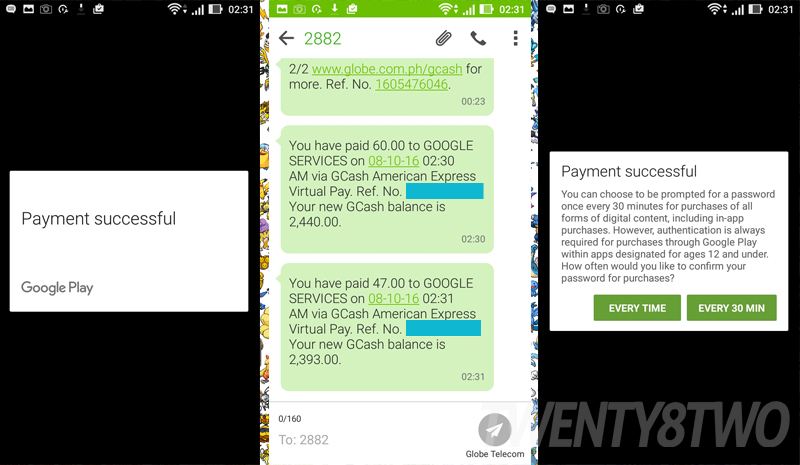 Payment successful! You will receive an SMS of the payment details. You will also get a prompt asking how often would you like to enter your password when making online purchases. We usually pick Every Time for these circumstances to speed up the process.
Step 3: Buying Items with PokeCoins
To check the item purchase, tap on the pokeball on the game screen. Go to the Shop menu and you should see PokeCoin credits already on your account. Shop for the in-game items you need! In this example, we purchased Pokeballs but Incubators and Lucky Eggs are better investments, since you will be collecting Pokemon eggs and will need double experience points gained during your journey.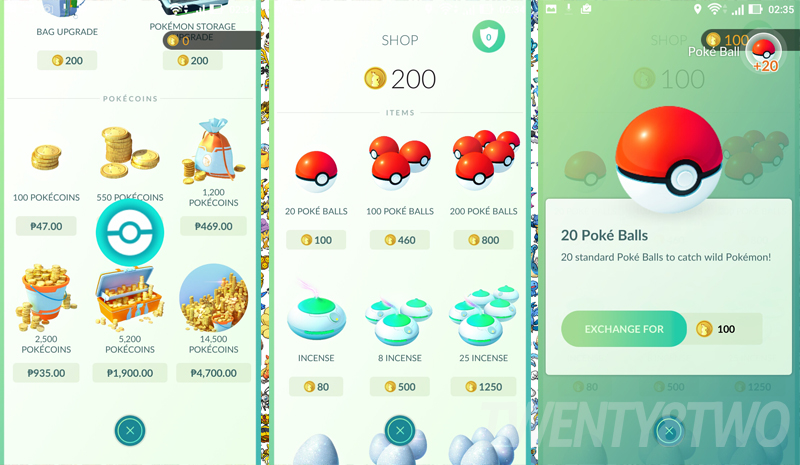 There you have it ladies and gents! You successfully purchased items for Pokemon GO!
Globe's GCash American Express Virtual Pay is all you need to make in-app purchases in Pokemon GO or any game you have on your mobile phone without the need for applying for an actual credit card. All the personal and card information is safely stored in your mobile phone and avoids the hassle of carrying cards all the time! Besides purchasing Pokecoins you can use this to shop online via Amazon and have your orders shipped to the philippines via My-Shopping Box.
Now that you're armed with PokeBalls and other useful items, it's time go out there and catch more Pokemon! Be careful out there and always stay safe, trainer!