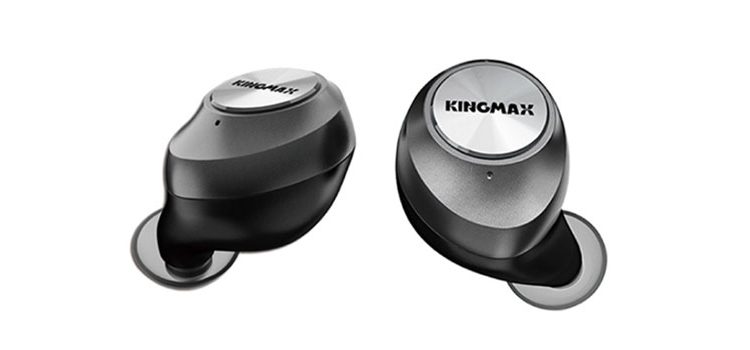 The JoyBuds511 offer great sound, solid connection, longer use, dual microphones, and CVC noise reduction technology.

The JoyBuds511 is the first KINGMAX TWS Bluetooth earbuds. It adapts high quality Qualcomm Bluetooth chip which exhibits Bluetooth 5.0's advantages such as low power consumption, low latency, stable connection, etc.. It supports Qualcomm's exclusive aptX audio coding and produce rich and balanced optimal sound quality. Besides excellent listening experience in audio and video playback, JoyBuds511 also enhances noise reduction in voice calling with built-in dual microphones and CVC 8.0 noise cancellation technology. When making calls outdoors with strong wind or in noisy places, it can attain noise reduction effect, allowing users to enjoy clear phone calls.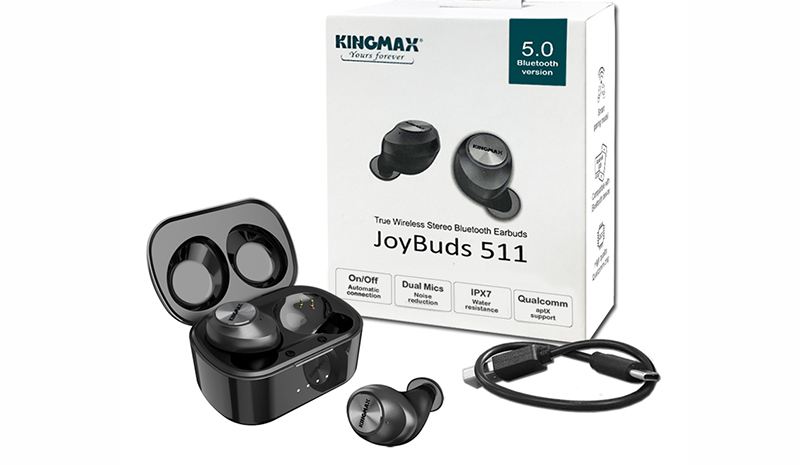 Multi-function touch key, smart paring and power on & off
Users of older Bluetooth 4.2 headsets encounter unfriendly user experiences such as "unstable connection, short power life, sound delay, inconvenient pairing settings, etc." KINGMAX TWS Bluetooth earbuds JoyBuds511 directly upgrades to latest Bluetooth 5.0, eliminating all disadvantages of Bluetooth 4.2 headsets. With just a simple initial Bluetooth connection setup, you can automatically pair, connect and switch on and off through the charging cabin in subsequent uses, and switch between stereo and mono modes. "Multi-function touch key" allows users to easily answer calls, play music, select previous or next song, control volume and activate voice assistant on the phone with just a touch of a finger.
Enhance articulate voice calling quality by CVC 8.0 noise cancellation technology with dual microphones
KINGMAX TWS Bluetooth earbuds JoyBuds511 adapts digital signal processing technology to optimum sound quality. With its built-in CVC (Clear Voice Capture) 8.0 noise canceling software and dual microphones, it filters out human sound and suppress surrounding noise to produce better call clarity, even making calls outdoors with strong wind or in noisy places, it can achieve noise reduction effect and thus make voice communication clearer. TWS Bluetooth earbuds JoyBuds511 presents excellent sound quality for voice calling, music playing and gaming.
Bluetooth earbuds JoyBuds511 features a flat in-ear design for comfort wearing. The flat design which fits close to the ears makes it less likely to fall off during exercise or activities. Also, with its rain and sweat resistant IPX7 waterproof design, it is highly recommended for users who love outdoor sports, workout or jogging. It also comes with 3 different sizes of earplug that can be changed based on personal comfort to achieve sound blocking effect. Users who value sound quality or indulge in the gaming world are able to experience headphone positioning and balance in low, medium and high tones, and outstanding stress-inducing effect.
Long-lasting power cycle, quality assurance, high performance
KINGMAX TWS Bluetooth JoyBuds511 features long-lasting power and uses high quality lithium battery that passed Korea Certification (KC). It can achieve up to 6-7 hours of continuous usage according to the volume level of both sides. With the charge cycle of the exclusive 480mAh lightweight charging cabin, it can attain more than 26 hours of usage time, allowing uninterrupted usage even without charging for the day. JoyBuds511 TWS Bluetooth earbuds have obtained CE, NCC and KC certifications, and comply with RoHS specifications. The products have to pass strict certification standards before leaving the factory to ensure optimal quality and user experience. The product will soon be available in various countries online and physical stores in May 2020.
For more product information, please visit the official KINGMAX website.
Product features
Bluetooth 5.0 version advantage with longer using time and stable connection.
IPX7 water resistance provides more protection to resist rain and sweat.
Articulate voice calling quality by CVC noise cancellation technology with dual microphones
Adapt Qualcomm high-end chip to supports aptX codec audio transmission
One touch multiple button for music playing, song selecting, voice assistant calling and volume controlling
Professional toning technology to present real, balanced and superior sound quality
Automatic and easily power on/off, paring and connecting
480 mAh charging case with battery indicator provides longer using cycle
In-ear wearing and flat design avoid dropping
Three-size ear tips to satisfy with comfortable wearing
Comply with Android, iOS and windows devices via Bluetooth connection

Product Specifications
JoyBuds 511
Version 5.0
Profile HSP/HFP/A2DP/AVRCP
Codec aptX, SBC AAC
Color Dark Grey
Bluetooth Chip Qualcomm 3020
Transmission Range 10 meters
Driver diameter 16ohm Φ6mm
Sensitivity Earbuds 91dB±3dB | Microphone -38±3dB
Frequency Response Earbuds 20Hz~20KHz | Microphone 50Hz~8000Hz
Impedance 16 ± 15%Ω
Signal-to-noise ratio 61dB
Input sound pressure level 94dB SPL
Size
Earphone 25.1×22.8×24.5mm
Charging case 55x38x34.5mm
Weight
Earphone 4.75g
Charging case 33g
Standby time 120 hrs
Using time 6.5 hrs
Charging time ≤2 hrs
Battery Lithium polymer
Earphone battery capacity 50mAh 3.7V
Charging case capacity 480mAh 3.7V
Voltage DC 5±0.25V
Warranty 12 months
JD is the EIC of twenty8two. His life revolves around three Gs: Gadgets, Games, and Gear. He also likes pizza and tea.