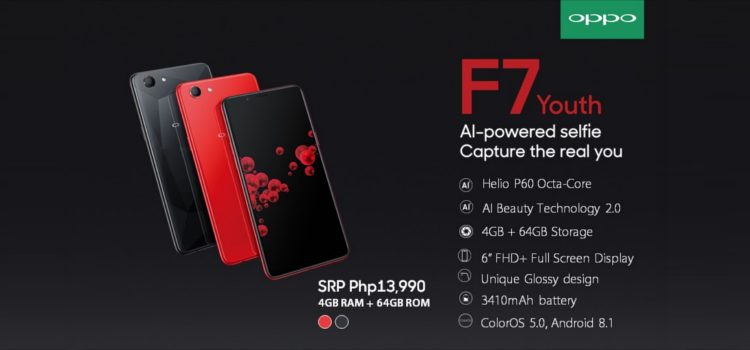 As part of its commitment in delivering the best customer experience, OPPO Philippines announces its lineup for Q2 2018 that is fit for consumers...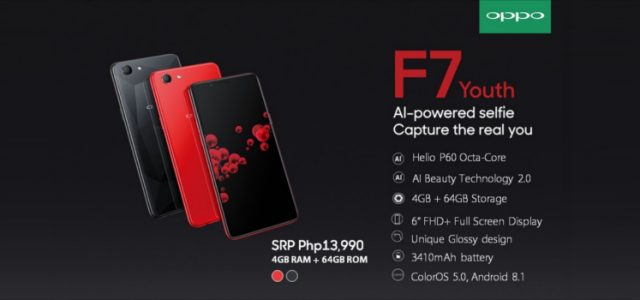 As part of its commitment in delivering the best customer experience, OPPO Philippines announces its lineup for Q2 2018 that is fit for consumers who demand to experience the latest smartphones with the ideal experience at every price point.

OPPO's flagship smartphone F7, which offers 64GB and 128GB variants, was launched in the country last April and was immediately established as the brand's best-selling device yet. It is the world's first smartphone with a 25MP front-facing camera and A.I. Beauty Technology 2.0 that analyzes the face in more than 296 recognition spots and beautifies it in three individual zones. It also sports a 6.23" FHD+ Super Full Screen display, a 12nm Octa-Core processor with 2 dedicated A.I. cores, and a 3400mAh battery with A.I. management.

The F7 Youth, the latest addition to the F7 family, also comes equipped with A.I. technology for impressive photos as well as a Helio P60 Octa-Core processor which runs 80 percent faster than current smartphones in its price range. Consumers can enjoy its 6.0-inch FHD+ screen and sophisticated, slim body packed with 4GB RAM, 64GB storage, 3410mAh long-lasting battery, speedy facial unlock, improved navigation shortcuts, and more.

For the Idealist

With affordability in mind, the A83 range is the smartphone to look for. It combines OPPO's signature A.I. Beauty Recognition Technology with a 5.7-inch HD+ screen, 13MP rear camera, 8MP front camera, 3180mAh battery, and a personalized speedy facial unlock function.

To date, there are three versions of the A3 varying in performance level, storage space, and price—one with 4GB RAM and 64GB ROM, one with 3GB/32GB, and one with 2GB/16GB.

Affordable Seflie Expert

Rounding up the lot is OPPO's A71 2018 model, which is the most affordable of the group and features a 5.2-inch HD screen, the latest Qualcomm Snapdragon 450 for seamless multitasking, 3000mAh battery, 2GB RAM, and 16GB storage. Its 13MP rear camera makes use of a multi-frame denoising technology to deliver quality images despite low-light conditions, and the 5MP front camera promises detailed selfies with the option to enhance the subject further with the help of the bokeh effect.

Here are the models vis-à-vis their prices and available colors:

Model
SRP
Available Colors
OPPO F7 128GB
PHP 21,990
Red, Black
OPPO F7 64GB
PHP 17,990
Red, Silver, Black
OPPO F7 Youth
PHP 13,990
Red, Black
OPPO A83 Upgrade (4GB/64GB)
PHP 12,990
Red / Blue

*Exclusive to MemoXpress

OPPO A83 (3GB/32GB)
PHP 9,990
Black, Gold
OPPO A83 2018 (2GB/16GB)
PHP 8,990
Red, Gold, Black
OPPO A71 2018
PHP 6,990
Gold, Blue

"For those who are looking for a new smartphone that will pair well with their busy, technology-driven lifestyles but are looking out for their budget, one of these models will surely be a fit for them," OPPO Philippines' Public Relations Manager Eason de Guzman said. "OPPO understands what consumers are looking for in their most frequently used device, from the design to the camera to the performance to the ease of use. We provide a variety of options catering to different individuals without the catch of a hefty price tag, keeping our consumers at the heart of our ever-evolving technology."

For a relatively affordable price, users can expect to multitask seamlessly, document memories with striking photography, and enrich their busy ways of life in style with any of the OPPO smartphones they purchase.

For more details and updates on OPPO's best-in-class products, visit www.oppo.com/ph, like OPPO Philippines' official Facebook page, and follow @OPPOPhilippines on Twitter and Instagram.