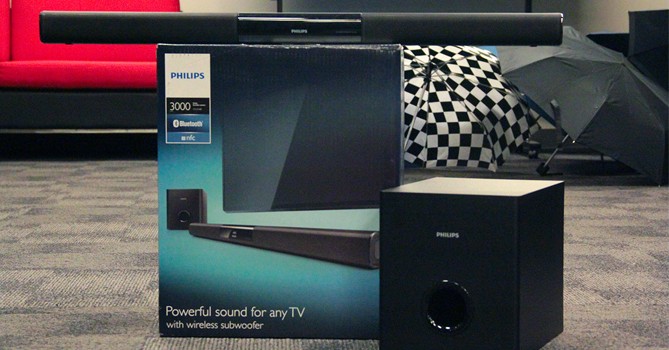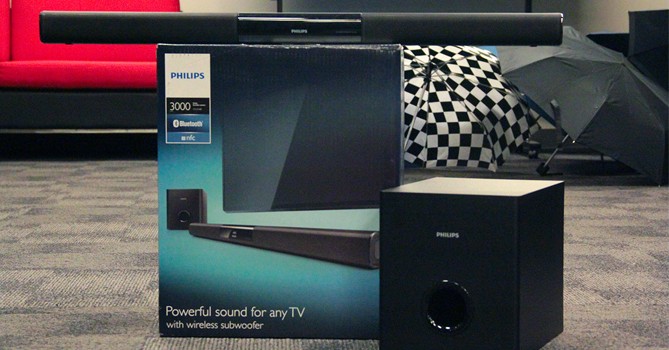 Need a no-frills sound bar for your living room? This new speaker system from Philips might just do the trick! Check out our quick...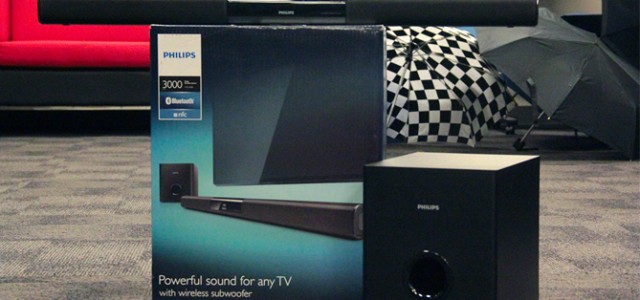 Need a no-frills sound bar for your living room? This new speaker system from Philips might just do the trick! Check out our quick review.
Gadgets and devices are cheaper now, and that's evident with the number of homes having LCD TVs and updating their home entertainment systems. If you already have a TV, then you might want to complete your home entertainment system with a soundbar. Soundbars are a new thing, allowing you to generate a surround sound experience without bulky speakers or amplifiers.
The Philips Soundbar Speaker measures around 33 inches in length, perfect for your bigger living room TV. It comes with mounting screws that you can use to hang it on the wall together with your flat screen TV to free up space (very handy if you live in a condo or apartment). When it comes to assembly, the Soundbar Speaker comes together easily enough, although one thing we thought was bothersome was the lack of RCA cables. You will need to buy or have a set of cables handy and ready in order to hook up the Soundbar to your TV.
A cool feature of the Philips Soundbar Speaker is that it is both Bluetooth and NFC capable. You can stream your music directly onto the speakers via your smartphone just by pairing them together or tapping the two devices together. We didn't find any issues with pairing via Bluetooth, and once paired, the sound was uninterrupted by disconnection issues.
One thing we found with this Soundbar was the lack of controls on the actual device. We think Philips built it this way so you can just sit back and control everything via the pre-packed remote (which comes with a AAA battery already). It also has a USB 2.0 port you can use for your portable drives so you can easily access your music or movies.
It also comes with a subwoofer driver (1 x 5.25", 140 W) has an impedance of 8 ohm and connects to the speakers themselves. The speakers have one Mylar tweeter and one woofer per side outputting at 2 x 30 W with an impedance of 3 ohm.
As far as sound quality goes, you really can't go wrong with the Philips Soundbar Speaker. It has more treble than bass, but for us, the bass goes low enough for satisfaction. We also found that for a little device, the Soundbar is loud. The treble and bass can be controlled, and Virtual Surround Sound can be enabled, which is a great thing when watching movies.
If you want to enhance or complete your home entertainment setup, we recommend you go to any Philips store and audition any of their Soundbar Speakers. We recommend this product for those who are not too stingy with their sound quality, especially the bass.