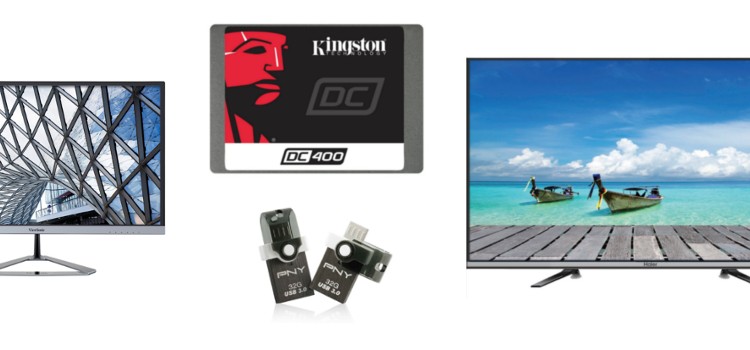 Here are some new tech product releases, featuring products from Kingston, ViewSonic, PNY, and Haier.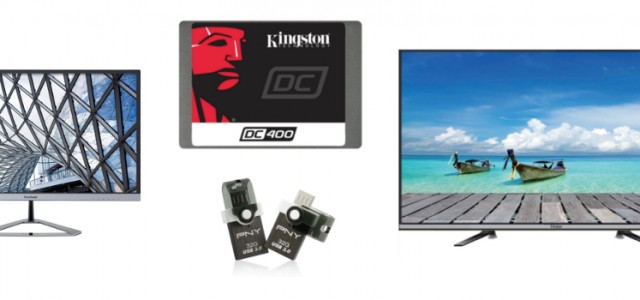 Technology evolves at a highly quick rate, and new products are continually released. From consumer electronics, to professional hardware, here are some newly-launched tech products:
Kingston's new Entry-Level Data Center SSD

Kingston announced the Data Center 400 (DC400) SSD, the latest solid-state drive in its range of enterprise solutions. DC400 SSD is an entry-level enterprise drive designed for server use in data centers especially for customers who deploy a rip-and-replace strategy. It is ideal for read-intensive applications such as boot, web servers and lower data rate operational databases and analytics – especially in data center mixed workload environments where endurance and reliability are important.

The DC400 SSD offers superior quality of service for data center customers whose workload environment calls for sustained IOPS and consistent low latency. An expanded on-board DRAM acceleration cache enables high, sustained IOPS to increase performance over a wide range of read/write workloads. Additionally, DC400 SSD features enterprise-class reliability with end-to-end data path protection and firmware-implemented power-loss protection ("pFAIL").

The DC400 SSD is available in 400GB, 480GB, 800GB, 960GB, 1.6TB and 1.8TB capacities

ViewSonic's latest 27-inch VX2776-SMHD Monitor

ViewSonic Corp. presents its latest addition to its extensive line of high-quality monitors, the 1080p Full HD 27-inch VX2776-Smhd monitor. It is engineered with SuperClear® IPS panel technology, a sleek and contemporary borderless design, 178/178-degree wide viewing angle, and extensive connectivity including VGA, HDMI, and DP built-in stereo speaker making it the ideal multimedia display to view entertainment like action packed movies, sports and more. The VX2776-SMHD offers the best viewing experience, paired with beautiful eye-pleasing design catering to stylish, modern, and tech-savvy individuals.

ViewSonic has also included software features that gives users the flexibility to customize the way they use the monitor. The ViewSonic ViewMode is unique to the brand and offers Game, Movie, Web, Text, and Mono presets. These presets deliver the optimal viewing experience and superior color rendering by enhancing gamma curve, color temperature, contrast, and brightness, for different applications.

PNY's Duo-Link OU4 OTG USB Flash Drive now available at Lazada

PNY Technologies (PNY) considered one of the worldwide leaders in consumer electronics market and flash memory products, is proud to announce that the DUO-LINK OU4 OTG USB 3.0 Flash drive is now available at Lazada.com, Philippine most popular e-commerce (online shopping) company. The DUO-LINK OU4 can now be directly purchased from http://www.lazada.com.ph/ with attractive prices and at discount rates.

Haier TVs now being designed with built in Digital Tuners, no need for "Digi-Boxes"

In three to five years, Philippine television is expected to shift from analog broadcast to digital, said the National Telecommunications Commission (NTC) last May. The shift promises consistently clear audio-visual quality no matter the distance from the station, on top of having more channels to watch from local networks.

Haier responds to the upcoming transition with the introduction of digital TVs. Designed with a built-in ISDB-T-compliant digital tuner, these new sets not only make the shift less of a hassle, they also come with features for fully immersive entertainment the whole family can enjoy.

Haier currently offers two digital TV lines: the B8500 series and the K5000 Smart digital series. Available in 32-, 40-, 50-, and 55-inch screen sizes, the K5000 has a YouTube TV feature for browsing online videos, as well as a Smart Share function that enables users to connect their smartphones to the TV and play media.

All Haier digital TVs come with a two-year warranty on parts and labor.