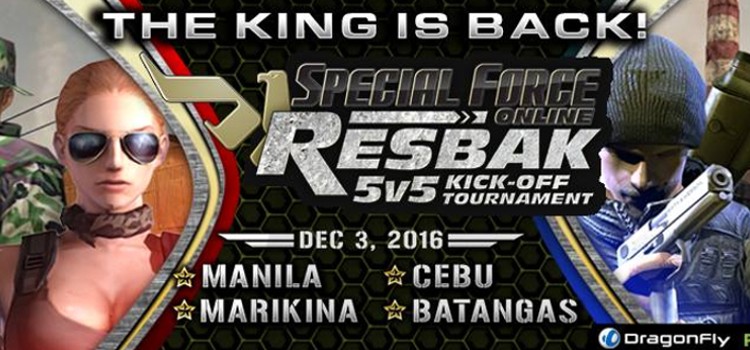 Following Special Force's release on the CBT, PlayPark will hold the first-ever Special Force RESBAK 5v5 KICK-OFF Tournament this December 3.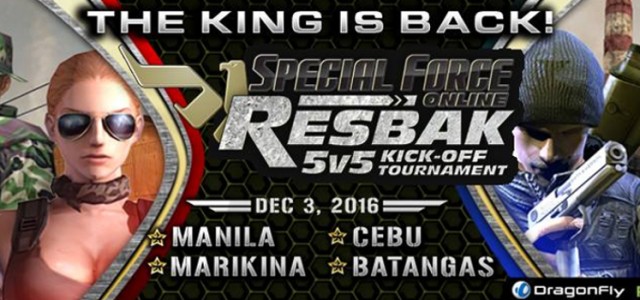 Special Force has recently been made available in a Closed Beta Test (CBT) as part of their comeback efforts. And to mark the game's return, PlayPark will hold the first-ever RESBAK 5v5 KICK-OFF Tournament this December 3.
RESBAK will be held at these four locations:
Manila – Ryza Mae Internet Café, 2nd Floor Unit 315 Ultima Bldg. San Raphael St. corner Legarda Quiapo Manila
Marikina – Raxx Gaming Station, 193 A. Bonifacio St. Tañong Marikina City
Batangas – Shaman King Internet Café, Lawas Road, Batangas City, Batangas
Cebu – Budinz 1 Internet Café, 0152 P & M Bldg., Sanciangko st., Kalubihan, Cebu City.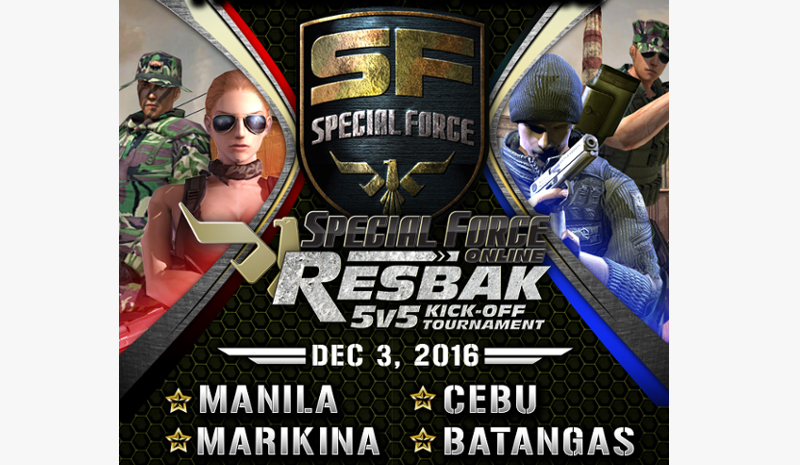 Here are more details about the tourney:
Each tournament area will accept only sixteen (16) teams who will go toe-to-toe in an all-day brawl. Registration is FREE and on a first come, first served so register today. To register, click the registration link of your chosen area and fill out the needed details. Registration is from November 26, 2016 to December 1, 2016 (11:59PM) only. Participating teams will be announced by December 2, 2016. On December 3, 2016 all registered teams should be at the venue for confirmation at 10AM ~ 11AM. After 11AM an Onsite registration will only be accepted if registered teams will not show up.

Manila – http://bit.ly/2gxhtQO
Marikina – http://bit.ly/2gxebNx
Batangas – http://bit.ly/2fHmi8W
Cebu – http://bit.ly/2fDsY4q

Over Php 100,000.00 cash prize pool is at stake throughout the SF Kick-Off Tournament. In each area, top teams will take home cash prizes and be one step closer to making SF history.

1st placer – Php 10,000.00
2nd placer – Php 5,000.00
3rd & 4th placer – Php 1,000.00

That's not all.  The 4 Area Champions will meet on the battlefield this December 10, 2016. Only two teams will make it to the live grand finals in Manila at Playpark XP on December 17, 2016. At stake is ultimate bragging right as the very first Playpark Special Force Champion; plus a whopping Php 25,000.00 cash prize. The runner-up will also walk away with a hefty Php 10,000.00 cash prize.
For more information about Special Force and RESBAK, you can visit the following sites:
Special Force Online Official Page – http://bit.ly/2gxJVlq
Special Force Online Forum –  http://bit.ly/2gyxX7G
Special Force Online Official Website – http://bit.ly/2eBmWVh