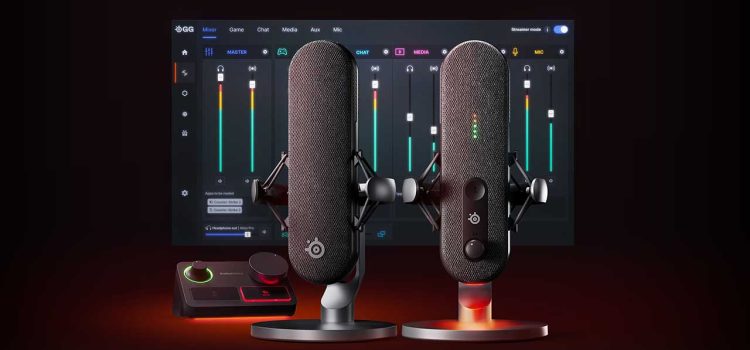 Gaming peripheral brand SteelSeries dips their toes in the audio scene with their new Alias series streaming microphones.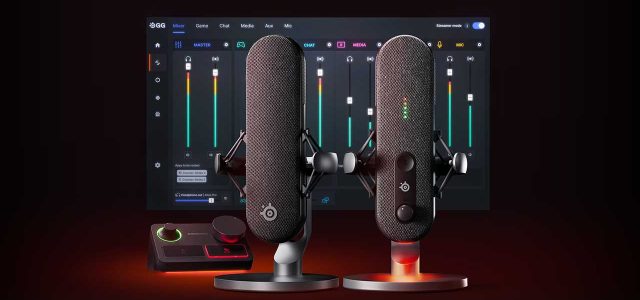 Not satisfied with their current crop of gaming peripherals, SteelSeries announces their latest products: the Alias series microphones powered by Sonar for Streamers. Not satisfied with just giving gamers, streamers, and content creators yet another tool for consideration, SteelSeries takes things a step further by addressing several pain points of content creation.
A combination of hardware and software innovations found in the Alias series of microphones allow streamers and content creators an easier time with behind-the-scenes production of their shows: the most difficult part of putting content out there but at the same time the part that audiences don't readily see and appreciate.
Alias microphones powered by Sonar for Streamers feature a custom-built 1" condenser capsule that's 3x the size of standard microphone capsules to flawlessly capture each gamer's voice, while a finely tuned cardioid capsule pattern minimizes background noise with a bubble-like capture area. This equates to a sound pattern used in broadcast and recording studios and is the optimal solution for accurate and impactful vocals – and the only one needed for streaming. Add a custom-built shock mount that absorbs vibrations and allows gamers to get animated during their streams and the sum of the parts is a sleek, streamlined microphone chassis specifically designed for gamers.
To power the Alias microphone chassis, SteelSeries developed a high-performance turbo engine known as Sonar for Streamers. This free studio-grade software suite provides gamers with an all-in-one sound studio and delivers everything a streamer needs for audio high-quality production. Pro software mixing tools like the Compressor and Limiter remove the need for additional audio programs or plugins. Sonar is compatible with standard video broadcasting software (OBS, Streamlabs, etc.) and uses CPU rather than GPU processing to avoid frame rate drops.
The Alias series of mics powered by Sonar for Streamers is available in two options:
Alias – Sound Quality and Versatility Combined.
The Alias powered by Sonar for Streamers is the first microphone designed from the ground up specifically for gamers to sound like a professional with a 24bit/48kHz broadcast-quality microphone that picks up every detail of a gamer's voice with extreme accuracy.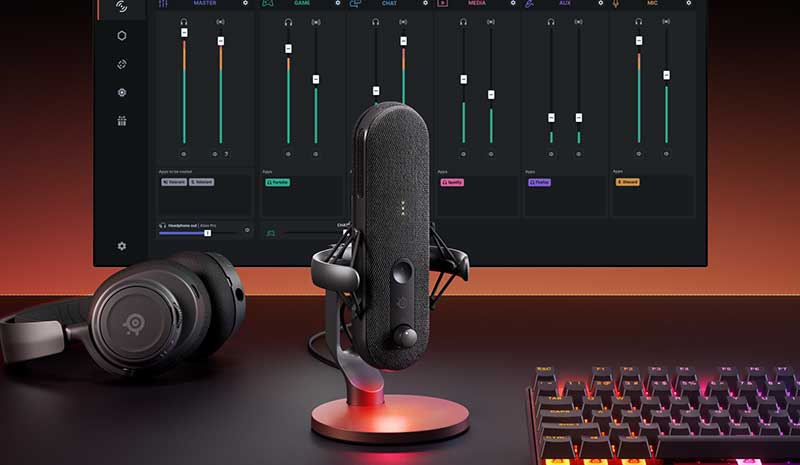 To keep gamers informed on the fly, the Alias microphone displays mic peak level information with a 5-stage LED indicator which switches to a prominent red "X" when streamers are muted. Real-time mic monitoring is also possible using wired headphones and the built-in RGB downlight and 5-stage LED offers 16.8M RGB colors to personalize the streaming setup. It's as easy as Plug & Say by connecting Alias to a PC with USB. Gamers can conveniently control input gain, mute, and headphone volume, and plug in a Nova series headset with a 3.5mm cable.
Alias Pro – The Ultimate Streaming Microphone for Gamers.
The Alias Pro powered by Sonar for Streamers is a broadcast-quality XLR microphone that picks up every detail of a user's voice with extreme accuracy, while the balanced XLR system with pre-amplifier and 48V phantom power reduces noise and interference to deliver pure and powerful 24bit/48kHz audio. Gamers can supercharge their production skills with the XLR Stream Mixer, a professional-level command station, that brings XLR amplification and audio mixing controls to any PC.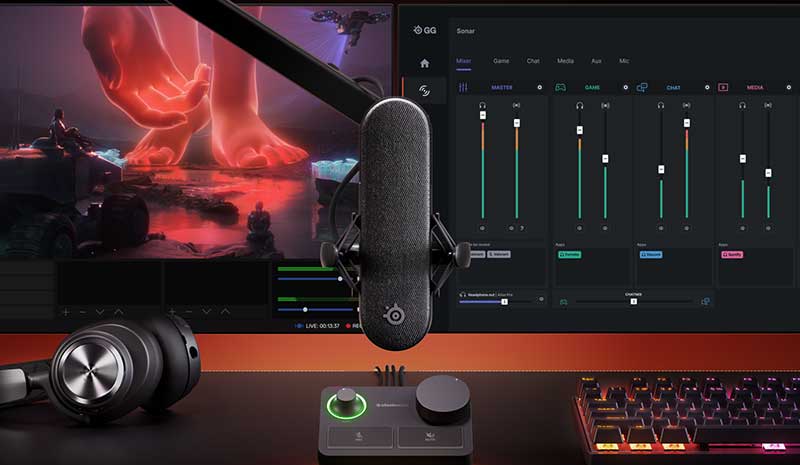 To allow for easy mixing, the Pro features Drag 'n' Drop Audio Routing, where streamers can route and mix up to five audio channels and adjust them individually to craft the perfect experience for their audience. Streamers can also customize dial and button assignments to mix or mute specific audio channels and monitor levels and mute status with custom-designed LED indicators while staying focused on the stream. The gain dial lights up from green to red to monitor your input levels while ambient RGB lighting complements the setup.
If you're going to the upcoming ESports and Gaming Summit (ESGS) 2023, then be sure to drop by the SteelSeries booth and try out these microphones!
Available at SteelSeries.com and retailers around the world, these microphones powered by Sonar for Streamers are available for the following MSRPs:

● Alias Microphone – PHP 11,100.00
● Alias Pro Microphone – PHP 19,555.00
● SteelSeries Sonar For Streamers – Free Download at: SteelSeries.com/gg/sonar-for-streamers
The Steelseries Alias Pro is now available in the Philippines via Lazada and Shopee. The Alias Microphone will be available later this month.
Links:
To learn more about SteelSeries, visit steelseries.com and join the conversation on Facebook at @Steelseries.ph, & Instagram at @steelseriesph.
For an alternative, you can check out the HyperX QuadCast microphone here.