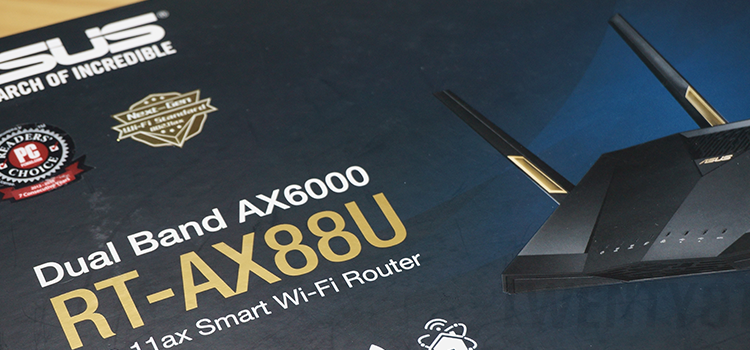 Internet access in this digital era is a necessity and home routers are a must. More predominant manufacturers continuously seek to add new features...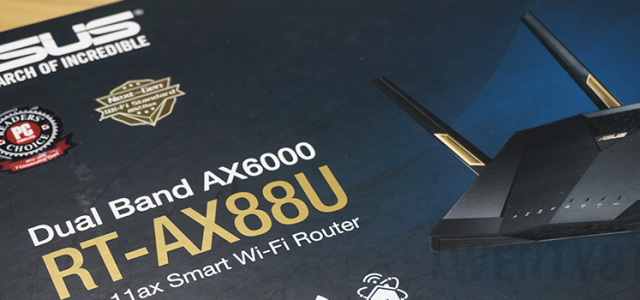 Internet access in this digital era is a necessity and home routers are a must. More predominant manufacturers continuously seek to add new features in their products in order to differentiate themselves in the digital market. That's a challenge as there isn't a lot of extras you can do with a router really, as you are tied to the norm of industry Ethernet and WIFI Standards. What's important is that you are getting a product with high-bandwidth file throughput with software included.
802.11ax Wireless Fidelity (Wi-Fi) will be called Wi-Fi 6
The next generation 802.11ax standard is going to be the next big thing for wireless fidelity or Wi-Fi. WiFi Alliance decided that AX is the suffix designator for WiFi 6, advancing through the Wi-FI naming conventions with 802.11ac as WiFi 5 and 802.11n designated as Wi-Fi  4.
The newest naming rule is introduced to make WiFi standards much easier to distinguish. In a non-technical perspective nobody exactly knows what 802.11ac really means so the WiFi Alliance introduced an easier to understand number naming scheme.
| | |
| --- | --- |
| 802.11 AX | WiFi 6 |
| 802.11 AC | WiFi 5 |
| 802.11 N | WiFi 4 |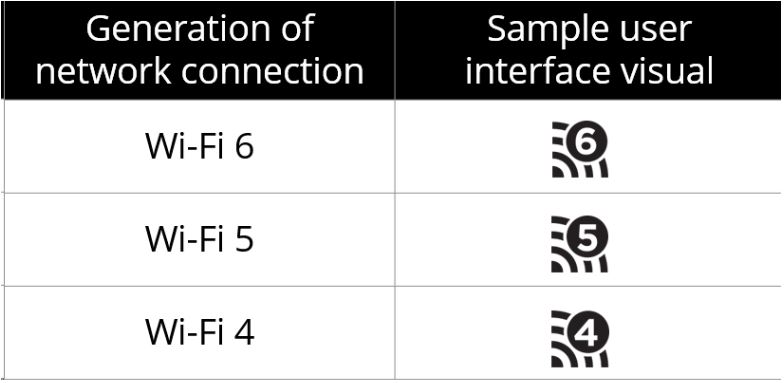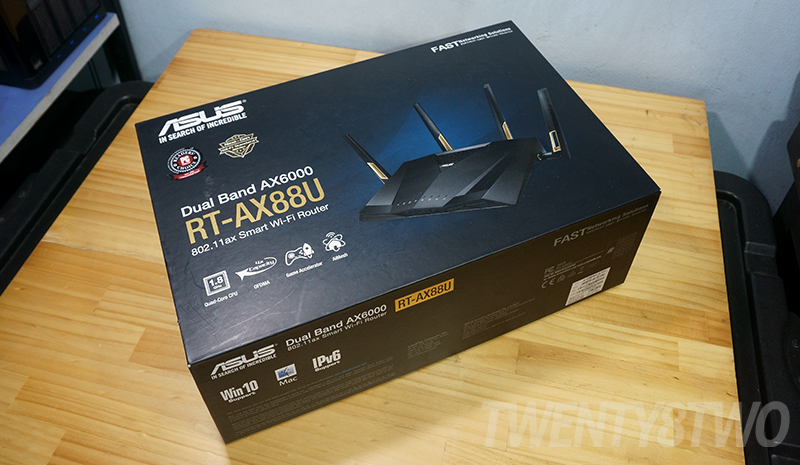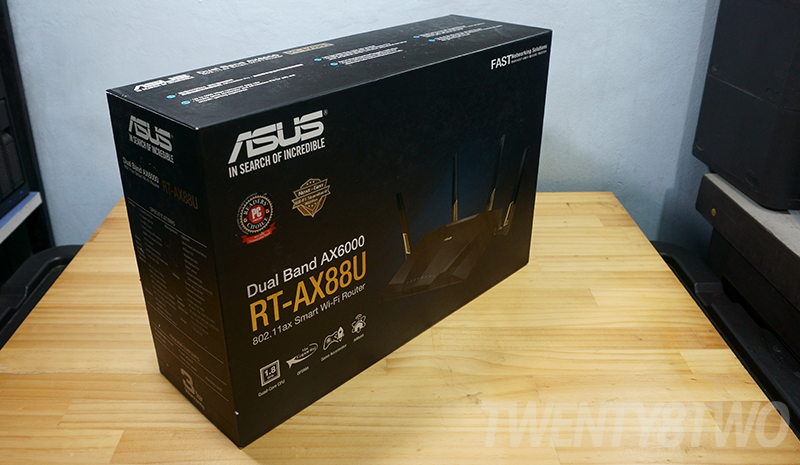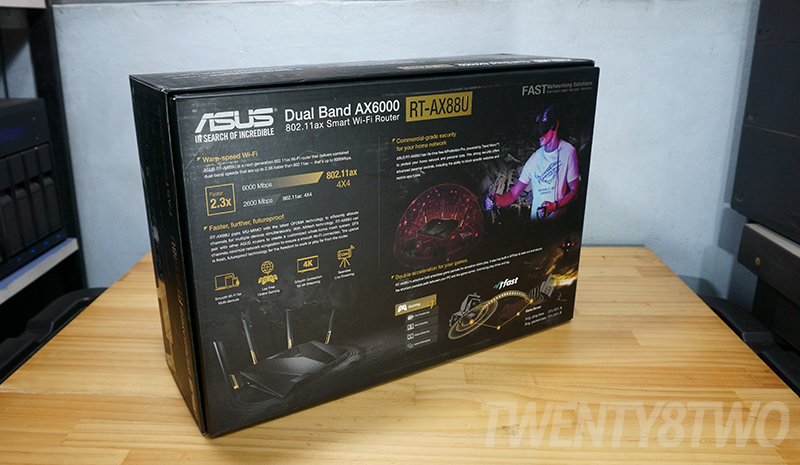 Specifications
Chipset
Broadcom BCM49408 1.8GHz Quad Core
Ethernet Port
Broadcom BCM53134 Gigabit LAN
RAM
1GB DDR3
Flash Storage
256MB
USB Ports
USB 3.1 Gen 1
Wireless Protocols
ABGN + AC + AX
Antennas
4×4:4 x 4×4:4
Power Input
AC Input : 110V~240V(50~60Hz)

DC Output : 19 V with max. 2.37 A current

Weight
1010 g
Dimensions
11.8 x 7.4 x 2.4 ~ " (WxDxH) (Without Bezel)
Data Rate
802.11a : 6,9,12,18,24,36,48,54 Mbps

802.11b : 1, 2, 5.5, 11 Mbps

802.11g : 6,9,12,18,24,36,48,54 Mbps

802.11n : up to 600 Mbps

802.11n (1024 QAM) : up to 1000 Mbps

802.11ac (1024 QAM) : up to 4333 Mbps

802.11ac : up to 3466 Mbps

802.11ax (2.4GHz) : up to 1148 Mbps

802.11ax (5GHz) : up to 4804 Mbps

Encryption
WPA2-PSK, WPA-PSK, WPA-Enterprise , WPA2-Enterprise , WPS support
LED Indicators
Power x 1

Wi-Fi x 2

WAN x 1

LAN x 1

USB x 2

WPS x 1

Operating System Support
Windows® 10

Windows® 8

Windows® 7

Mac OS X 10.6

Mac OS X 10.7

Mac OS X 10.8
The ASUS RT-AX88U comes in a hefty package. Underneath the actual router, you'll see a box that contains the CAT5e Gigabit Ethernet cable, power adapter, a manual, instruction CD and four antennas.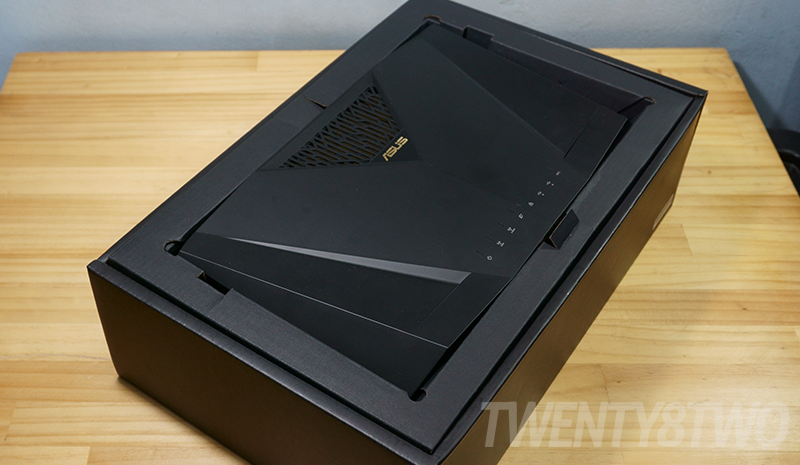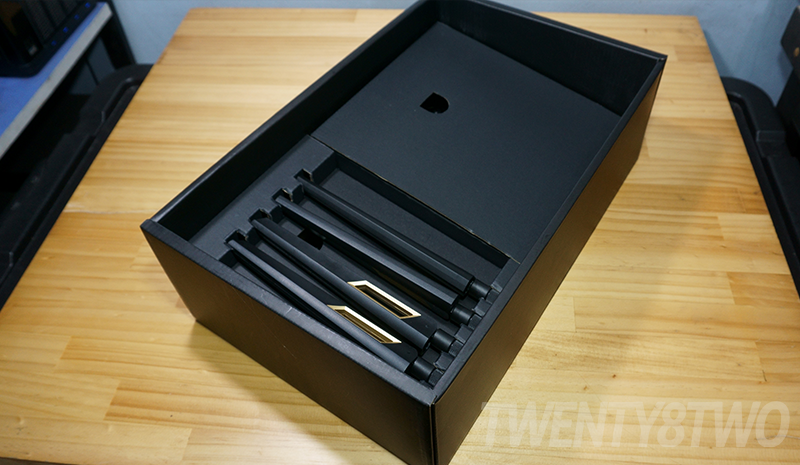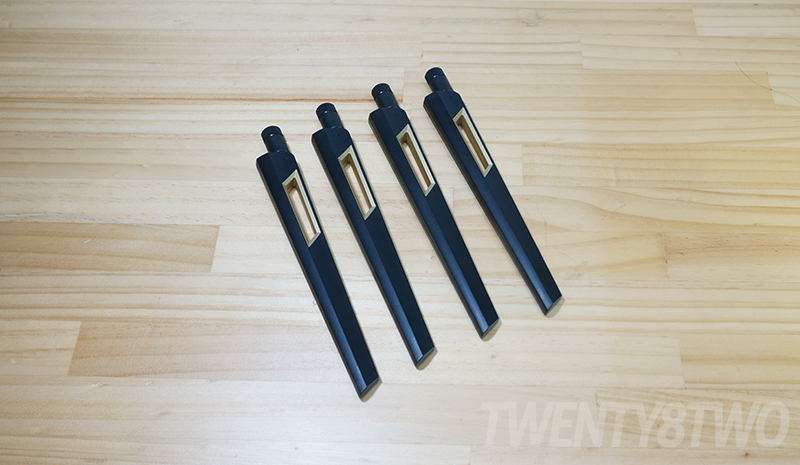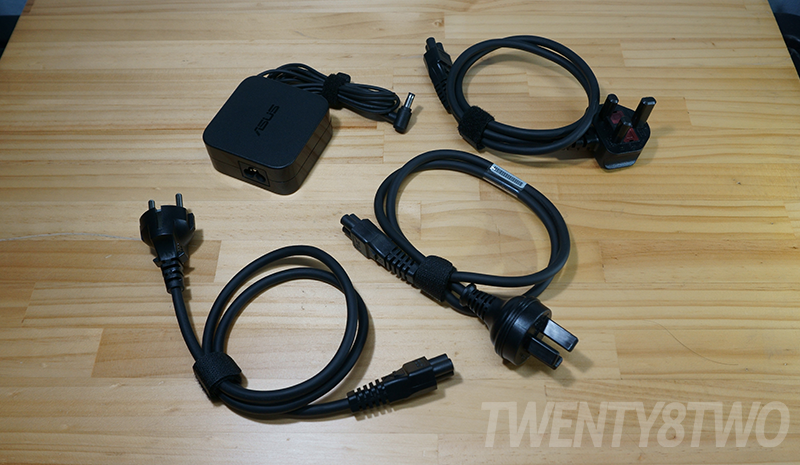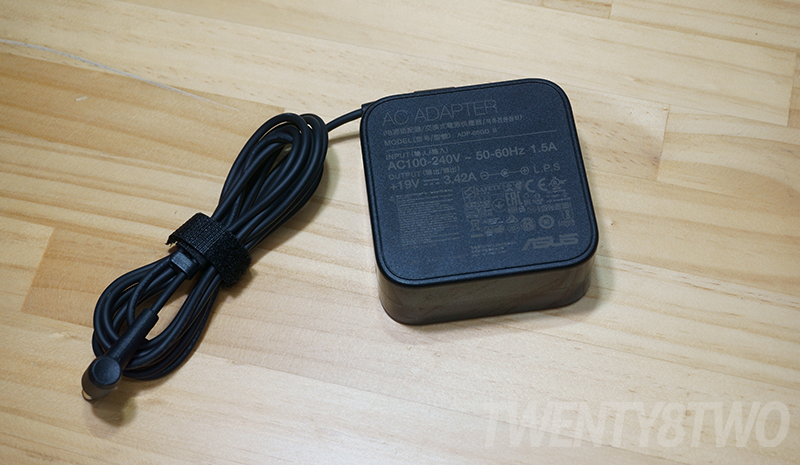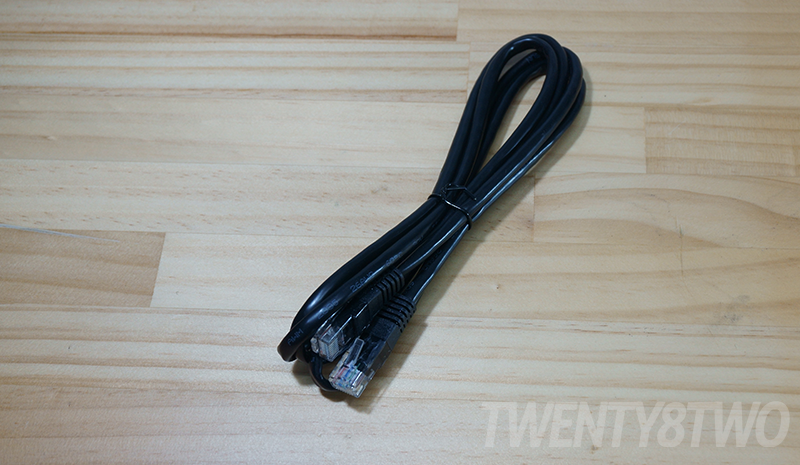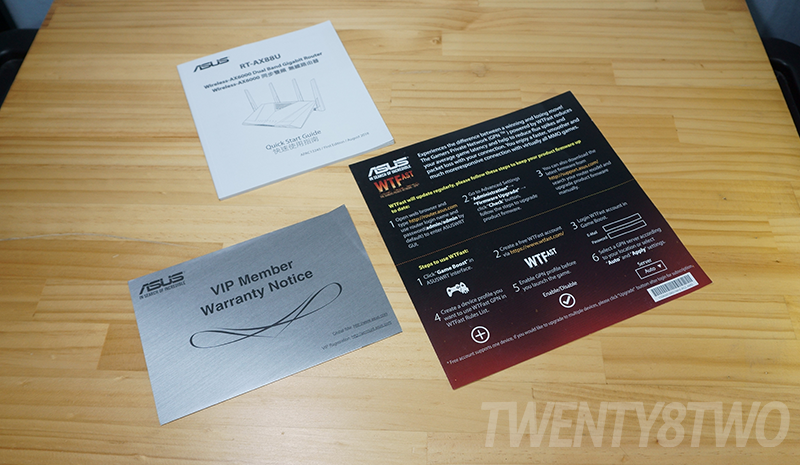 The RT-AX88U is the very first router from ASUS to support the 802.11ax specification, known as Wi-Fi 6. The router is very similar to the RT-AC88U which is my personal router at home, but this comes with new radios and a new quad-core processor.
The 4x and 8x gigabit ethernet ports remain the same, as did the USB 3.0 ports. The RT-AX88U is powered by a Broadcom BCM49408, a quad-core ARM microprocessor running at 1.8 GHz and assisted by 1 GB of RAM and 256 MB of flash memory storage. Both the 2.4 GHz and the 5 GHz radio use the BCM43684 chip and therefore comes with a 802.11ax support, 4×4 MIMO, and 160 MHz wireless channels. This router also supports AiMesh, a proprietary technology from ASUS that allows you to connect multiple routers out of the box.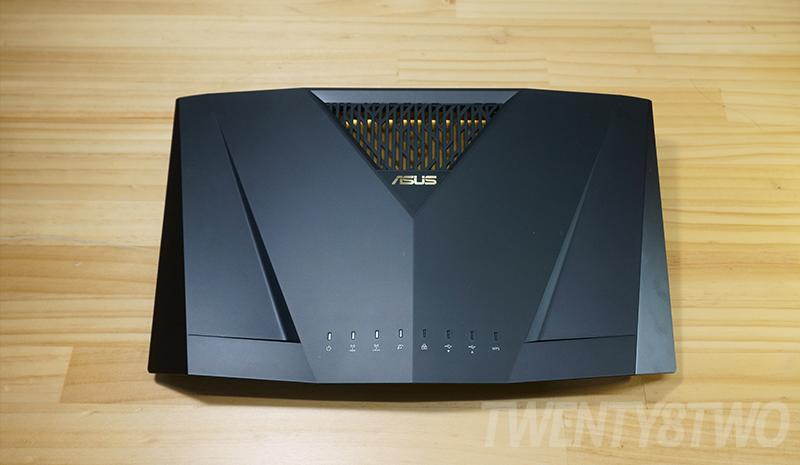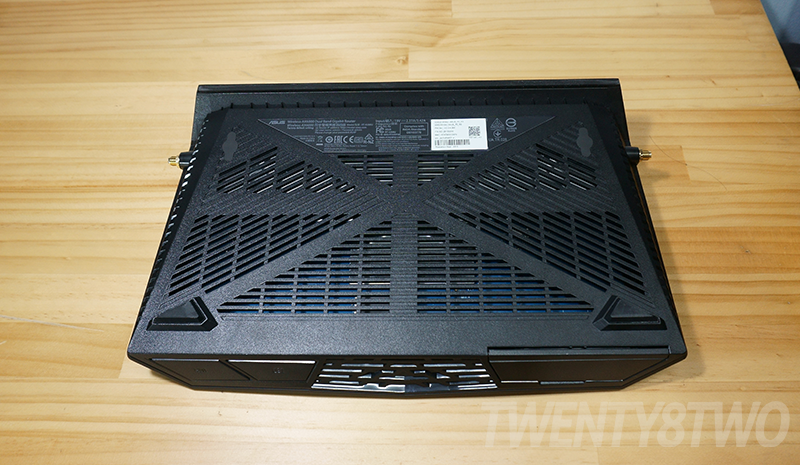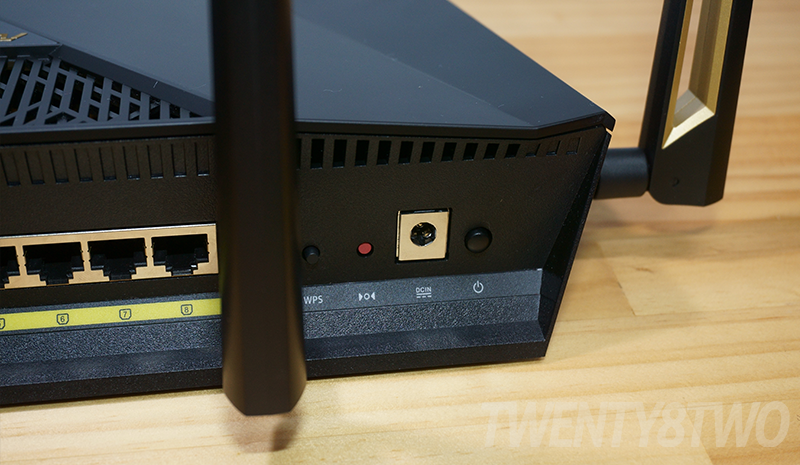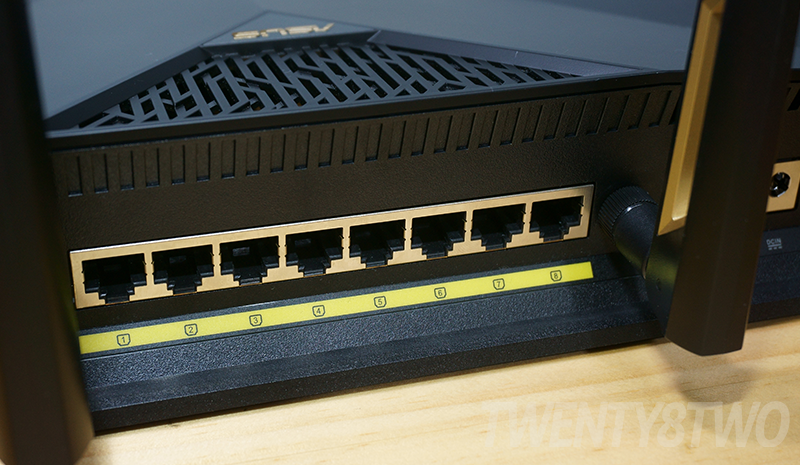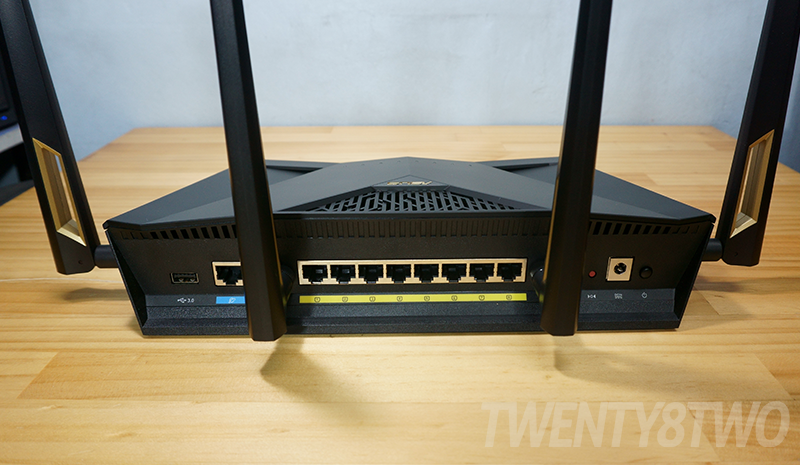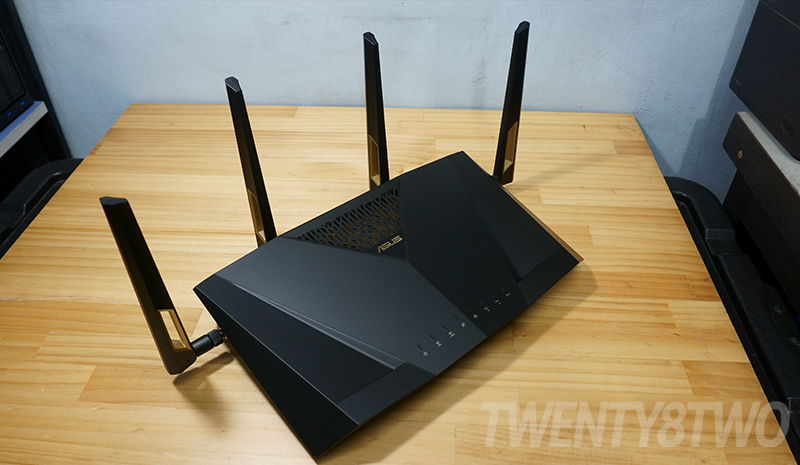 The whole package is tight, with separation for easy unboxing and assembly. Interestingly, the router cannot be wall mounted, as there are no brackets or plugs to attach the router to the wall but there are things that need to be removed like the covers in order to attach the router to the wall with a help of mounting screws (sold separately).
The router has a raised underside for better airflow. Under load, the unit gets warm, so the upward slope helps to allow better heat dissipation to the mesh at the bottom.
Once you've installed the antennas you'll notice that it's a really big router, and seemingly not practical hide it behind a cabinet. The ASUS RT-AX88U does look good, however, so having it sit on a table won't make it an eyesore. At the back of the router you'll find a sticker with the default security key printed. Each router comes with a unique WPA2 key for the wireless network. Use that specific key (also completely unique to each router that is being sold) when prompted during setup and you are good.
Take note that this device comes with a very high power antennas but still adhere to power regulations. A tad hard to look at but on the front side, a row of white LEDs indicate WAN/LAN activity and power status.
The RT-AX88U's USB port can be utilized with multiple storage devices of any storage capacity. Hard Drives can use in FAT32 or NTFS File Format. It also supports uPnP and DNLA Streaming with the help of your storage content via External Drive that can be played back via media streaming devices, Smart TV's or perhaps Android Top Up boxes.
Located on the side are the standard buttons for quick connect WPS, reset and on/off.
Currently only one smartphone line can support WiFi 6 and that is the Samsung Galaxy S10 series which is available here in the Philippines. Likewise,  Intel has two upcoming WiFi M.2 adapters for laptops and PCs in development, Same Goes with the AX200 and AX201 from ASUS.
Overall, the ASUS RT-AX88U router has a solid build, powerful antennas that can transmit the Wi-Fi signal, and is easy to set up and use. It also looks good sitting on an unobstructed area of your table near a power outlet but sadly, some tinkering is required for it to be wall-mounted so keep that in mind.