The Axgon Roadshow 2022 showcased Axgon's offerings to the Pinoy market and allowed gamers to try it out at their Gilmore, Q.C. venue.
Axgon, the newest gaming brand in the Philippines, launched its first-ever roadshow at Gilmore, Quezon City and offered enticing promos and activities for their roster of gaming furniture and peripherals.
The Axgon Roadshow 2022, which ran from 9 AM to 6 PM last September 16-18, 2022, aimed to put Axgon Gaming products forward to the public and exhibit the brand's premium qualities.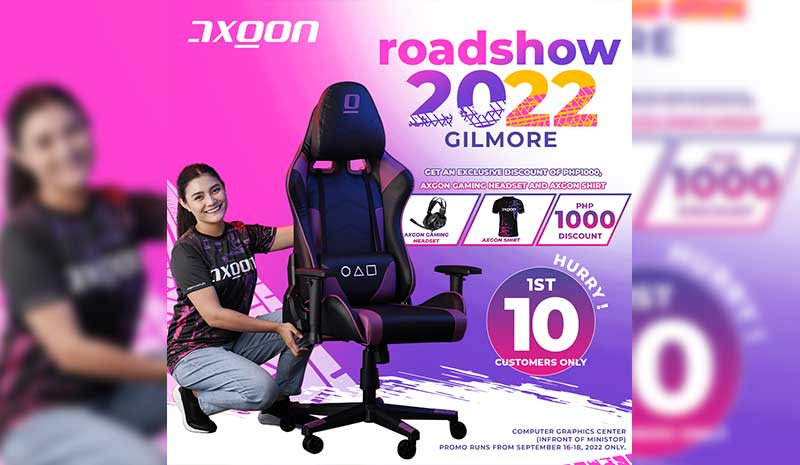 "We want as many people as possible to know about the perks of owning Axgon Gaming products. The brand is for everybody. Whether you're a newbie trying to set up your first gaming corner or a veteran looking to upgrade, you have to check out Axgon through this Roadshow 2022," MMD Marketing Head Jack Salamia said.
Axgon Roadshow Activities
To start with, the first ten customers who visited the venue and bought an Axgon Gaming chair got a Php1,000 discount on top of a free Axgon Gaming Headset and shirt.
The surprise didn't end there. Well-known comedian and vlogger Jack Logan hosted the bidding for both an Axgon Gaming Chair and Headset on the second day of the roadshow. Fans enjoyed the whole engagement via live broadcast on the Axgon Philippines Facebook page.
At 4:00 PM, the bidding commenced and opened to the public. Participants in the audience started bidding at Php100 increments for the Axgon Gaming Chair and Php10 increments for the Axgon Gaming Headset. Winners claimed their prizes on the last day of the Axgon Roadshow September 18.
The three-day Axgon Roadshow was certainly a fresh and exciting event for participating gaming enthusiasts. But there's no need to fret if you're unable to attend the Axgon Roadshow 2022. Interested buyers can still avail of a Php1,000 discount voucher and free Axgon Gaming Headset and shirt for every online purchase of an Axgon Gaming Chair on our official Lazada and Shopee online stores.
For more information about the Axgon Roadshow 2022, reach out to our social media channels @AXGONPH on Facebook and @axgon_ph on Instagram.