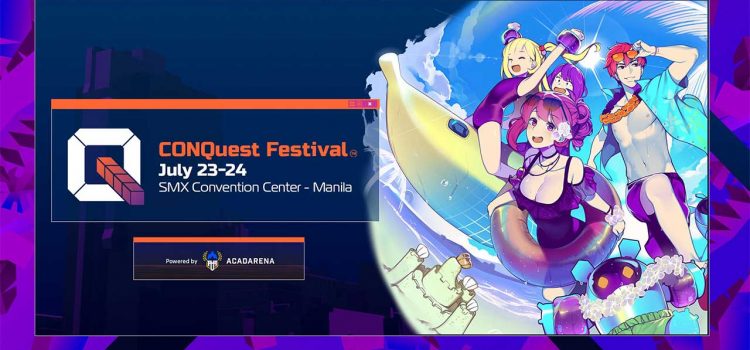 Here are the guests that will be appearing on this year's CONQuest 2022 to get you hyped!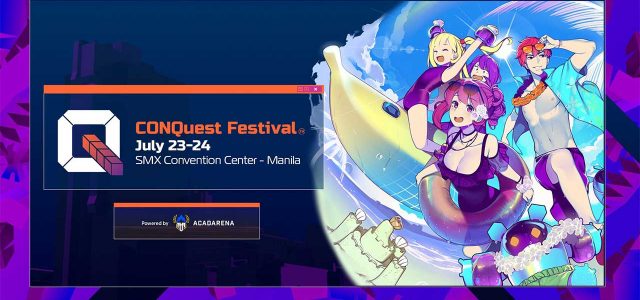 CONQuest 2022 happens on July 22 – 24, 2022 at the SMX Convention Center in Pasay City and it promises to be the biggest iteration of the geek and gaming event yet! Before the lockdown, CONQuest was held in Iloilo to modest attendance by the local gamers. Since the lockdown, however, things have changed and this time around, it's ready to share the stage in Manila, where a lot of its audience resides.
Everything is bigger with this year's CONQuest Festival. The guests alone are worth more than the price of admission already, and most of these people are first-timers in the Philippines! Convention-goers may remember that the past iterations of the Asia Pop Comic Con (APCC) have brought may guests we as Pinoy fans could only dream of seeing. CONQuest takes it to a different level!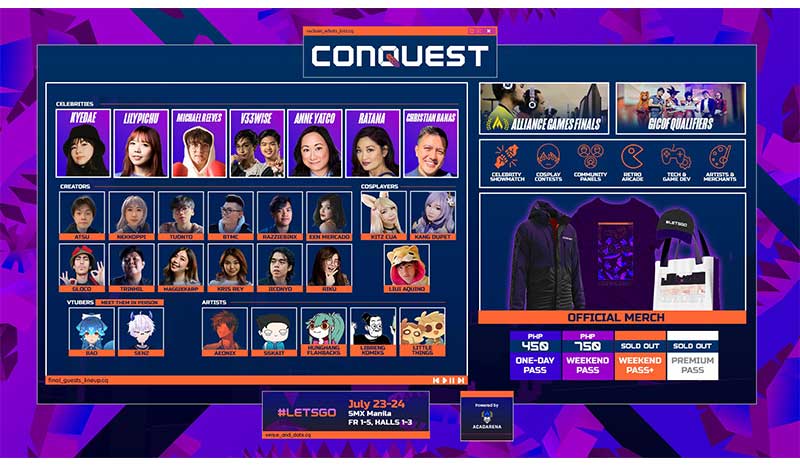 CONQuest 2022 guests: Celebrities
Since the lockdown, a lot of people have tuned in or become fans of streamers. These content creators on Twitch and YouTube have become the premier source of entertainment for people stuck at home, and have brought their antics to our monitors and smartphone screens. Kyedae, lilypichu, and Michael Reeves are some of the biggest content creators in the US with thousands, if not millions of fans around the world and they're coming to CONQuest 2022!
If you haven't gotten the chance to secure your meet-and-greet pass for these content creators, you may see them walking around the event and get that chance to personally say hi! Who knows, you might just be a part of their coverage videos!
Since 2020, the action RPG Genshin Impact has become a huge hit for Pinoy gamers. Everyone has heard of it, played it, familiar with the characters, or at least have one friend who plays it. With great character design and engaging gameplay, Genshin Impact's popularity has been further boosted by the fact that the game's voice actors (in Chinese, Japanese, and English) regularly play and stream the game themselves. Like what happened to Overwatch, these voice actors have become very popular with their audience, and for us Filipinos, nothing makes us latch on to the fandom more than knowing if these said talents are also Filipino!
That's right, several voice actors of Genshin Impact are Filipino and they are coming to CONQuest 2022. Anne Yatco, the voice of the Electro Archon Raiden Shogun; Ratana, the voice behind the illusive Yae Miko; and Christian Banas, who plays the tricksy Kamisato housekeeper Thoma will be gracing CONQuest 2022 to meet their fans! For Genshin Impact players, the Raiden Shogun, Yae Miko, and Thoma are all popular characters for a variety of reasons, so make sure to drop by the event and get a chance to interact with these voice actors!
The top Mobile Legends duo OhMyV33nus and Wise will also be guesting at the event. Together with their team Blacklist International, V33nus and Wise, or V33Wise for short, have had regular appearances at the most prestigious Mobile Legends tournaments here and in Southeast Asia. What's more, their regular championship wins have secured them in the future Hall of Fame for the game not just for their dominating plays but also for their continued service as idols worth emulating.
CONQuest 2022: VTubers
Another phenomenon that rose in popularity thanks to the pandemic lockdown are VTubers. For the uninitiated, a VTuber or Virtual Youtuber is like a puppeteer: they have a digital avatar that moves and talks and interacts with their livestream audience in place of an actual person. The Japanese company Cover Corp. is behind one of the most popular VTuber groups in the world called HoloLive, but the technology has since become widespread in order for people around the world to create and stream with their own avatars!
Two of the most popular Western VTubers, Bao and Senz, will be coming to CONQuest 2022 and will interact with their fans LIVE. If you've always wanted to interact with them but your comments on their streams always get buried because so many of their fans are regularly trying to talk to them, now's your chance!
Quintella, the official mascot and vtuber for CONQuest 2022 may make a live appearance at the event as well.
CONQuest 2022: Cosplayers
Of course, a geek convention won't be legit without cosplayers. Expect to see a lot of con-goers dressed up in costumes representing their fandom, be it from manga, anime, tv shows, movies, cartoons, and a lot more. Also expect the biggest local cosplayers to grace the event!
Kitz Cua, Kang Dupet, and Liui Aquino are some of the cosplayers that have grown their audience during the lockdown years, thanks to their tireless promotion and pushing their cosplays on to a lot of social media platforms. When these talents dress up, they don't just make great real-life renditions of their characters, they become the character they're cosplaying. Kitz and Kang have been in the cosplay scene for a long time, and a lot of fans got into the fandoms these ladies are into because of them and their love of cosplay!
CONQuest 2022: Creators
A geek and gaming event won't be complete without a host of content creators joining in on the fun! Gloco and Nhil, CONQuest alumni, will be taking part and bringing their antics to their fans. International streamer and content creator husband and wife team Atsu and Nekkopii will be flying to Manila as well, joined by Tuonto and BTMC. Popular model and streamer Een Mercado is also a guest, as well as internationally-renowned caster Riku! Content creator and comic Jiconyo, who gained a cult-like following thanks to his portrayal of a conyo guy doing mundane Pinoy things, will also be appearing at CONQuest 2022 as well.
Of course, these are just some of the guests who will be at the event. Expect many more content creators and game streamers to take part in CONQuest 2022. Expect esports tournaments from the most popular titles right now, and a lot of tabletop games, indie video game demos, and merchandise to be sold at the event.
For the latest updates leading to the event, be sure to follow CONQuest 2022 on Facebook and check out their official website where you can buy your tickets.