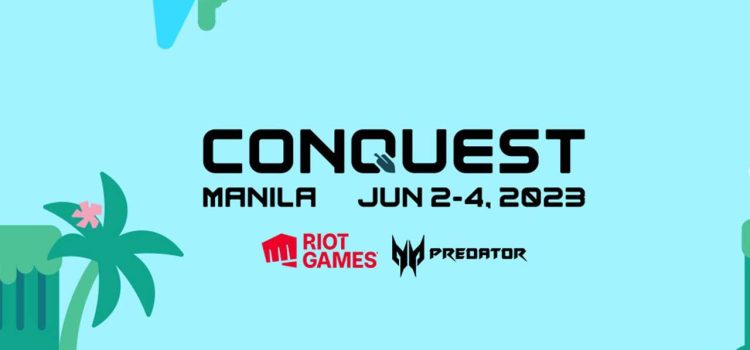 CONQuest 2023 is going bigger for its latest on-ground event with more guests, more activities, and more venues!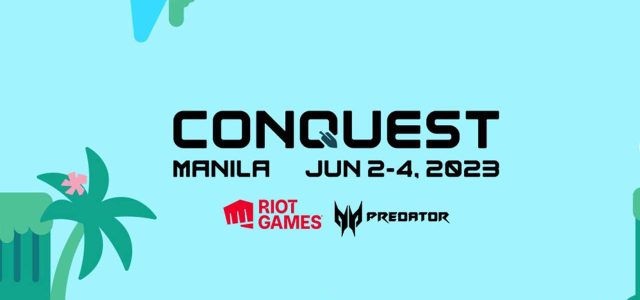 CONQUest 2023 is back, and the brand has firmly cemented itself as one of the biggest pop culture and gaming events in the Philippines. Last year's event brought in some of the biggest international names together with the biggest local talents under one roof. For the uninitiated, CONQuest is a melting pot of interests: you have video games, streamers, vtubers and artists.
This year, the team behind CONQuest 2023 has brought out all the stops to bring the ultimate fan experience. Happening from June 2-4, 2023, the event is packed with guests, activities, and even physical venues. Let's go through them one by one.
Conquest 2023: Guests
The guest list for CONQuest 2023 is stacked. That's actually putting it mildly, as this year, the headliner guests have doubled from last year. That's SIXTY international and local names if you're counting. Filipina-US streamer, and content creator Valkyrae leads the charge for this year, and with her are her friends in the community namely Pokimane, AriaSaki, Michael Reeves, Lily Pichu, Fuslie, Yvonnie, and Sykkuno among others.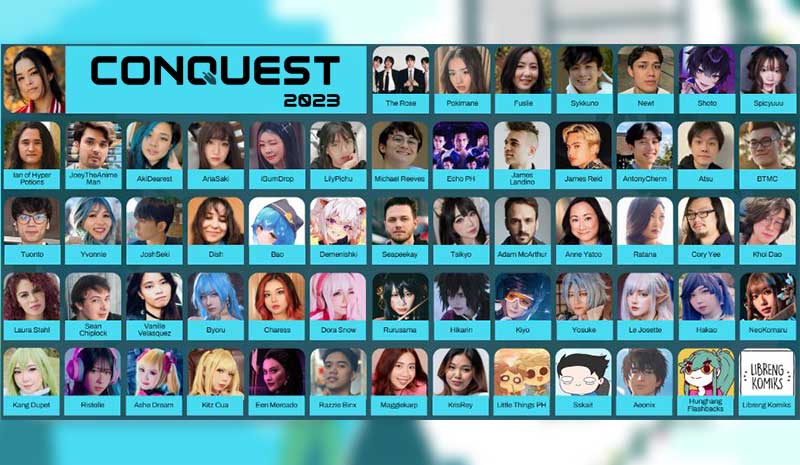 Japan-based content creators JoeyTheAnimeMan (Trash Taste Podcast) and AkiDearest are also coming in. Fan-favorite vtuber Bao is tagging along together with Deminishki. Last year, Genshin Impact voice actors Anne Yatco (Raiden Shogun) and Ratana (Yae Miko) will be returning and they've brought friends: Khoi Dao (Albedo), Laura Stahl (Barbara, Xinyan), Cory Yee (Gorou), and Sean Chiplock (Diluc).
Kang Dupet, Een Mercado, Charess, and Kitz Cua join international cosplayer Le Josette, Rurusama, and more as this year's cosplayer guests. Rounding out the pool are popular artists Sskait, Little Things PH, and Hunghang Flashbacks all making a return to the event.
There are even more guests, so be sure to follow the official CONQuest Facebook page for updates.
CONQuest 2023: Events and Activities
We advise you to totally clear your schedules for June 2-4 and just dedicate those days to CONQuest 2023. Last year, the SMX Convention Center in Pasay was packed with just CONQuest activity areas on both floors. This year's event is so big, it has FIVE physical venues. The SMX location will serve as the main hub for the event, but the whole length of Seashell Lane in front of the main entrance is also blocked off for CONQuest! Seashell Lane will serve as a food area for everything you would want to munch on while taking a break from doing the rounds.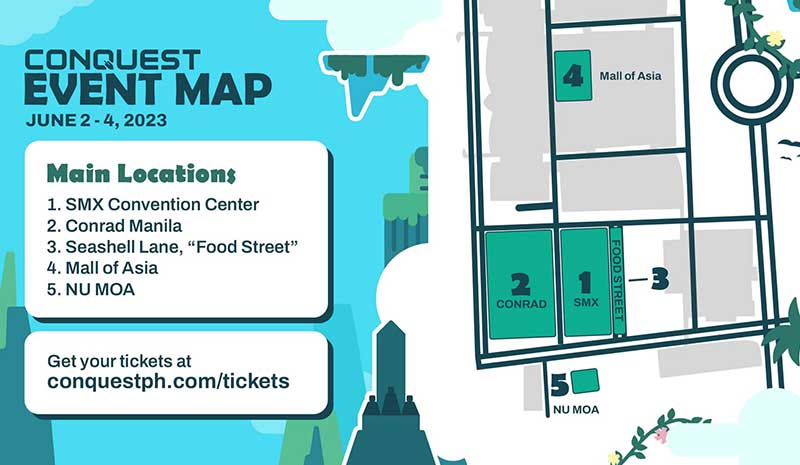 Conrad Manila will serve as the main hub for all things cosplay-related. Parts of the actual Mall of Asia grounds will also be used for activities. Finally, NU MOA will serve as the concert area for the night activities.
That's right, CONQuest 2023 will have both day AND night events so be sure to rest up and get hyped! It's going to be three full-packed days of fun as this year's CONQuest promises to pull out all the stops for a mega event for fans!
Get your tickets at the official ticket page and get them early. Remember to be vigilant against scalpers and shady ticket sellers to avoid getting scammed. #SeeYouInTheSkies for #CONQuest2023!