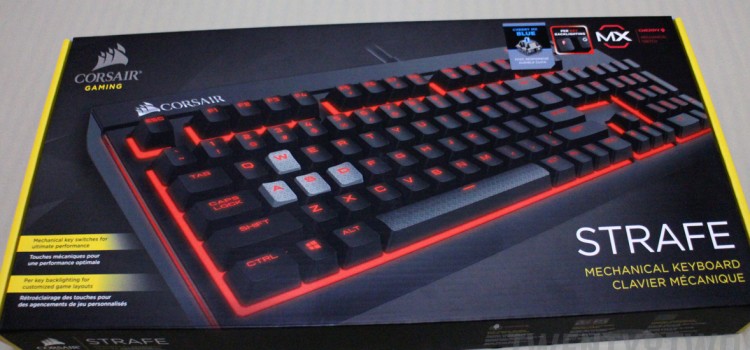 If you're looking for a solid full mechanical keyboard for gaming and typing, then the STRAFE from Corsair might be the one for you...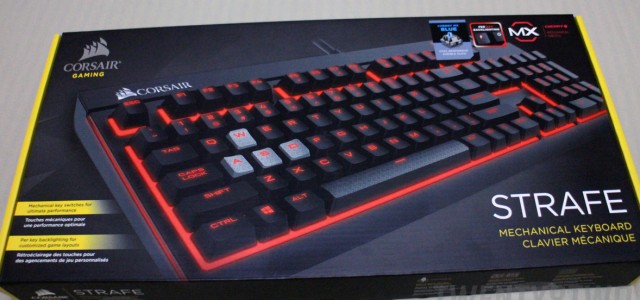 Gaming peripherals has enjoyed a rising popularity lately, fueled by the skyrocketing fame and attention being directed towards esports. There was a time when getting a keyboard was more of a necessity than for showing off or yet another part of your desktop to upgrade, and that time has passed.
Nowadays, gamers are investing not just in their CPUs but in their actual input devices, or peripherals as well. You'll now find gaming keyboards, mice, mouspads, and headsets vying for prime shelf space while their non-gaming counterparts are being pushed down. Aside from being built to be tough, peripherals now have RGB backlighting and effects built into them, allowing you to sync everything into one unified rainbow of color when playing your favorite games.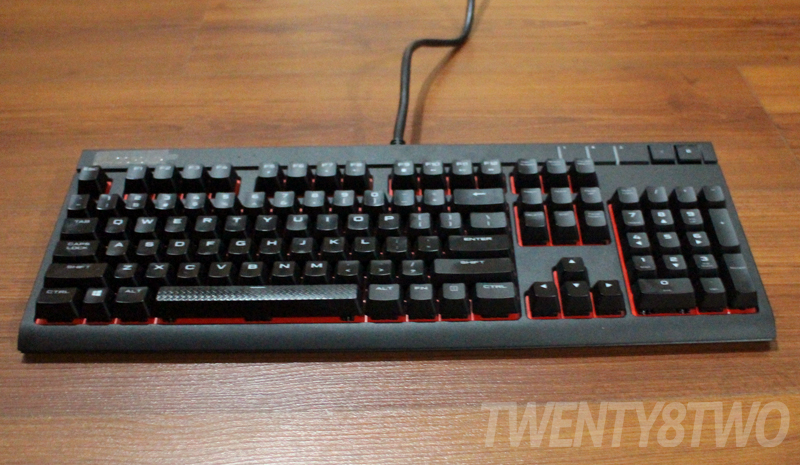 Corsair is no stranger to gaming, and their mechanical keyboards are some of the best out there. We've been able to take their STRAFE Mechanical Keyboard for a spin and if there's ever a keyboard that looks as good as it performs, then the STRAFE is an automatic contender.
Out of the box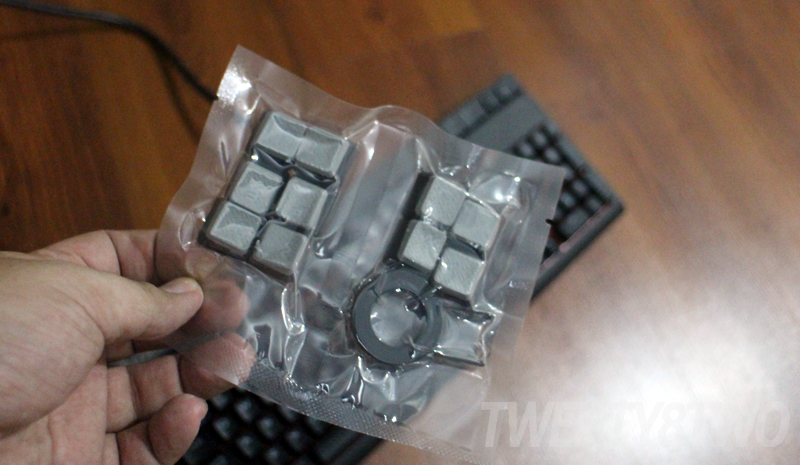 First off, this keyboard has heft. This isn't a gaming keyboard with fancy lights, it's the real deal. Corsair gave this full keyboard just enough bezel around the edges to feel comfortable and familiar, but there's more to it than just looks. The package comes with spare blank keys and a key puller, which is standard fare for high-end mechanical keyboards. The peripheral actually comes with its rubberized plastic-wrapped cable pre-attached and reinforced, so there won't be any issues with the wiring getting ripped.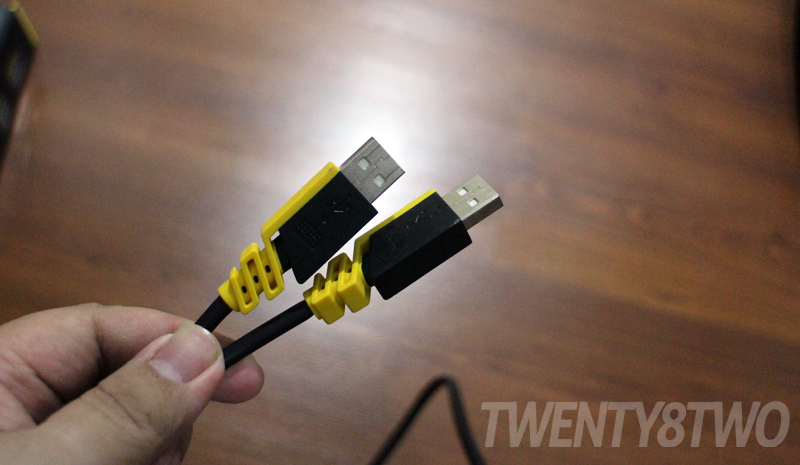 The cable itself terminates into two USB ports. One is for the input and the other is for powering the device and its lighting schemes that you can program. It's a bit of overkill for me because a lot of other gaming peripherals can operate just fine on one USB port, and offer the same things the STRAFE can.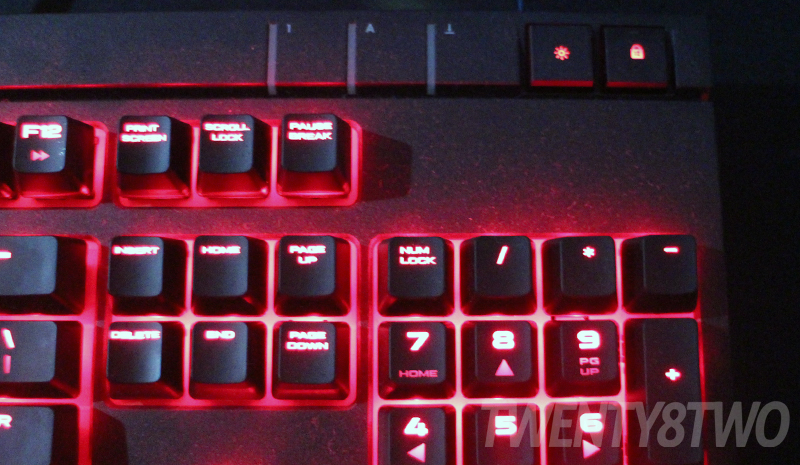 The keyboard only has one color of backlighting: red. It's a very serious-looking red though, and is a perfect accent to your gaming desk. You can modify the brightness of the backlight, and lighting patterns with a push of a button. I found the red color great and doesn't really distract me from my game. I set my preferred lighting to minimum and it works really great just to give the right amount of illumination for the keys without washing the rest of my table in red. I also opted for no lighting pattern to lessen my distraction. The programming of the lighting patterns is easy and intuitive enough for people who don't like reading manuals, which is a great plus for me.
The Experience
The Corsair STRAFE has Cherry MX Blue mechanical switches, which are the preferred type for gamers. Unlike other brands of "blue" switches, Cherry's are easy to press. Combined with the keyboard itself, this results in smooth typing experience with no "sticky" keys, the feeling you get then you have to press a key a little harder than usual for it to register the input. If you are not familiar with mechanical switches on keyboards, the Cherry MX Blue version of switches are the loudest and the ones that have the clicky sound most associated with mechanical keyboards.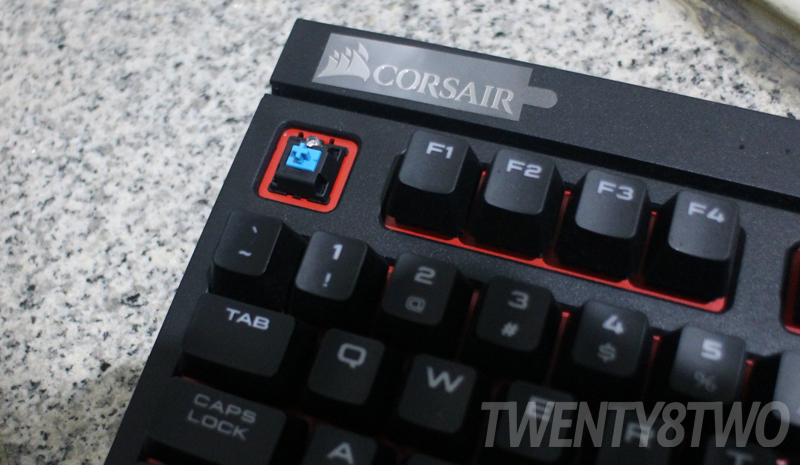 The tactile feedback is great for typing, and one that I most prefer even when gaming. The STRAFE doesn't feel taxing to use, which is great when you're writing a lot of articles and reports. During gaming sessions, the feedback on your fingers and that clicky sound you hear in the background as you play isn't distracting at all, especially when you've been using mechanical keyboards for a while. It may, however, be disruptive to other people around you, especially when they're not wearing earphones or headphones, because the clicky sound is very much audible. If you think that can be a problem, I suggest going for the STRAFE in Cherry MX Brown instead.
Closing Thoughts
The Corsair STRAFE Mechanical Keyboard in Cherry MX Blue flavor ticks a lot of boxes for me when it comes to mechanical keyboards. I prefer Blues and there's no real con about using them in my perspective since the people around me don't get bothered by the clicky sound. For people who prefer a more quiet keyboard but like the look of the STRAFE, there are other switch variants available, which gets plus points for offering choices.
This mechanical keyboard is a big boy though, so if you're looking for an input device and you don't have much in the way of table real estate, then you might need to pass on the STRAFE. However, the keyboard is rock solid once it rests on your computing surface, and won't budge when the gaming gets tough.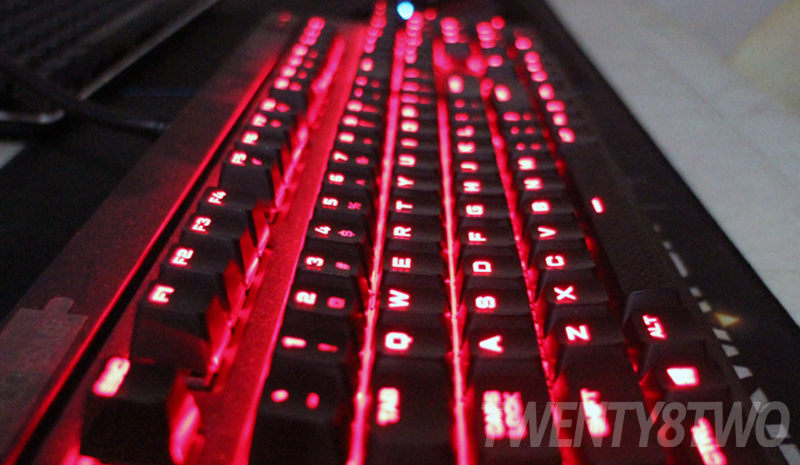 The two USB ports needed to power the device don't get points for me, unfortunately, as I value my connection ports. Most mechanical keyboards do the same things the STRAFE can do (a good one is the Magicforce Smart 68) without the need for an additional connection point.
Overall, the Corsair STRAFE is a decent pick for a mechanical keyboard, and for its price, you get great quality and craftsmanship, several one-color lighting options, and a smooth input experience. Just be sure to free up two USB ports – preferably beside each other – or else you won't get it to work at all.