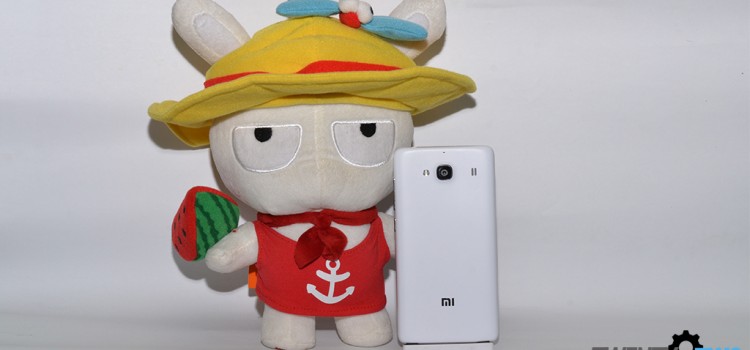 If you've always wanted a no-nonsense phone that can take the bangs and dings of everyday use but still perform beyond its hardware, then...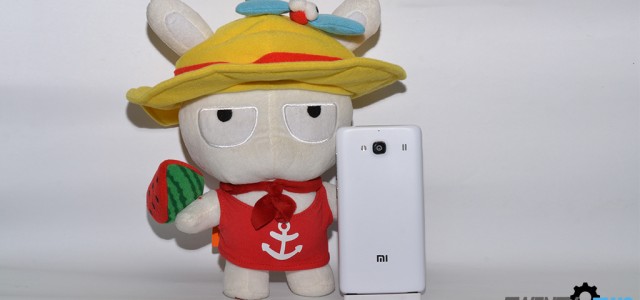 If you've always wanted a no-nonsense phone that can take the bangs and dings of everyday use but still perform beyond its hardware, then you may want to consider the Xiaomi RedMi 2. Resident gadget reviewer Matt takes the little phone (and the bunny) out for a spin!
That's what we call a good timing! Xiaomi recently went and sold their products via various brick-and-mortar stores so you can now go try out their offerings, including this RedMi 2 that was lent to us. We did the unboxing previously so you know what to expect when you purchase one of these babies. For three weeks, I used this phone as a daily driver because of it's maneuverability and form factor.
First off, a quick spec sheet:
Processor: 1.2GHz 64-bit Qualcomm Snapdragon 410 quad-core CPU
RAM: 1GB LPDDR3
Display: 4.7-inch 1280 x 720 Sharp / AUO IPS display, 312ppi
Screen glass: AGC Dragontrail Glass
Storage: 8GB internal storage & up to 32GB via microSD
Front Camera: 2MP front camera
Rear Camera: 8MP BSI rear camera, Omnivision sensor, F2.2 aperture
Sim: Dual-SIM, Dual-Standby, Dual-LTE
Connectivity: 4G LTE, 3G HSPA+
WiFi 802.11 b/g/n
Bluetooth: Bluetooth 4.0
USB Connectivity: Micro USB / USB OTG
GPS: GPS, A-GPS, GLONASS
Sensors: Accelerometer, Gyro, Proximity & Compass
OS: Android 4.4.4 KitKat via MIUI 6
Battery: 2,200mAh battery
Weight: 133g
Dimensions: 134 x 67.2 x 9.4mm
Colors Available: White, Green, Yellow, Pink & Dark Grey
Benchmarking
DISPLAY
The colors that you see when you power up the phone are pretty decent, though understandably lacking in the density department compared to their upper tier phones. For a device that's on the lower midrange price tier, the phone gets a passing grade.
Upon usage the colors are very decent, density wise it is very acceptable due to the nature of the Sharp LCD Display that was used on this device. The viewing angles are also decent, and using the phone in bright sunlight is a little difficult but I won't put it past the RedMi 2.
CHARGING
Since there is no charger for the this demo unit at our disposal, I used the charger from my Yoobao Multi Port USB Charger. I hooked it to the 1A Port and it charged for 2.5hrs to full. As usual it has a red light on the Home Button of the phone, which is the same as the RedMi 1s.
DAILY USE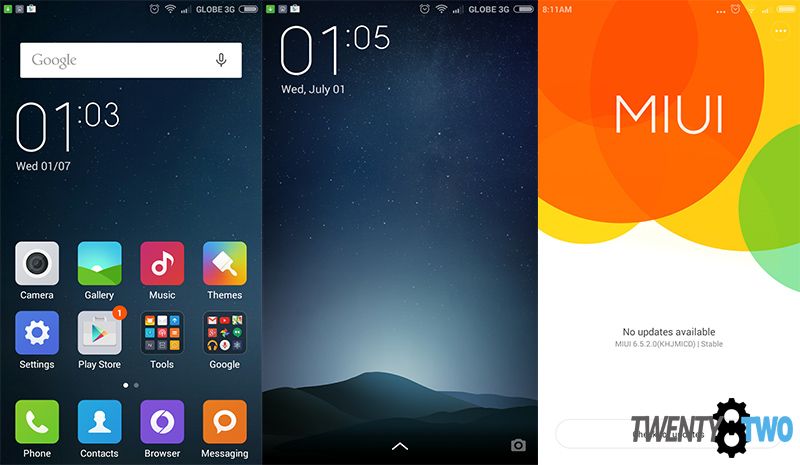 The RedMi 2 uses Xiaomi's homegrown MIUI, which is refreshing to look at and to navigate. When compared with the vanilla Android experience, this is really exhilarating. MIUI made things very simple and also there are other functions that are not present on stock Android. During my regular routine day at the field, the RedMi 2s made things simpler during calls, emails, and text messages to various teams that I communicate with. My weeks spent traveling for work was made easier because of the MIUI experience. What I liked about the UI is that freeing RAM is built-in. There's no need to install a third-party app. MIUI behaves like iOS in that it eliminates your app drawer, opting to have every app you have – stock or downloaded –  in preset folders. You can also make your own folders to categorize your apps your way.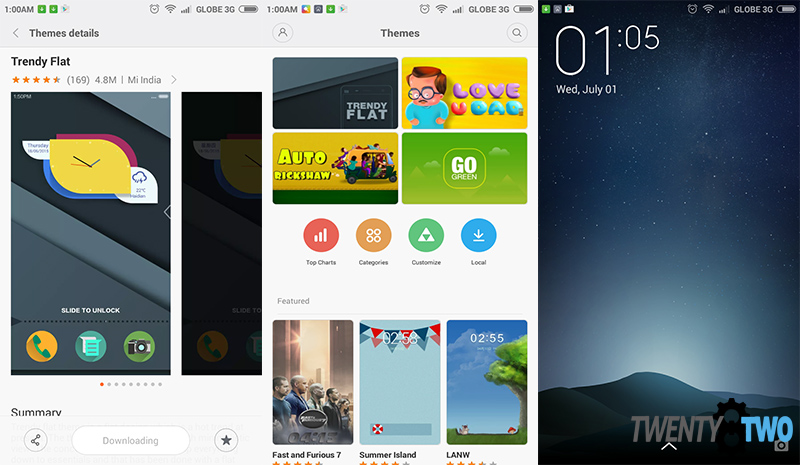 VOICE QUALITY and SCREEN RESPONSE
I took a lot of calls using the RedMi 2: from my significant other, my co-workers, my boss, and my partner. The earpiece what surprised me. The sound signature is very much different from other earpiece speakers from the other phones that I have used in the past. The RedMi's output is warm and modulation is indeed excellent. It's good if you are on the road or around busy streets when you need to answer an important call because the sound is clear and loud enough for you to understand. Screen response to contact-browsing, redialing, and dropping calls is quick and a breeze. There was no lag when swiping across the screens as well.
CAMERA PERFORMANCE
Most people value phones on the cameras and what you can do with them out of the box. The RedMi 2 comes with pre-installed filters you can choose to enhance your shots. The flash on it is pretty decent, and the 8MP sensor handles different lighting environments with passing grades. Shots are still crisp and the touch-to-focus feature gets how you want your photo to look correctly – most of the time. Here are some of the shots I took:
The camera can also recognize QR Codes. I tested this feature on a 3D Barcode from a WD Blue hard disk I had on-hand for testing. While the screenshot did not capture it, there was definitely a scanning action from the phone as it recognized the QR code (if you'd notice, the photo has the QR code in very clear focus).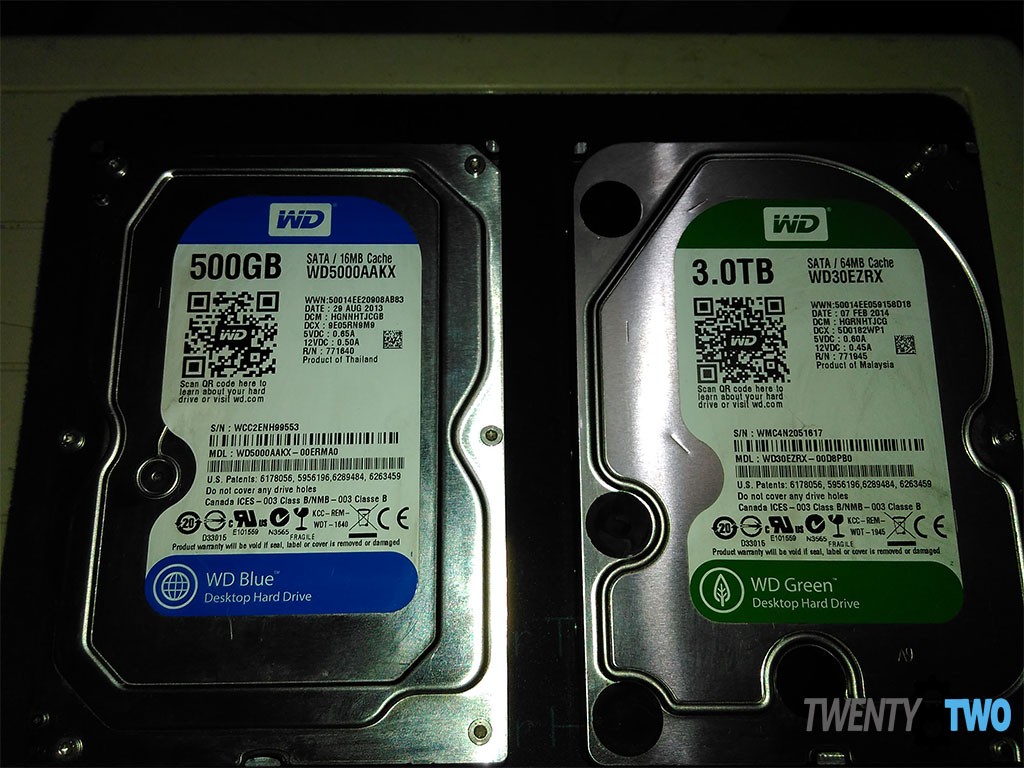 The camera is great for everyday use. It won't win you awards, nor will it churn out killer photos 100% of the time, but if you're with friends and want to take a picture, then the phone won't let you down.
GAMING
Okay, I'm very curious to know the phone's limits based on it's GPU and RAM so I intended to push this phone to the limit for everyone's curiosity. I picked Modern Combat 5 for testing instead of Clash of Clans because while CoC is a very popular game, it will undoubtedly work on the RedMi 2.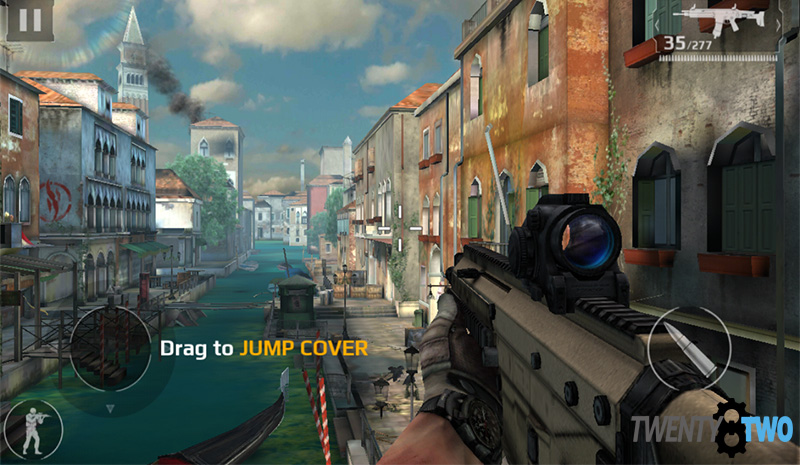 The game did not warm up the phone too much, and I had a great time playing. The only problem I encountered was that the phone's display was too small for my large hands. After I was able to adjust, the experience felt less clunky. Lag wasn't an issue as well. Just keep an eye out for your battery when playing.
BATTERY LIFE
Who would ever though that this phone can go way beyond you power management expectations? I charged the phone for 2.5hrs and I used it for two days with calls, text messages and email via data (and a bit of Wi-Fi on the side). With that one charge, I was able to do everything I needed to do for more than a day – something of a feat! Of course, gaming will drain the battery faster, but just having it in your pocket with mobile internet on won't be much of a problem on the power. So yes, you can rest easy knowing that the RedMi 2 won't go from full to zero in the middle of your commute home.
FINAL THOUGHTS
It's a no-fuss, fun to use phone that would be perfect for people who want a second device or a back up phone. People whole like Apple's style of UI and people who don't really like to scroll or tap on their phone to navigate through it would appreciate the RedMi 2. It runs perfectly fine with social media apps and this is the most power-efficient phone I have used so far in my daily adventures.