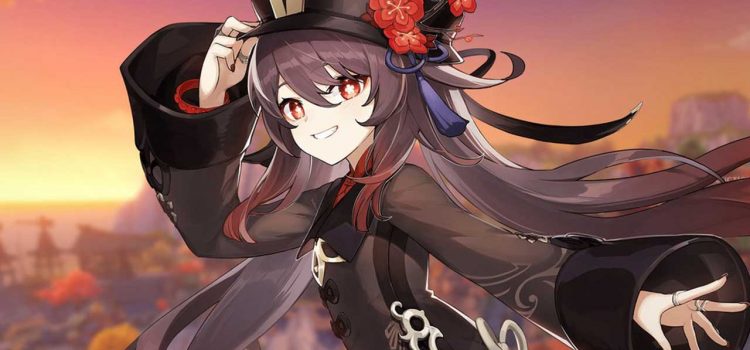 The newest pyro 5 star character is as explosive as the element she wields. Hu Tao is a little tricky, but deals a lot...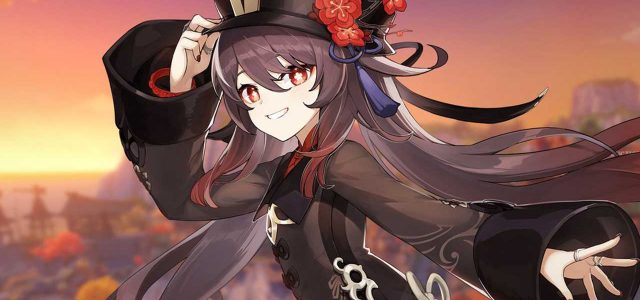 Hu Tao is the latest 5 star to join the ranks of playable characters in Genshin Impact. Highly anticipated, the pyro polearm user is joined by Xiangling, Xingqui, and Chongyun in her banner. Initially anticipated to be the next banner character after Xiao, Hu Tao's release was slightly delayed in favor of Chinese New Year celebrations, due to the circumstances of her character dealing with the departed and the afterlife, not the best topics to be talking about during a joyous occasion.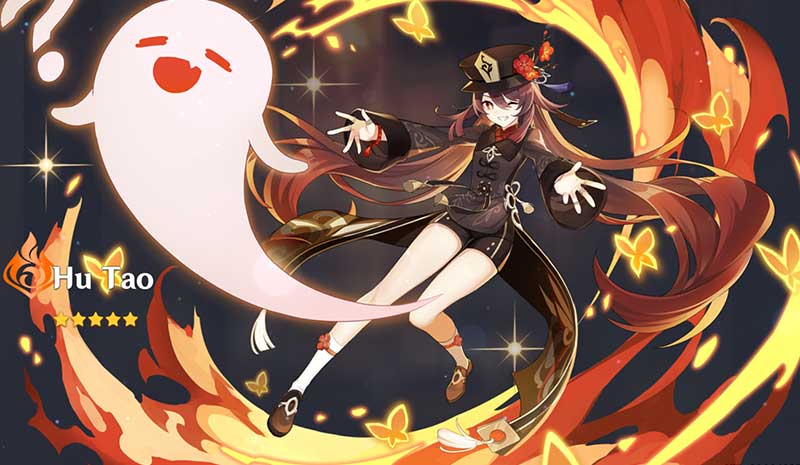 Hu Tao: Overview
Hu Tao is a straight up DPS character thanks to her kit. She doesn't fall into the selfish DPS archetype because of her cooldowns, though. This is made up for by her high damage output and great elemental synergy with a lot of supports.
Her normal attacks deal decent damage, and her charge attack propels her forward and drains stamina, as with all polearm users. While you ideally do not want to be using her left click attacks while not under the influence of her Skill, Hu Tao still delivers considerable physical damage, which adds to her versatility (especially when dealing with pyro slimes, for example). Her first constellation removes the stamina drain for her charged attack when under the effects of her Skill.
Her Elemental Skill, Guide to Afterlife, has several layers of effects when triggered. Hu Tao loses 30% of her current HP at the time of triggering and knocking back small enemies, allowing her to enter into the Paramita Papilio state.
Paramita Papilio lasts nine seconds (but can prematurely end if Hu Tao switches out of battle), and in that time, Hu Tao gains an ATK bonus based on her maximum HP, but cannot exceed 400% of her base ATK. Her attacks now deal pyro damage, and cannot be overwritten by any other elemental type. Being in this state increases her resistance to interruption, and charged attacks marks targets with the Blood Blossom effect.
Enemies with the Blood Blossom mark (the red version of Childe's Riptide mark) take pyro damage every four seconds and lasts eight seconds. This is considered Elemental damage and does not stack. Hu Tao can refresh the duration herself. This is not a pyro debuff in itself, but once the damage triggers, enemies will be debuffed by pyro.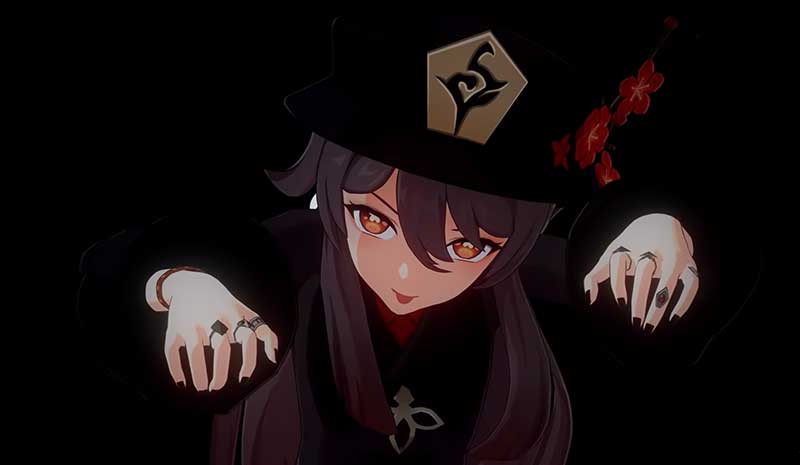 Her Elemental Burst, Spirit Soother, deals pyro damage in a large area. Each enemy hit regenerates HP equal to a percentage of Hu Tao's maximum HP, up to a maximum of five enemies hit. If Hu Tao is below or equal to 50% of her maximum HP, the damage dealt and healing received is increased.
True to her lore, Hu Tao's kit is all about keeping the balance of life and death. Similar to Xiao, she uses her HP bar as an additional resource for you to manage. Unlike Xiao however, Hu Tao has a built-in heal in her Burst, which slightly decreases her reliance on dedicated healers.
Hu Tao's Builds
As a main DPS, you ideally want to leverage Hu Tao's damage output with elemental reactions for maximum effect. Fortunately, her pyro element allows access to the most damaging elemental reactions in the game: Vaporize, Melt, and Overloaded.
Weapon: Staff of Homa, Primordial Jade Spear, Deathmatch, Staff of Liyue, Dragon's Bane, White Tassel
Artifacts:
4pc Crimson Witch of Flames
HP% hourglass
PYRO DMG goblet
CRIT DMG/CRIT RATE headpiece (depending on lacking stat)
The full Crimson Witch set opens huge damage increases not only for the pyro element, but for the pyro-related Elemental Reactions as well. Having an HP% Sands helps out to increase Hu Tao's maximum HP, something that you ideally want to have since she doesn't really scale with ATK anyway. For her headpiece, you can put an HP% main stat artifact but working on balancing her crit rate and crit damage works better.
For substats, you'd want to look for crit rate and crit damage, together with HP% and either Energy Recharge or Elemental Mastery as your last substat. Like most characters, stay away from DEF as much as possible.
Weapon: Staff of Homa, Primordial Jade Spear, Deathmatch, Staff of Liyue, White Tassel
Artifacts:
2pc Crimson Witch of Flames + 2pc Wanderer's Troupe
HP% hourglass
PYRO DMG goblet
CRIT DMG/CRIT RATE headpiece (depending on lacking stat)
If you are lacking in decent Crimson Witch pieces, an alternative would be putting in two pieces of Wanderer's Troupe to boost your Elemental Mastery. Like with other pyro characters, you want Hu Tao to get high damage out of Elemental Reactions, which the Wanderer's can help provide. Having a minimum of 100 Elemental Mastery helps a lot with Hu Tao, especially in an ideal team setup. The substats you want to look for are still the same, and this build can be a good stepping stone for you to experience the potential of Hu Tao while hunting for her Crimson Witch full set.
Weapon: Staff of Homa, Primordial Jade Spear, Deathmatch, Staff of Liyue, White Tassel
Artifacts:
2pc Crimson Witch of Flames + 2pc Noblesse Oblige
HP% hourglass
PYRO DMG goblet
CRIT DMG/CRIT RATE headpiece (depending on lacking stat)
A more swap-and-burst build can be done by putting in Noblesse Oblige in place of Wanderer's Troupe. Ideally, you'd want your main DPS to handle a lot of the damage dealing, setting up your supports to ready Elemental Reactions, then swap into Hu Tao for her Skill to spread Blood Blossom then popping her Burst for the wipe.
Hu Tao's Playstyle
For a main DPS role, Hu Tao is reliant on her Skill to deal a lot of damage and soften up enemies before going for a huge AOE Burst to finish fights. For maximum damage, doing the charged attack spam similar to Keqing is ideal. This involves pressing and holding her attack button to perform one normal attack and transition into a charged attack.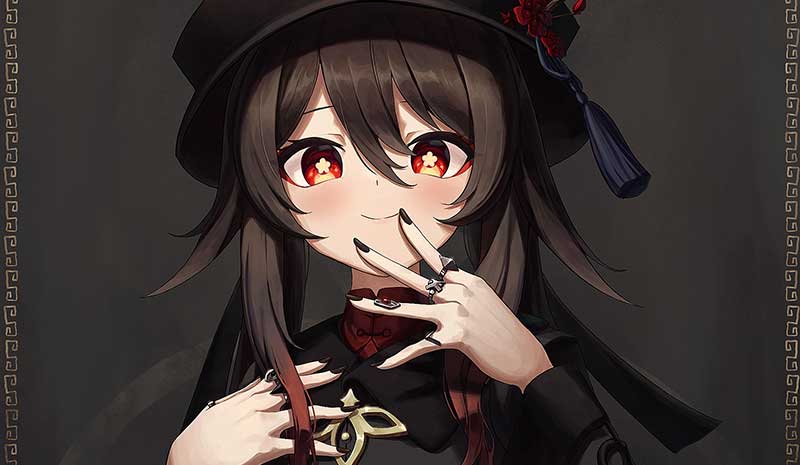 Since polearm users tend to move forward a lot when doing charged attacks, timing Hu Tao's charged attack into a jump will cancel the animation, allowing you to mostly remain where you are when your charged attack started and hit. Like with other characters with unique optimal attack rotations, practice of the charged attack spam into a jump cancel will reduce your need to reposition and keep Hu Tao in front of the target.
You also want to be mindful of Hu Tao's health at all times in a fight. The ideal is 49% HP to be able to deal the maximum amount of damage with her Skill and Burst. Getting Hu Tao to lower health is okay, since her Burst can heal her back up to the sweet spot but be careful as too low health can get her within one shot range of certain attacks. HP management is the key.
Team Compositions
Ideally you want to leverage Vaporize and Melt into your team's available Elemental Reactions, while having the versatility of shields and healing for Hu Tao in a pinch. Incidentally, the 4 stars on Hu Tao's banner form a very solid team for her. As always, there is no best team composition; feel free to mix and match these characters depending on your playstyle.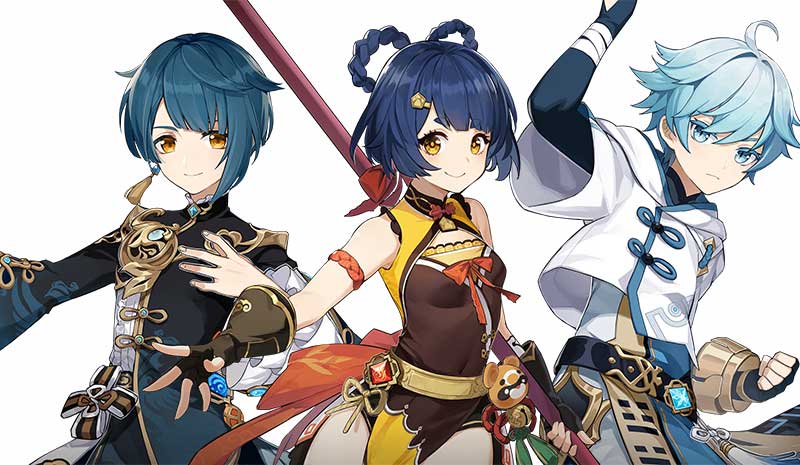 The most obvious pick as a primary support DPS would be Xinqui. His Skill gives damage mitigation and healing, as well as a source of Hydro to proc Vaporize. His Burst increases Hu Tao's damage output significantly while providing more sources of Hydro for your Elemental Reactions. Properly built, Xingqui can be swapped during Hu Tao's downtime in order to start the set up for the next round of mayhem.
Xiangling provides the team a constant damage source thanks to her Skill, and a persistent pyro damage and application source with her Burst. She also forms pyro resonance with Hu Tao, increasing the team's total damage output by 25%. Combined with her first constellation's ability to reduce enemy pyro resistance by 15% makes her an ideal candidate for a support. The only downside to having Xiangling in the team is the additional materials you need to build up another polearm.
Chongyun provides a source of cryo to the team. Together with Xingqui, he can proc Freeze on targets, allowing you some breathing room via crowd control, which Hu Tao can then Shatter and Melt for big damage. Chongyun's Skill doesn't interfere with Hu Tao's abilities, which makes this duo more reliable to bring in co-op mode if you need a Melt team. His Burst also provides a hefty damage spike, but is usually reserved for big single target threats instead of a group.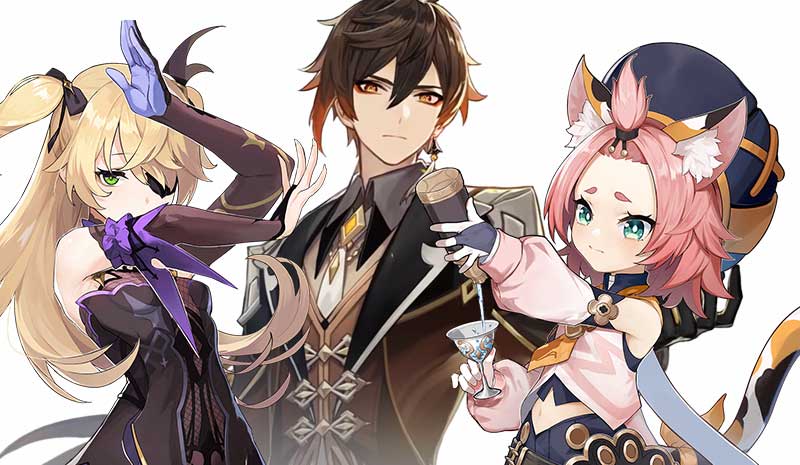 Zhongli is the best shielder in the game if built for support. Having a very tough shield allows Hu Tao to have more freedom in using her Skill off cooldown to keep the damage going. Zhongli also has great spike damage and crowd control potential from his Burst.
Diona is a great support for Hu Tao as well, thanks to her ability to both provide a source of cryo, shield, and healing to the team. Just be mindful that your Hu Tao doesn't get healed beyond 50% HP. Having Diona for an overworld exploration team helps out a lot as she is a bow user and can hit specific targets at a comfortable distance to initiate tricky fights.
Fischl can also be a great pick for off-field DPS. With Oz providing a steady source of Electro debuffs, Hu Tao can basically trigger Overloaded on many enemies at the same time, though this Elemental Reaction has the downside of knocking enemies back and may be out of the polearm's reach. Nevertheless, Overloaded deals impressive damage, especially if both Hu Tao and Fischl are built with high Elemental Mastery.
Characters like Venti, Sucrose, Tartaglia, Beidou, Kaeya, and Ganyu all have a place in Hu Tao's team. They can fulfill the roles mentioned above for their respective elements, with Venti and Sucrose providing more sources of resistance shred and Elemental Mastery as needed.
Summary
Hu Tao is a very strong pyro DPS character, and her kit and optimized playstyle are definitely things to get used to. However, her artifact and weapon choices are varied and flexible enough to perform well in many different scenarios. She is one of the few characters to allow you to swap your whole team in to prepare Elemental Reactions. If you prefer total team synergy versus more selfish DPS characters, then the 77th Director of the Wangsheng Funeral Parlor is worth considering.