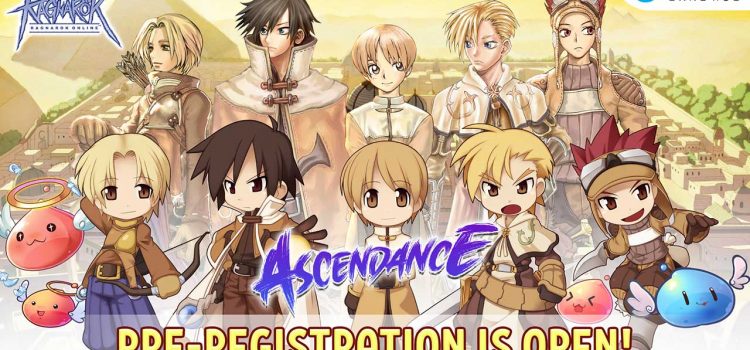 Ragnarok Online Ascendance has just announced that pre-registration is now open wit a milestone activity full of giveaways and rewards!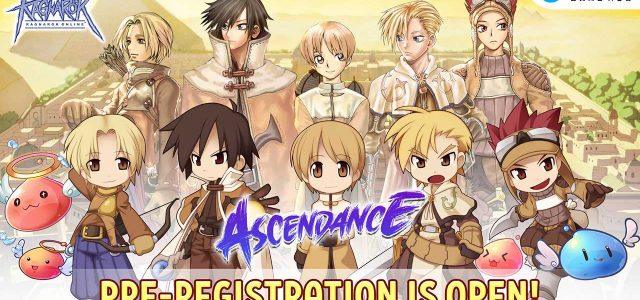 Just a month ago, Gravity Co. Ltd., the company that owns the Ragnarok Online franchise, announced that they will handle publishing duties for a relaunch of the beloved MMO title. Starting today, the pre-registration for Ragnarok Online Ascendance is now open!
Through Gravity Game Hub (GGH), the refreshed Ragnarok Online game, dubbed "Ascendance" for differentiation purposes, boasts a more robust community made up of veteran Ragnarok and MMO veterans as well as new players as well as intense competitive features designed to keep the player base engaged.
Most MMOs and games, in general, have a sort of "milestone event" to keep the interest going, and Ragnarok Online Ascendance is no exception. With each milestone met, players can receive a bundle of in-game rewards and stand a chance to win amazing rewards worth over USD$9000. The GGH's game team has mapped out upcoming streaming events where players can engage with the team directly. Players can look out for community dialogue events, streamer collaborations and features, interesting game battles, and even Regional Online gatherings and launches.
Ragnarok Online Ascendance: Community Assembly 2022 (PH) Facebook Event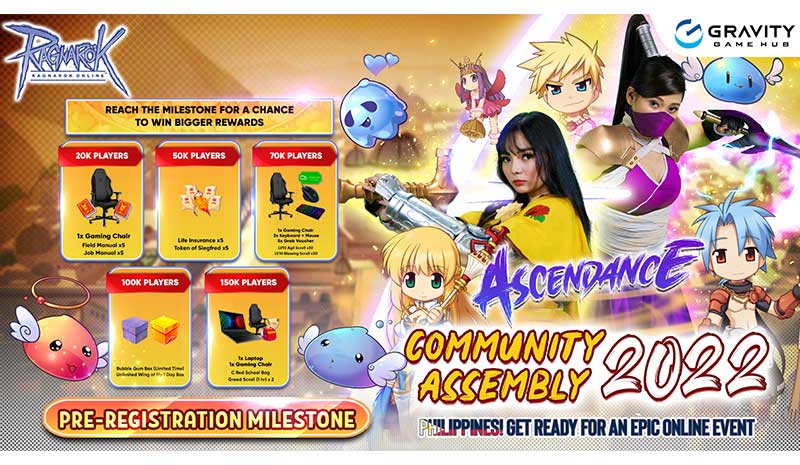 Starting off with the Philippines in a series of upcoming regional promotions where Players, Guilds and Cosplayers can get ready for an epic online streaming event "Community Assembly 2022". The Community Assembly 2022 aims to recognize the community of Ragnarok Online Players in the Philippines. This will be an online event where all can tune-in from the comfort of their homes while we celebrate with a variety of exciting prizes to be won during the stream.
Like and Share Milestones
With the upcoming launch of Ragnarok Online Ascendance, players from all regions can stand a chance to win prizes worth up to USD$4000! Simply Like and Share the official Ragnarok Online GGH Facebook Page. For more likes and shares, more rewards will be given away.
In Ragnarok Online Ascendance, players can explore maps, cities and immerse themselves in the reboot of the fantasy world Midgard. The adventure starts with players as a 'Novice'. The mission is to grind, quest and socialize the way to the next class along with friends! Teasing some features to look out for, Ragnarok Online Ascendance PC game version will allow gamers in Midgard to take a pick among the exciting variety of evolved jobs available upon transition to the 3rd Class. Take your pick from Rune Knight, Warlock, Ranger, Mechanic, Guillotine Cross, and Arch Bishop.
Players can also choose further among classes such as Royal Guard, Sorcerer, Maestro/Wanderer, Geneticist, Shadow Chaser, or Sura. There is no stopping RO players from taking their adventure to the next level with these progressive class options coupled with endless possible character builds and customization in Ragnarok Online Ascendance.
For MMO veterans, Ragnarok Online has been synonymous with their first MMORPG and definitely changed the gaming landscape, enabling millions of players globally to connect instead of just being limited to LAN games. Despite the repeated relaunches over the years, no publishing company has yet to recapture the magic of the first-ever Ragnarok Online. This time around, the developer itself is handling the distribution of the game, so hopes are high that the new generation of gamers will embrace the classic game.
Pre-register to Ragnarok Online Ascendance here.