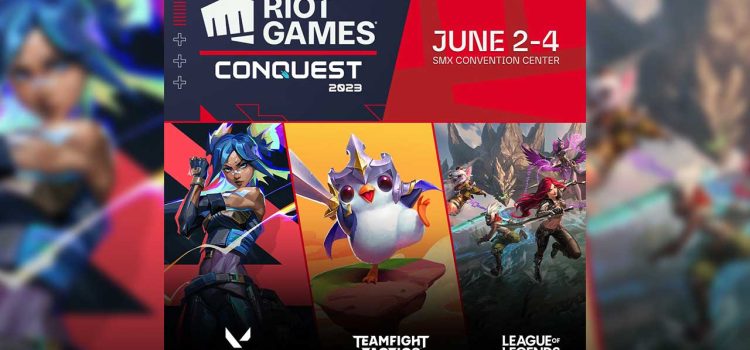 If there's ever a booth to check out, it's got to be the Riot Games booth! Check out what's in store for you at...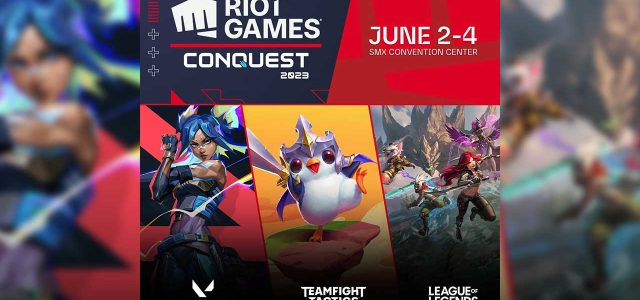 Riot Games is gearing up to set Philippine gaming ablaze—in a good and exciting way.
As the Platinum Partner for CONQuest Festival 2023, the country's premiere gaming and pop culture festival happening from 2-4 June at the SMX Convention Center in Mall of Asia, Riot plans to bring exclusive and exciting activities to players, with a few tricks and aces up its sleeve. Enjoy all things VALORANT, League of Legends (League), Teamfight Tactics (TFT), and more at the three-day festival.
Gamers and congoers are in for a treat as they will also be able to watch and witness the 2023 VALORANT Challengers 2023: Philippines Split 2 LAN event, featuring local VALORANT teams. The festivities also coincide with VALORANT'S third anniversary, a milestone that will be fittingly celebrated at CONQuest with a Message Wall to mark the game's birthday.
Riot Games at CONQuest Festival 2023
The congoer's journey at the Riot Games booth begins with VALORANT and League of Legends entry areas. Among the activities to enjoy are photo spots and roving cosplayers with VALORANT weapon replicas on display, real-life interpretations of the Autumn Tree, the Lotus Tower and the Wingman, as well as VALORANT anniversary and birthday-themed celebrations.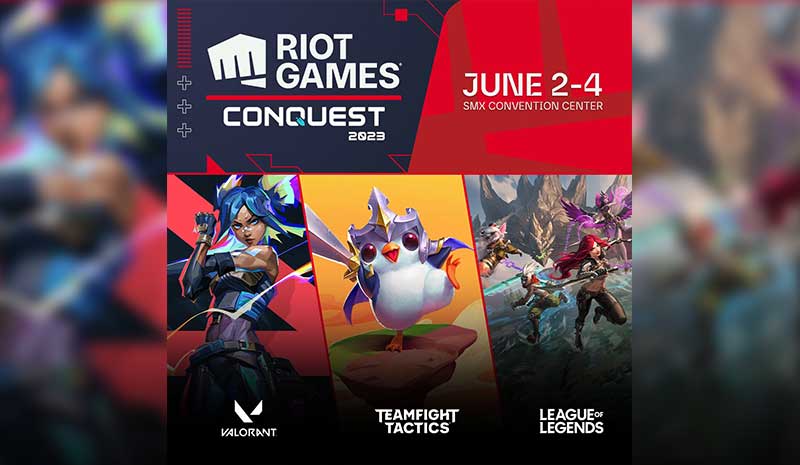 Meanwhile, League fans can look forward to spotting Miss Fortune's Shock and Awe Pistols, Viego's Blade of the Ruined King, Braum's Shield, Darius' Axe, and an impressive 16-foot Baron Nashor installation. Attendees are encouraged to pick one of the champion weapons for a photo-op to help defeat the Baron! League fans will also have an opportunity to traverse through an interactive Summoner's trail and plant a ward. You can also visit Poro Mountain for photo ops with some of your favorite cosplayers.
Attendees are invited to participate in in-booth quests and to share content online using the official Riot Games hashtag #RIOTPHConquest2023 and by tagging @ValorantPH and @Leagueoflegendsphl on Facebook/Instagram. They can simply flash their social media posts to earn stamps that they can exchange for exciting rewards to take home.
A TFT Lounge also awaits guests and congoers, who can try their hand at a digital slot machine for a chance to win special prizes.
One of the highlights of Riot's collaboration with AcadArena at CONQuest 2023 is the presence of pro players, streamers and content creators such as Spicyuuu, Newt, Demenshiki, KrisRey, Sykunno, Een, Woosung, Xavi, JoshSeki, Razzie Binx, among many others who will headline Riot's VALORANT Influencer showmatch.
Riot developers and guest speakers will also grace the event to share their insights and personal stories about working on VALORANT, League and TFT during the Dev Talks scattered across the three-day festival.
Be part of the CONQuest 2023 excitement and enjoy the Riot Games universe from June 2 to 4, 2023 at the SMX Convention Center at the Mall of Asia complex in Pasay City. Book your tickets now at www.conquestph.com and stay tuned to our social channels for more details.
Social Channels
● http://www.facebook.com/valorantPH
● http://www.facebook.com/leagueoflegends
● http://www.instagram.com/valorantPH
● http://www.instagram.com/leagueoflegendsPHL