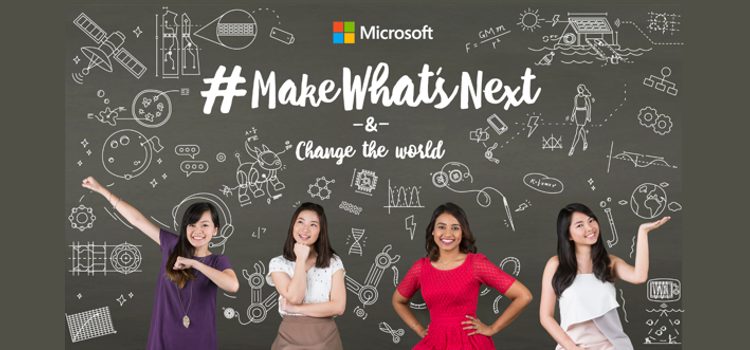 To celebrate the International Women's Month, Microsoft launched the #MakeWhatsNext campaign, a campaign that aims to encourage young women to pursue careers in Science,...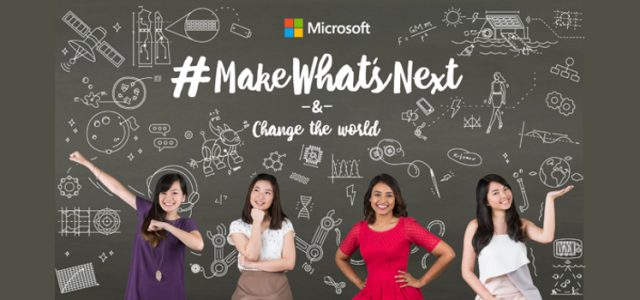 To celebrate the International Women's Month, Microsoft launched the #MakeWhatsNext campaign, a campaign that aims to encourage young women to pursue careers in Science, Technology, Engineering and Math (STEM).

"We want to change the way young women view STEM by letting them envision how technology, science, engineering can be tools used to solve global challenges; how their interests today could turn into a job of the future. We're inviting girls to explore their passions further and gain insights from LinkedIn on how to make their dream job a reality. To make it happen, we are introducing all girls, including those from underserved communities, to female role models from different industries as well as hands-on, purpose-driven experiences where STEM concepts are linked to real-life situations," said Dr. Daiana Beitler, Philanthropies Director, Microsoft Asia.

DigiGirlz 2018

In the Philippines, Microsoft gathered over 200 female learners from various schools for DigiGirlz 2018 — an initiative to inspire young women to pursue careers in the field of Science, Technology, Engineering, and Math (STEM).

The program aimed to:

Increase awareness about what we, together with our partners, are doing to reduce the gender gap in STEM.
Influence audience to believe that STEM can lead to exciting and meaningful career paths, by enabling them to tackle big challenges impacting people and the world.
Empower audience with resources to learn about computer science and STEM career paths.

Making Herstory

The 200 female learners in attendance had the chance to hear the stories of prominent female figures in various fields at the Asia Pacific College. Among the invited speakers were Deputy Speaker of the House of Representative Sharon Garin and Isabel Sieh, founder of Girls Will Code.

DS Sharon Garin enlightened and inspired young girls as she shared her experiences working in a male-dominated environment. She reminded the students to be brave, to talk louder, study harder and never let gender become a barrier in achieving more. "Education is the key to make women free," she said.

Isabel Sieh, at 15 years old is considered as the youngest programmer of the country, and is already proficient in Java, C++ and is starting out Python. She shared the story of how she founded her company at 11 and how her love for coding opened the door for more young girls to break the barrier and pursuit a career in STEM. Her company, Girls Will Code, is one that encourages young women to code, while debunking most of the myths surrounding the field.

Women from Microsoft also shared their own personal stories of empowerment. Microsoft Philippines' OCP director Eileen Ong encouraged more girls to not be bound by gender stereotypes and pursue a career in STEM. Clarissa Segismundo, Microsoft Education Programs Lead, shared the value of taking risks, of the difference between learning-it-all and knowing-it all, and of the importance of finding your purpose.

The plenary also covered the importance of inclusion and diversity; how technology is making waves to equalize people with disability. The message? DigiGirlz of today who will become the women of tech tomorrow, will carry the torch to invent something that will eventually benefit the world.

(Less Than an) Hour of Code

In addition to the plenary, the young women were invited to envision their careers, acquire new skills, and see the jobs of tomorrow related to STEM through coding sessions, soft skill workshops, and interactive demos on AI, Coding, and HoloLens. They experienced hands on coding by doing Minecraft's Hour of Code with most learners finishing the coding session in less than hour!

To learn more about #MakeWhatsNext, visit http://www.makewhatsnext.com/. To find out more about Microsoft Philanthropies' initiatives in the Philippines, visit https://news.microsoft.com/apac/tag/microsoft-philanthropies/.