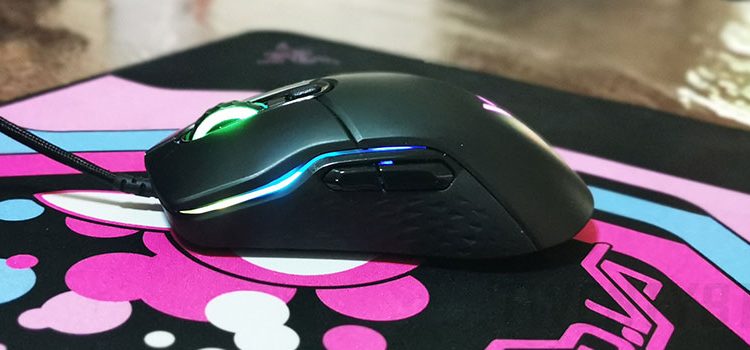 Sleek, comfortable, and straightforward, the Rapoo VPro VT200s is a no-frills gaming mouse that won't break the bank.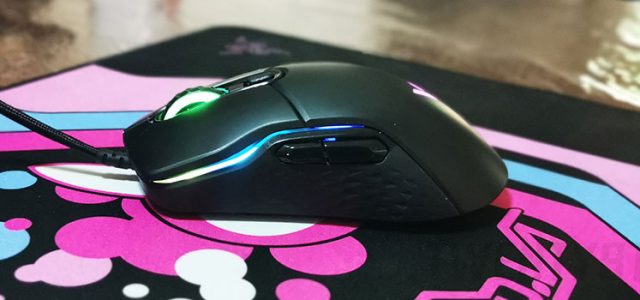 When it comes to simplicity, I've come to rely on Rapoo. Other gaming mice out there that sport a dozen new features, but when it comes down to it, Rapoo takes best practices and ideas and distills them down to what works and makes these factors top-notch.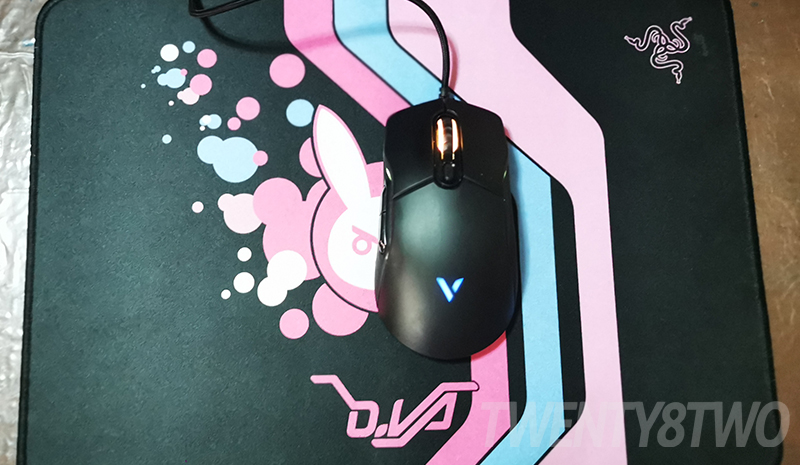 The Rapoo VPro VT200s gaming mouse came just a few days before the Enhanced Community Quarantine in the Philippines was announced, and I had to go home to a different city then where I stayed for work. I'll be working from home and I figured using the VT200s as a work and gaming mouse would be a good test for this review, as well as lightening the amount of stuff I needed to take with me when I left my apartment.
I've reviewed the Rapoo VPro V20 gaming mouse before and while the packaging may be similar, the VT200s is the more premium offering. They both come with Rapoo's V gaming-inspired box with a flip cover and molded plastic around the mouse, so you really see what you're getting. Inside the box is a basic user manual and the mouse.
VT200s: Shape and Aesthetics
The VT200s comes very close to the look of the Razer Viper. The left and right mouse buttons are tapered, squared off, and angular than other mice in the market; something very new from Rapoo. The rubberized side panels are wide and high, with the back part of the mouse flaring out at just the right width and angle to accommodate your thumb, ring fingertip, and pinky fingertip. Unlike other small mouse shapes, the VT200s's shape allows even medium-sized hands to have all their fingers off the pad while having a comfortable palm grip on the mouse, something I personally found to be great.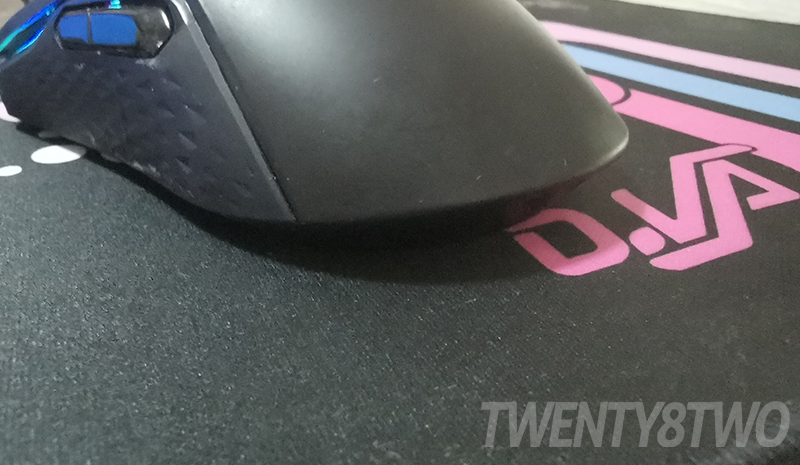 Another feature of the VT200s's body is the angled back. It doesn't really look like it has a higher hump, but the back bottom area has been angled to slope away from the mouse pad. This makes it more comfortable for your palm as it doesn't touch your mousepad at all. The angled bottom also reduces the surface area of the mouse that's touching the pad and with lesser real estate causing friction, I've found that the VT200s glides easier and makes me exert less force to move it around.
The side buttons (Mouse 4 and Mouse 5 usually) are placed around the middle area of the mouse. For people with small hands, the ready button that's most comfortable to use is Mouse 5. The VT200s's size and shape makes both 4 and 5 buttons comfortable enough to press and use. I won't they they have hair triggers when it comes to sensitivity but the welcome feeling of not having to stretch my thumb consciously to press buttons is great.
Testing the VT200s
The VT200s is a wired mouse, which eliminates the concern for input lag. In all these weeks of lockdown testing, I've never had any of the mouse buttons suffer from any clicking issues, which is to be expected from Rapoo's product quality. However, wireless latency in gaming mice has improved in the last few years that more and more brands are confident with their wireless products so I won't be surprised if Rapoo comes out with a wireless VT200s in the near future.
Despite the VT200s having a laser sensor instead of the more popular optical sensor, I've not experienced any problem with how the mouse reads the pad. Cursor/pointer/crosshair movement response is just what you'd expect from a gaming mouse.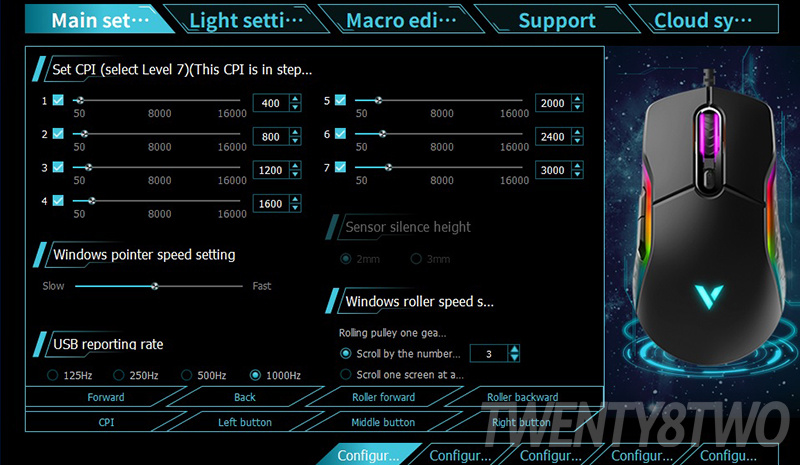 Software-wise, the VT200s is readily usable out of the box but you can download the software to tweak it to your preferences. This mouse has seven different sensitivity options you can tweak from the top adjuster button, so you can pre-save different sensitivities depending on what games you play or in-game demands.
Aside from sensitivity, you can also tweak the 16 million RGB colors on both the body and scroll wheel. The VT200s has different pre-loaded colors and breathing patterns which you can further tweak. The software also allows you to input macro commands, which is perfect for both gaming and non-gaming use.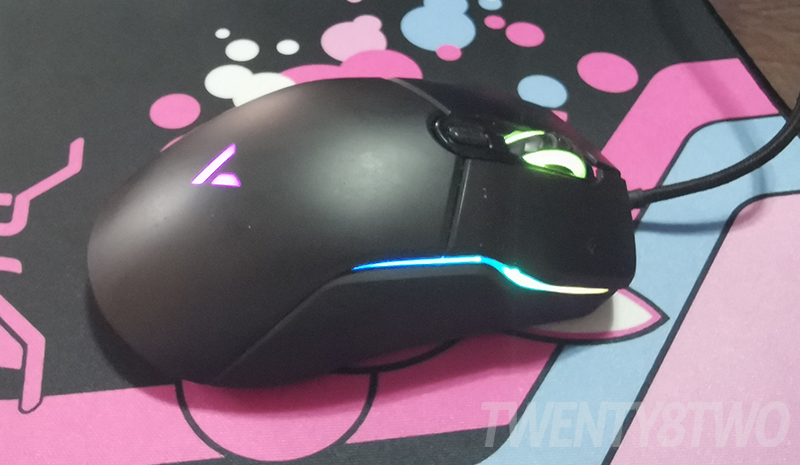 We've played a lot of Guild Wars 2 and Warframe during our lockdown downtime, and both games have a fair bit of mouse movement. The VT200s performs spectacularly in both high sensitivity (Guild Wars 2) and low sensitivity (Warframe) modes, and I'm looking forward to trying it out on other games to get the mouse to run its paces properly.
Weight-wise, the VPro VT200s is definitely lighter than V20 Pro so there wasn't a significant adjustment in terms of pushing and pulling. What I definitely liked about this mouse is the size and shape; you can easily press all the buttons with little to no effort and it can accommodate different grip styles without too much adjustment.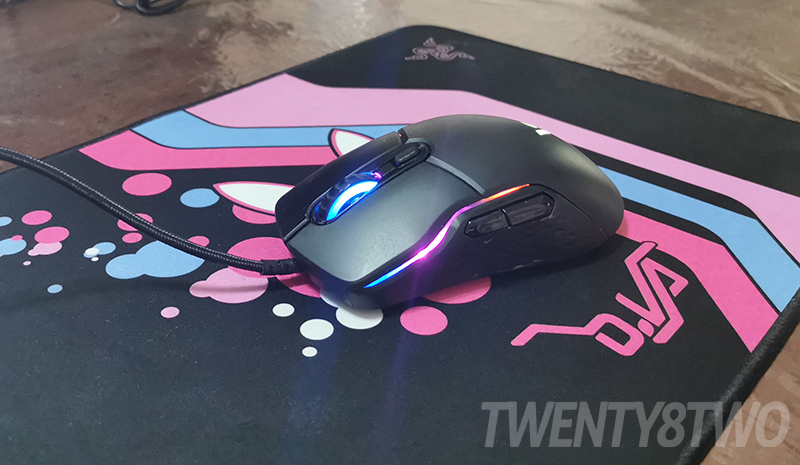 VT200s: Conclusion
The VT200s is definitely a leg up from the V20 Pro in terms of its performance. It could use a wireless version, and an upgrade from laser sensor to optical, but all around, the Rapoo VPro VT200s has great ergonomics and performance without sacrificing the general need to customize sensitivity, RGB lighting, and macros.
The VT200s is a PC Express exclusive product and retails for P2,249.