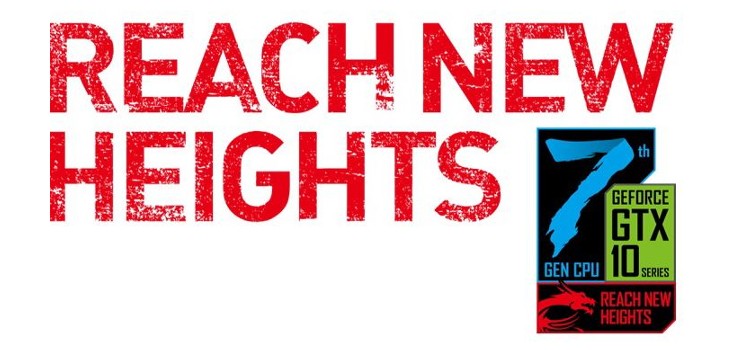 MSI enables gamers to play in 4K and VR with their lineup of products, with support for Intel's 7th generation processors and NVIDIA's Pascal...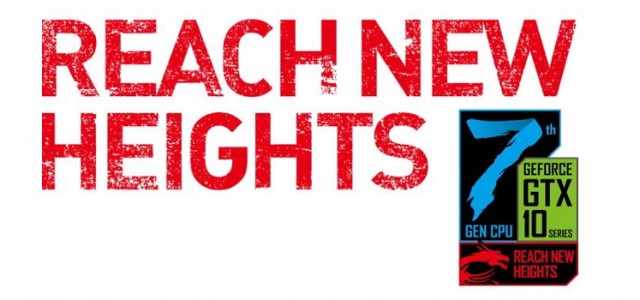 Gaming in 1080p is today's standard, but playing titles with a 4K resolution is quickly becoming the norm. Virtual Reality is also gaining traction, and it does seem to be the future of gaming. In line with these advancements, MSI enables gamers to play in 4K and VR with their lineup of products.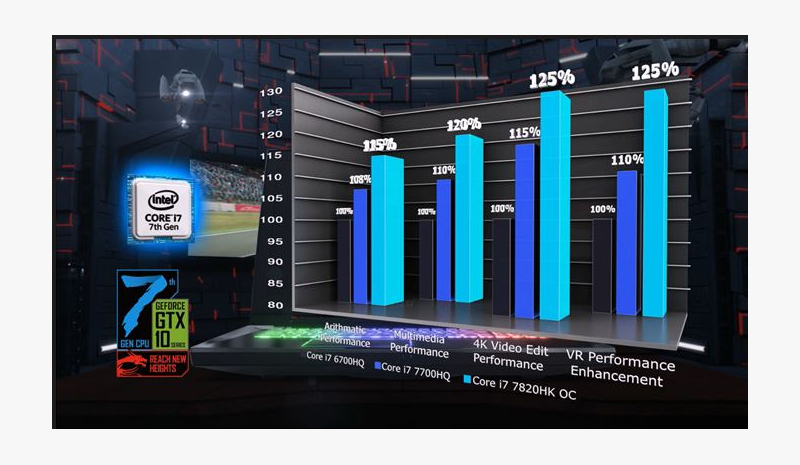 How fast is too fast? For MSI, it's always a second behind; which is why we are always pushing to implement the newest technology into our gaming products for our Dragon Fans. Both Intel® 6th Generation Skylake CPU and NVIDIA GeForce® GTX1060 (1070,1080) made remarkable breakthroughs in shortening the gaps between gaming laptops and gaming desktops to essentially none. Now, the gap will be further shortened with the introduction of Intel® 7th Generation CPU, KabyLake. Gamers are expected to experience 15% (non-OC) to 25% (OC) in CPU performance boost.

Just to give you four ideas of what the newfound power entails; increased processing power for arithmetic, 4K Video, Multimedia, and VR Virtual Reality Performance.

VR Experience Upgraded by CPU enhancement

Since its debut, VR has been gaining substantial popularity amongst just about everyone in the world. Now how do all this tie to MSI and 7th Gen Core i7 platform? For one, MSI is the only certified manufacturer to work with HTC, and that means all of its gaming notebooks equipped with the latest NVIDIA PASCAL graphics cards are VR Ready. Two, MSI will be implementing 7th Gen Core i7 CPU to all of its gaming product lines, allowing VR users to run their VR applications even faster, smoother.

World' First VR Sound Enhancement by Nahimic VR

It is no secret that MSI has been focusing on more than just gaming, VR has also been a centerpiece of our focus. Now, with the world's first Nahimic VR with 7.1 sound provided exclusively on MSI gaming notebooks (on selected models).

Nahimic 2+ which will be available for all new gaming notebooks, and will support more features and higher compatibility for VR games. It has refined profile interface and together with Nahimic VR by Nahimic 2+ technology with be optimized for HTC VIVE kits in early 2017 soon.

7+10, Brothers in Arms

In addition to the new CPU, MSI will be implementing NVIDIA GeForce® GTX1050 Ti & GTX1050 graphics into the arsenal so that gamers of different calibers can enjoy an even more personalized gaming notebook for work, school, or for killing hordes of zombies, ANYWHERE.

The GTX 1050 Ti reflects the 15% higher performance compered to GTX965M, The GTX 1050 are going to replace the market position of GTX960M for performance level gamers and power users.

MSI Launches all series with 7th Gen. Core i7

At CES 2017, MSI launched its GT83VR, GT73VR, GT72VR, GT62VR, GS73VR, GS63VR, GS43VR, GE72VR, GE62VR, GP62VR, GP72VR, GP62MVR, GP72/GP62 and GL72/GL62 series into the market, aligning with Intel to move forward for all users who desire better VR experience and 4K video/gaming experience in early 2017.