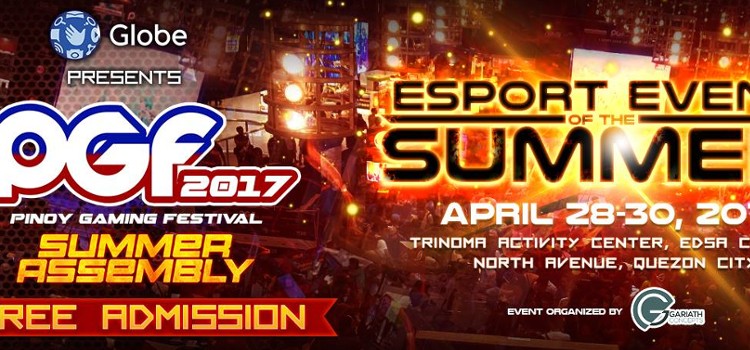 The biggest gaming event of the summer, the Pinoy Gaming Festival, is back! And it's promising to be bigger and better than ever!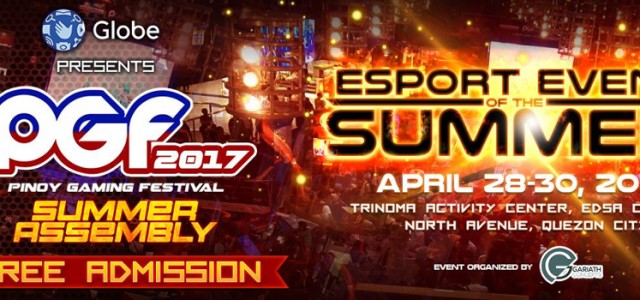 Every summer, gamers from all over the country converge in one of the biggest gaming events of the year, the Pinoy Gaming Festival. This 2017, PGF is back once again, and it will be held at a new venue, namely the Trinoma Activity Center from April 28-30. PGF 2017 promises to be bigger and better than ever.
Summer is going to sizzle once more as Pinoy Gaming Festival Summer Assembly will be making its return for another awesome event along with a brand new venue. It will be happening on April 28 to 30, 2017 at the Trinoma Activity Center, Trinoma Mall in Quezon City for three whole days of non-stop esports action.

Experience more featured games from different platforms such as PC, consoles and mobile, you will be able to see some of the best local esports teams duking it out in various tournaments and exhibition matches. Globe Telecom will also continue their strong partnership with Pinoy Gaming Festival brand as its main presenter where you can expect more surprises. Witness fun-filled stage activities and a ton of freebies for those who will be attending the event, and not to mention more game publishers will be showcasing their games for gamers to try. And the best part in the event is that ADMISSION IS FREE, so no need to pay for any ticket fees to experience the event.

Some of the partners and sponsors that were revealed include Ubisoft; known for some of the biggest gaming titles such as Assassin's Creed, Watch Dogs and Just Dance, Secret 6; a local game development studio behind Project Xandata who also were involved in developing Naughty Dogs' Uncharted 4: A Thief's End and The Last of Us, MSI; the world leading gaming brand of notebooks and PC components and TNC Cyber Café; one of the fastest growing cyber café franchising in the country

More announcements will be revealed in the coming days and be the first to know by following our official Facebook page: facebook.com/PinoyGamingFestival

Pinoy Gaming Festival Summer Assembly 2017 is presented to you by Globe and organized by Gariath Concepts.

ABOUT PINOY GAMING FESTIVAL

Organized by Gariath Concepts, Pinoy Gaming Festival Summer Assembly is an annual esports event held during the summer season. Dubbed as the esports event of the summer, PGF aims to provide an exciting esports event that covers different gaming platforms.