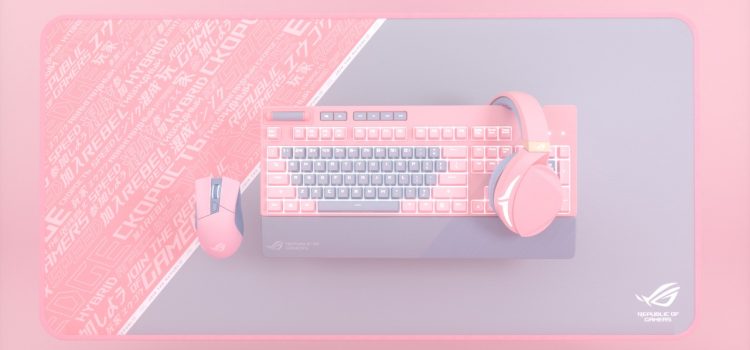 From the traditional red and black, ASUS goes pink in their newest line of peripherals. Similar to Zowie's DIVINA line, the PNK LTD line...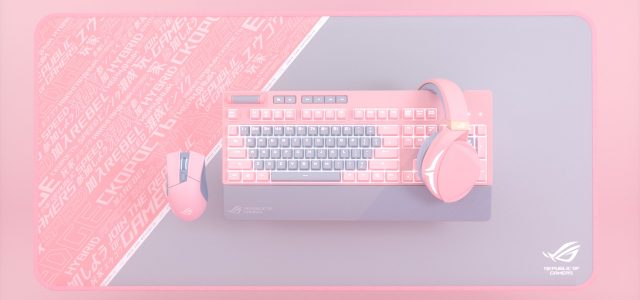 From the traditional red and black, ASUS goes pink in their newest line of peripherals. Similar to Zowie's DIVINA line, the PNK LTD line from ASUS marks a stark visual departure from their tried and true aesthetic to something cooler to the eyes. The angular form factor of the ROG line is replaced by toned-down pinks and grays coupled with more rounded linework on their newest mouse, keyboard, headset, and mousepad.
The ROG Strix Flare
The ROG Strix Flare leads the PNK LTD pack with a matte pink body and textured pink Modifier and Alpha keys. The alphaneumeric keycaps are in gray to contrast with the rest of the device and make it stand out a lot more. The board has a set of media controls and a volume wheel that's made of rubber and ridged to make scrolling easier. The keyboard also features a gray wrist rest made for marathon gaming sessions or just for long hours of use.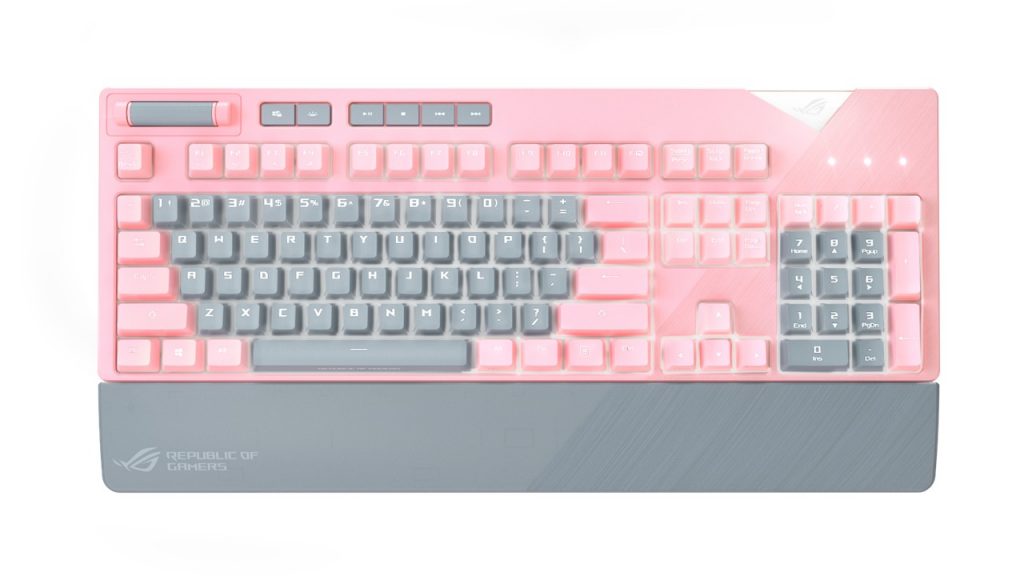 The PNK LTD ROG Strix Flare comes with per-key RGB lighting with a range of switch types: Cherry MX Red, Brown, or Blue. The customizable acrylic insert still comes emblazoned with the ROG logo, though you can DIY your own with the blank insert that ships in the box. No actual word if the keyboard will come with its own keycap puller but you can replace the caps for a more personalized touch.
The ROG Gladius II Origin
The ROG Gladius II Origin PNK LTD comes with a detachable cable and customizeable Aura Sync capabilities, allowing you to fully customize the RGB lighting on the scroll wheel and sides of the body. The Gladius II Origin PNK LTD is based on the same PixArt 3360 optical sensor as the vanilla version. The sensor can reach 12000 DPI, but can be dialed back for games where a lower DPI makes more sense, like in MOBAs. The ability to hop back and forth between programmed settings using the dedicated DPI switch is handy for transitioning between work and play, or even just between different game genres.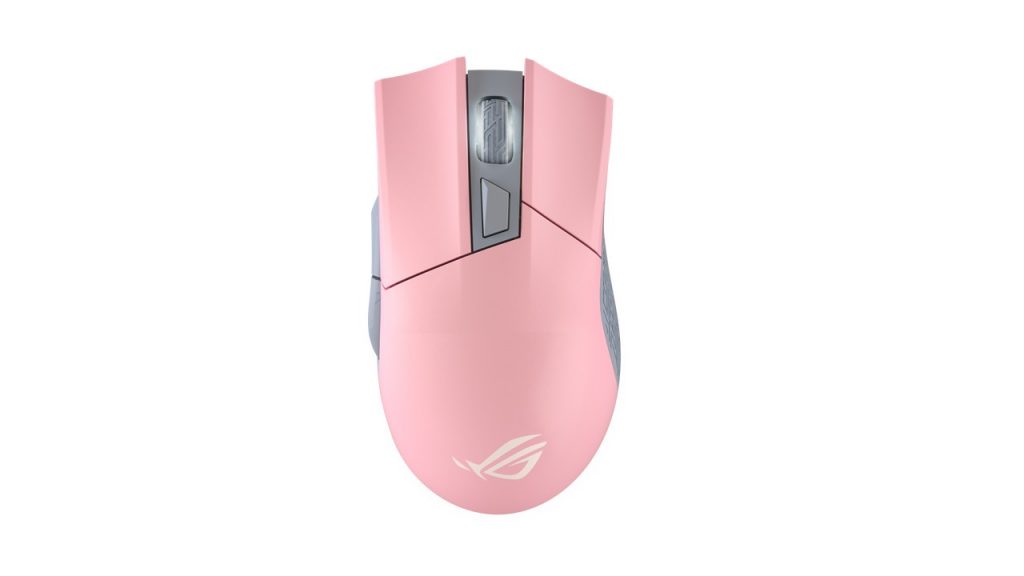 The Gladius II Origin has Omron switches tested to last 50 million clicks for all its buttons, with a pair of extra switches that push-fit into place, so replacement is easy. The package also comes with braided and non-braided cables and a travel pouch.
The ROG Strix Fusion 300
The headset for the PNK LTD peripheral line is the Strix Fusion 300. This features protein leather earcups and a comfortable headband designed to be worn comfortably for a long period of time. The retractable microphone is fully adjustable to accommodate a wide range of face sizes.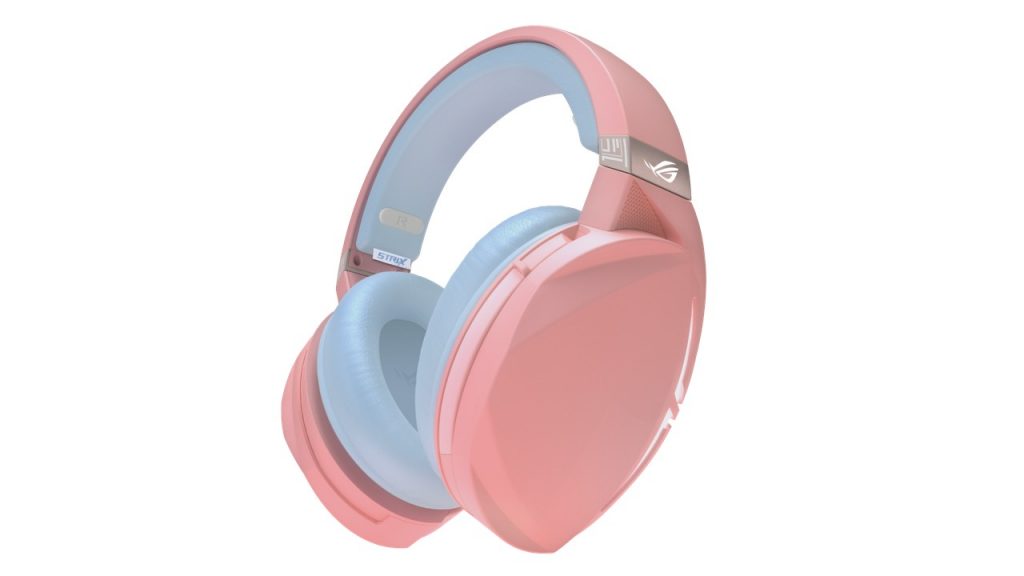 Just like its non-PNK counterpart, this Fusion 300 comes with 50mm ASUS Essence drivers and 7.1 virtual surround sound. The modified chamber design is airtight to seal air inside and reduce audio leakage and vibrations, and the area around the drivers is bigger, which allows for more air and creates a wider soundstage. The Fusion comes with two cables, a USB cable and a regular 3.5 mm audio cable, to allow you to connect to mobile device as well as your PC.
The ROG Sheath
We're suckers for great-looking and better-performing mousepads. We've tried out the ROG Sheath before and we've been fans of its construction and performance, so having this pink version comes as a no-brainer to include in the "must get" category.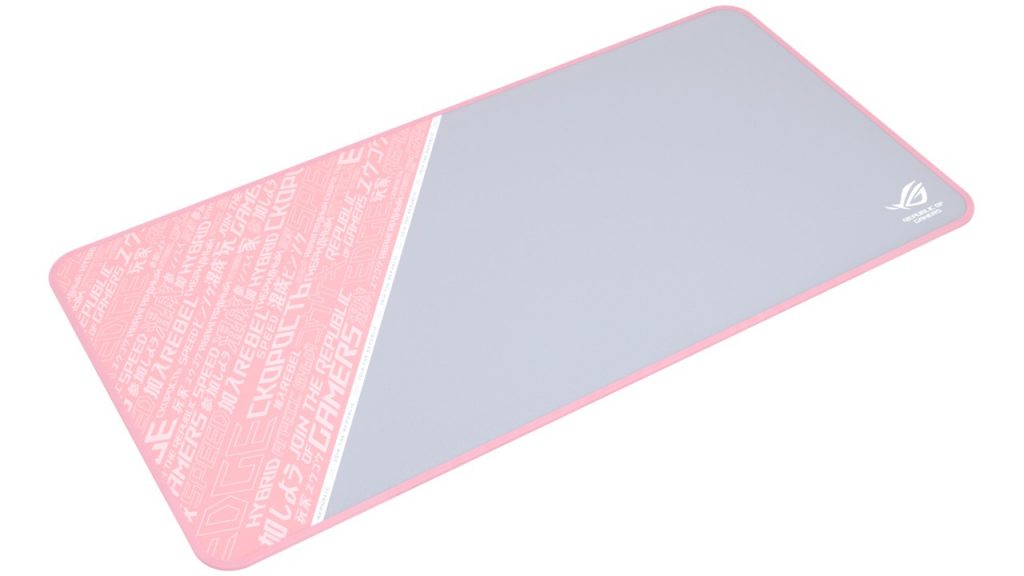 It's actually a mousemat, the 35″ x 17″ piece of woven fabric has enough real estate to fit your keyboard (even a full-sized one) and enough surface area for your mouse. The edges are sewn so they are naturally rounded to avoid catching on mouse and keyboard braided cables and edge-fraying in general.
Expect all four PNK LTD items in March 2019. Pricing to be announced a few weeks prior local release.