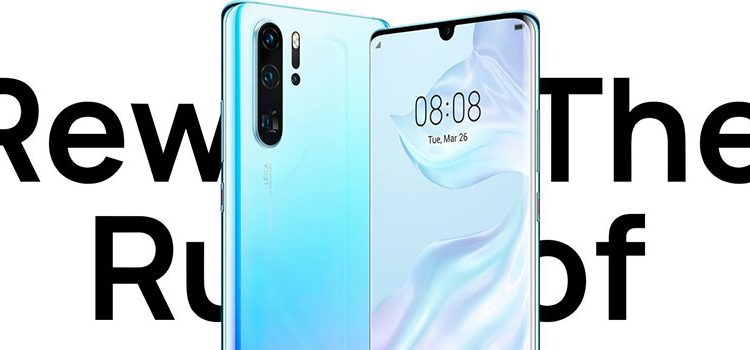 Telco companies Smart and Globe have recently announced their options to own the Huawei P30 and P30 Pro. But should you get a postpaid...

Telco companies Smart and Globe have recently announced their options to own the Huawei P30 and P30 Pro. But should you get a postpaid plan for it?
If you were to get the phones from the dealership or Huawei concept stores across the country, you would need to pay P50,990 for the P30 Pro or P36,990 for the P30 straight up. You can certainly use a credit card's deferred payment system, which would mean paying off the device incrementally so you won't need to carry a (dangerously) large amount of cash, but there are other options.
This is where postpaid plans come in. Before we go further, please note the following:
1. We will take Globe's ThePlan1799 as a baseline example.
2. We will use the P30 Pro as the example phone we wish to purchase.
3. We will be taking into account that we are going to apply for a new plan, as if we didn't have a previous plan.
With that out of the way, let's dive down to the payment options. Option A is essentially paying for the subscription plan itself (P1,799) + P1,000 as an initial cashout. The balance for the device's cost in increments of P1,000 will be then added onto the monthly payments we need to make over the course of the subscription's lock in period of 24 months, or 2 years, which means you will be paying P2,799 monthly.
Option B for ThePlan 1799 for Globe says that we need to pay for the subscription plan itself (P1,799) + P24,000 as an initial cashout. There will be no more need to pay an additional P1,000 every month for the next 24 months, so your bill stays at P1,799.
For better visualization, our friend Migs Lopez, a financial expert who previously worked for AB Capital and now heads Critical Index, broke the payment options down over the course of 24 months and calculated the total amount we needed to pay at the end of the lock in period for both Option A (phone's cost spread over the subscription fee) and Option B (initial cost paid, no subscription fee additions):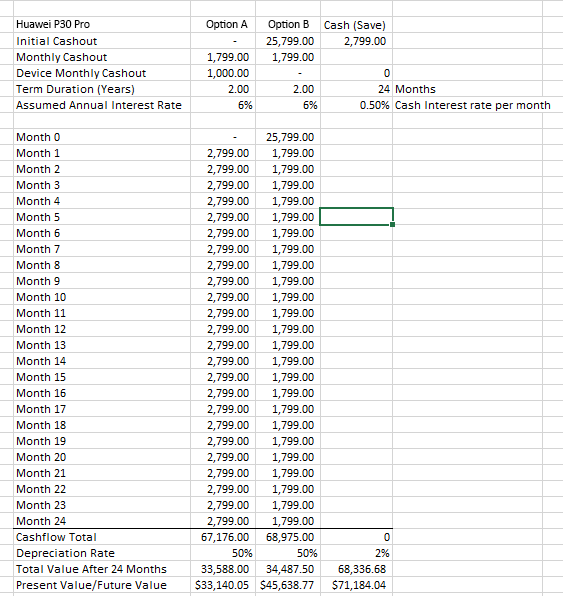 Initially, one would think that paying a P25,799 outright and then paying the monthly subscription fee of P1,799 will turn out cheaper in the long run but in the long run, it will be actually slightly more expensive. Take note, we are taking information directly from Globe's website and just broke it down into 24 months then added everything up. Also note that while you will indeed be actually paying more for the phone by going into a subscription plan (for either Smart or Globe to be honest), keep in mind that you are getting postpaid service on top of your Huawei P30 Pro.
Also note that should you incur additional charges beyond the subscription plan's agreed-upon services, you will need to pay those upfront with your bill.
Finally, this calculation scheme also takes into account that you will be filing for a new plan subscription within the promo period of April 5-12 which will earn you a free Huawei Watch GT worth P12,990. Subtracting the Watch GT's value will get us interesting results for both Option A and B:
Option A: P67,176 (total after 24 months) – P12,990 = P54,186
Option B: P68,975 (total after 24 months) – P12,990 = P55,985
What this means is that taking Option A within the Watch GT promo will give you the best possible value for money, both initially, since you just pay the monthly fee on top of a P1,000 cashout, versus paying a total of P25,799 (initial subscription plan payment + P24,000).
What this all means: getting the Huawei P30 Pro under a subscription plan isn't a bad idea! You're getting a subscription service WITH your new device (customer service, call + text, mobile internet, etc.), and a Watch GT (IF you apply by April 12). However, you will need to weigh your options and plan ahead for the next 24 months. IF you want the device now and IF you can pay P2,799 a month for the next 24 months, then go for the best option, which is Option A.
IF you can't budget P2,799 a month for 24 months however, then Option B is for you but take note, you will need to pay a total of P25,799 up front BEFORE April 12, 2019 in order to maximize the value for your money.
If you already have a subscription plan (for Smart OR Globe), then please talk to a customer service representative so you can find out the payment options you may have.
Additionally, Huawei has announced that they have a trade-in option for the Huawei P30, P30 Pro, and P30 Lite. Full information and specifics of the promo are here.
Editor's Note: We are not in touch with either Smart or Globe during the creation of this article and the calculations contained. We simply asked a friend that's good in money matters to help us understand the options available to us based on the information provided by the telco's respective websites.
JD is the EIC of twenty8two. His life revolves around three Gs: Gadgets, Games, and Gear. He also likes pizza and tea.